2014年6月19日米国マサチューセッツ州ボストン発―Infonetics Researchは、 2014年第1四半期版の最新レポート)Enterprise Telepresence and Video Conferencing Equipment をリリースしました。 このレポートは専用およびPBXベースのビデオ電話会議、テレプレゼンスインフラ市場を調査しています。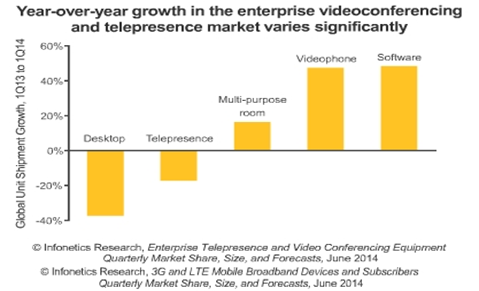 アナリストノート
「テレビ会議関連の収入は2014年第1四半期に季節要因で減少しましたが、前年同期比ベースでは増加を維持しています。企業が費用効率的なビデオソリューションを求める中、専用システム市場は苦戦が続いています。この動きはPBXをベースとするビデオ市場を拡大させており、全市場での成長につながっています」と、Infonetics Researchにて企業向けネットワークとビデオを担当している上席アナリストのMatthias Machowinski氏は述べている。
市場のハイライト
世界的な企業向けテレビ会議、テレプレゼンス市場は1Q14に強烈な季節要因に見舞われ、前期比22%減となった。
テレビ会議の機能に対する需要は依然として力強いものの、相対的に費用のかからないパーソナルシステムに対する需要家選好があるため、収入の増勢は緩やかになっている。
PBXをベースとするシステムの販売は1Q14に前年同期比32%増であった。
ビデオ音声は、ハードウェア・エンドポイント市場の中で急速に成長しているセグメントであった。製品出荷数は1Q14に前年同期比48%増。
アジア太平洋地域の成長は緩やかになっているが、2014年において最も力強い実績を残す地域になるとみられる。
Infoneticsの予測では、世界的なテレプレゼンス及びテレビ会議の収入は少なくとも2017年にかけて1桁台の成長が続く。
.VIDEOCONFERENCING REPORT SYNOPSIS
Infonetics' quarterly video conferencing report provides worldwide and regional market size, vendor market share, forecasts through 2018, analysis, and trends for dedicated and PBX-based video conferencing and telepresence infrastructure and endpoints (desktop, telepresence, videophones, multipurpose rooms, software). Vendors tracked: Avaya, Cisco, Huawei, LifeSize (Logitech), Microsoft, Polycom, Tely Labs, ZTE, others.
(原文)

PBX-based video buoys videoconferencing market
Boston, MASSACHUSETTS, June 19, 2014-Market research firm Infonetics Research released excerpts from its 1st quarter 2014 (1Q14) Enterprise Telepresence and Video Conferencing Equipment report, which tracks dedicated and PBX-based videoconferencing and telepresence infrastructure and endpoints.
ANALYST NOTE
"Video conferencing revenue experienced a strong seasonal decline in the first quarter of 2014, but it remains positive on a year-over-year basis. The dedicated systems market continues to struggle as companies look for more cost-effective video solutions. This dynamic is driving the PBX-based video market, which is delivering all market growth," says Matthias Machowinski, directing analyst for enterprise networks and video at Infonetics Research.
MARKET HIGHLIGHTS
The worldwide enterprise videoconferencing and telepresence market was dealt a strong seasonal blow in 1Q4 and is down 22% sequentially
Demand for videoconferencing capabilities remains strong, but buyers' preferences for less costly personal systems is slowing revenue growth
Sales of PBX-based systems are up 32% in 1Q14 from the year-ago 1st quarter (1Q13)
Videophones were once again the fastest-growing segment of the hardware endpoint market, with unit shipments increasing 48% in 1Q14 from the same period a year ago
Growth in Asia Pacific has been slowing, but it is still poised to become the strongest performing region in 2014
Infonetics projects global enterprise telepresence and video conferencing revenue to grow in the single digits through at least 2017