2014年6月25日米国カリフォルニア州Campbell発-米国市場調査会社Infonetics Researchは、2014年版 Mobile Infrastructure Security レポートの抄録をリリースしました。このレポートはshort message service (SMS)や multimedia messaging service (MMS)セキュリティ、 Gi/SGi ファイアオールの市場を分析している。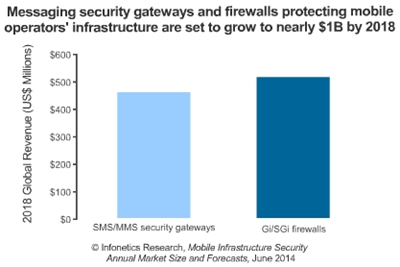 アナリストノート
Infonetics Researchでセキュリティーを担当する主席アナリスト、Jeff Wilson氏は次のように指摘する。「モバイル基盤のセキュリティーは今、信じられないほど好調です。プロバイダーはSMS/MMSのセキュリティー ゲートウェイに投資することで、加入者と収益を確保しようとしており、その規模は2013年から2018年にかけて複合年間成長率 (CAGR) 42%と極めて大きなものです。」

Wilson氏はこうつけ加える。「また、通信事業者は自社ネットワークとインターネットの境界線を守ろうとしています。Gi/SGiファイアウォールの収益もまた本格的な上昇局面にあります。その要因は、世界中でLTEの導入が躍進したことによって、インターネット上のあらゆる種類の脅威から保護を必要とするオールIPネットワークというものに多くのモバイル事業者が直面したからです。」
モバイル基盤セキュリティー市場のハイライト
通信事業者は、Gi/SGiファイアウォールを使ったモバイル ネットワークの保護で巻き返しを図っている: 世界のGi/SGiファイアウォール収益は、2018年までにほぼ倍増すると予想されている。
モバイル トラフィック制御やセキュリティー関連のさまざまな問題を解決するために設計された新しいGi/SGiファイアウォール ソリューションが早急に求められている。
Gi/SGiファイアウォール分野の主要ベンダーは、次のようにファイアウォール分野の最大手でもある: Check Point、Fortinet、Juniper。
SMS/MMSのセキュリティー ゲートウェイ市場では、AdaptiveMobileとCloudmarkの2社で現行収益の大部分を占めている。
AdaptiveとCloudmarkが成功を継続していけるかどうかは、規制への準拠や投資の抑制を考えている買い手から、自社ネットワークのセキュリティー強化を求めている買い手へとどのように軸足を移していくかにかかっている。
REPORT SYNOPSIS
Infonetics' annual mobile infrastructure security report provides worldwide and regional market size, forecasts through 2018, analysis, and trends for SMS/MMS security gateways and Gi/SGi firewalls by units, revenue, and ARPU (average revenue per user). Vendors tracked: AdaptiveMobile, Anam, Cellusys, Cloudmark, Mahindra Comviva, Protei, Symsoft, Tekelec (Oracle), others.
(原文)

Mobile messaging security gateways and Gi/SGi firewalls set for spectacular growth
Campbell, CALIFORNIA, June 25, 2014-Market research firm Infonetics Research released excerpts from its 2014 Mobile Infrastructure Security market size and forecasts report, which tracks short message service (SMS) and multimedia messaging service (MMS) security gateways and Gi/SGi firewalls.
ANALYST NOTE
"Mobile infrastructure security is incredibly hot right now. Providers are trying to protect subscribers and revenue by investing in SMS/MMS security gateways to the tune of a massive 42% compound annual growth rate (CAGR) from 2013 to 2018," notes Jeff Wilson, principal analyst for security at Infonetics Research.

Wilson adds: "Operators are also trying to protect the boundary between their networks and the internet. Gi/SGi firewall revenue is on a serious ramp as well, driven by the huge LTE deployments around the globe that have left many mobile providers with massive all-IP networks that need protection from every type of threat on the internet."
MOBILE INFRASTRUCTURE SECURITY MARKET HIGHLIGHTS
Carriers are playing catchup protecting mobile networks with Gi/SGi firewalls: Worldwide Gi/SGi firewall revenue is expected to nearly double by 2018
New Gi/SGi firewall solutions designed to solve a variety of mobile traffic control and security issues are imminent
The major vendors in the Gi/SGi firewall space are the top players in firewalls: Check Point, Fortinet, and Juniper
In the SMS/MMS security gateway market, AdaptiveMobile and Cloudmark together currently account for the majority of revenue
Key to the ongoing success of Adaptive and Cloudmark will be how they transition their footprints from buyers looking to meet regulations and save money to those wanting to increase the security of their networks and subscribers