2014年8月13日米国カリフォルニア州キャンベル発―Infonetics Researchは、ホステッドPBXやユニファイドコミュニケーションにおける出荷状況や競争状況を継続的に調査分析している 最新のレポート Business Cloud VoIP and UC Services からの抜粋をリリースしました。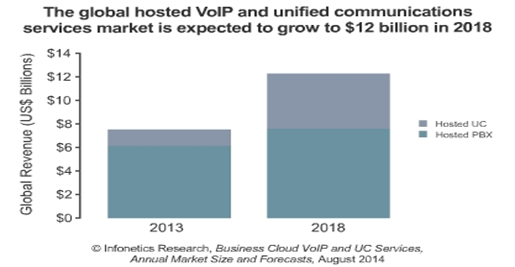 アナリストノート
Infonetics ResearchでVoIP、UC、およびIMSの主席アナリストを務めるDiane Myers氏は次のように指摘する。「構内ベースPBXシステムの販売は過去数年間にわたって減少傾向のまま停滞していますが、クラウド サービス市場は世界展開する企業がホスト型の別の選択肢を求める動きに応じて拡大し続けています。」

Myers氏はこう続ける。「ホスト型サービスが求められる場所は2013年に世界中で20%以上増加しました。」
企業向けクラウドVoIPとUC市場のハイライト
ホスト型PBXと統合コミュニケーション (UC) サービスは、本年も収益が13%増加し、あらゆる主要地域での活動も良好で、初期段階を越えてからも順調に推移する成長市場となっている。
企業がホスト型ソリューションを評価する際に最大の課題となるのは、利用可能な選択肢が多岐にわたることと業界全体で課金構造が一貫していないことである。
ホスト型VoIPサービスは、中小企業や大企業の間で幅広く採用され、本領を発揮している。

ホスト型VoIPサービスへの大企業の関心は高まっており、今まで以上に多くの企業がプロバイダーの評価と選択を行なっている。

企業向けサービスの競争環境は高度に細分化されており、ますます増加するPBXや統合コミュニケーション ベンダー、企業エージェント、システム インテグレーター、従来のサービス事業者と共に市場進出する再販売業者が割拠している状態である。
ハイブリッド ソリューションを必要とするマルチサイト企業が増加しているため、ベンダーはSIPトランキングと並行してホスト型PBXやUCサービスを売り込んでいる。
Infoneticsの予想では、今後5年にわたってクラウドPBXとUC市場の力強い成長が世界中で継続し、2018年には稼働中のサービスが6260万件、市場規模は120億ドルに達するものと見ている。
REPORT SYNOPSIS
Infonetics' annual business cloud VoIP and UC services report provides worldwide and regional market size, forecasts through 2018, analysis, and trends for hosted PBX (IP Centrex and hosted VoIP/IP PBX services) and unified communications telephony and applications revenue, seats, and ARPU. The report includes a Hosted PBX/UC Tracker highlighting deployments by region, service provider, and vendor platform. Service providers in the report include 8X8, AT&T, Avaya, BT, CenturyLink, Charter, Comcast, Cox, IntelePeer, Korea Telecom, Masergy, Mitel, Orange, RingCentral, Samsung Networks, ShoreTel, Sprint, Star2Star, TDS, Telecom Argentina, Telenor, Telstra, Telus, Verizon, Vodafone, Vonage, Windstream, XO, and many others.
(原文)

Cloud PBX and unified communication services a $12 billion market by 2018
Campbell, CALIFORNIA, August 13, 2014-Market research firm Infonetics Research released excerpts from its new Business Cloud VoIP and UC Services market size and forecasts report, which tracks hosted PBX and unified communications (UC) revenue and seats.
ANALYST NOTE
"While sales of premises-based PBX systems have been stagnant to declining over the past few years, the market for cloud services continues to expand with businesses worldwide seeking out hosted alternatives," notes Diane Myers, principal analyst for VoIP, UC, and IMS at Infonetics Research.

Myers continues: "Hosted services seats grew more than 20 percent worldwide in 2013."
BUSINESS CLOUD VOIP AND UC MARKET HIGHLIGHTS
Hosted PBX and unified communications (UC) services are a growth market that has moved well beyond early stages, with revenue on track to grow 13% this year and positive activity in every major geographic region
The biggest challenges for businesses evaluating hosted solutions are the wide variety of options available and inconsistent billing structures across the industry
Hosted VoIP services have hit their stride, experiencing broad adoption among small, medium, and large enterprises

Interest from large enterprises in hosted VoIP services is escalating, with more companies evaluating and choosing providers

The competitive landscape for business services is highly fragmented, with an increasing number of PBX and unified communications vendors, enterprise agents, system integrators, and resellers expanding into the market along with traditional service providers
Vendors are pitching hosted PBX and UC services alongside SIP trunking as more multi-site businesses need hybrid solutions
Infonetics expects continued strong worldwide growth for the cloud PBX and UC market over the next 5 years, projecting it will reach $12 billion in 2018 with 62.6 million seats in service