2014年8月19日米国カリフォルニア州キャンべル発―Infonetics Research は、本年第2四半期の Service Provider VoIP and IMS Equipment and Subscribers レポートの抜粋をリリースしました。当該市場のベンダーシェアおよび市場規模予測を継続的に調査分析しております。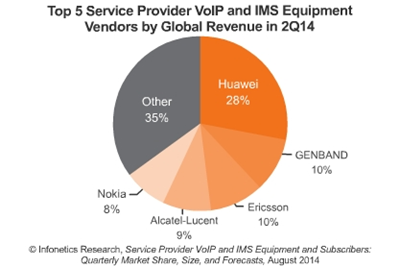 アナリストノート
「2013年末に、我々は大手通信業者が北米およびアジア太平洋地域においてVoLTEサービスを商業的に開始する状況を踏まえて、2014年のIMS装置市場の成長鈍化を予測した。それに伴い通信許容量の使用率があがる。これが実際に起こりつつある」 Infonetics Research のVoIP、UCおよびIMS分野の主席アナリストDiane Myersはこう述べる。「我々はこれを警戒すべきものとは見ておらず、全国的サービスの提供のための在庫の積み増し後に出荷は改善すると見ている。」
VOIPおよびIMS市場のハイライト
これまでに、ボイスオーバーLTE(VoLTE)の全国的サービスの提供は韓国、シンガポールおよび香港といった国々および地域でのみ行われている。
米国および日本における、より大規模なVoLTEの全国的サービスは2014年末にかけて開始する見込みである。これが、欧州、カナダおよびその他のアジア地域における通信業者の活動に加え、2015年におけるVoLTE関連IMS装置市場の牽引役となろう。
グローバルサービスプロバイダVoIPおよびIMS市場は、2014年第二四半期に総額878百万米ドルとなり、前年同期比6%減、前期比12%減となった。
ホーム加入者サーバ(HSS)、音声アプリケーションサーバ(VAS)およびメディアゲートウェイ制御装置(MGCF)装置が、2014年第二四半期に前年同期比で増加した唯一のVoIP/IMS製品セグメントであった。
アジア太平洋地域および欧州・アフリカ・中東地域において、2014年第二四半期に前年同期比でVoIP/IMS売上の底堅い増加が見られ、他方、北米では減少した。
全体に不振であった2014年第二四半期において、IMS/VoIPベンダ中HuaweiおよびMetaswitchの健闘が目立った。
Alcatel-Lucent、Ericsson、HuaweiおよびNokiaといった大型ネットワーク装置ベンダは、VoLTE関連の活動およびIMSを超えて拡大する製品群の恩恵を受けている。
VOIP AND IMS REPORT SYNOPSIS
Infonetics' quarterly carrier VoIP and IMS report provides worldwide and regional market share, market size, forecasts through 2018, analysis, and trends for trunk media gateways, SBCs, media servers, softswitches, voice application servers, HSS, CSCF, BGCF, MGCF, IM/presence application servers, and subscribers. Vendors tracked: Alcatel-Lucent, BroadSoft, Dialogic, Ericsson, Genband, Huawei, Mavenir, Metaswitch, NEC, Nokia, Oracle, Radisys, Sonus, ZTE, and others.
(原文)

Service provider VoIP and IMS market enters period of correction after ramp-up to VoLTE
Campbell, CALIFORNIA, August 19, 2014-Market research firm Infonetics Research released vendor market share and forecasts from its 2nd quarter (2Q14) Service Provider VoIP and IMS Equipment and Subscribers report.
ANALYST NOTE
"At the end of 2013, we projected the IMS equipment market would slow in 2014 as large operators in North America and Asia Pacific commercially launch VoLTE services and capacity begins to be utilized, and this is indeed happening," reports Diane Myers, principal analyst for VoIP, UC, and IMS at Infonetics Research. "We don't view this as a cause for alarm, but rather the ship righting itself after a build-up of inventory for nationwide launches."
VOIP AND IMS MARKET HIGHLIGHTS
To date, nationwide launches of voice over LTE (VoLTE) have taken place only in small countries and city-states such as South Korea, Singapore, and Hong Kong
Larger nationwide launches of VoLTE in the U.S. and Japan are expected to begin toward the end of 2014; this, in addition to the activity of operators in Europe, Canada, and other parts of Asia, will fuel IMS equipment related to VoLTE in 2015
The global service provider VoIP and IMS market totaled $878 million in 2Q14, down 6% from 2Q13, and down 12% sequentially
Home subscriber servers (HSSs), voice application servers (VASs), and media gateway control function (MGCF) equipment were the only VoIP/IMS product segments to post year-over-year growth in 2Q14
Asia Pacific and EMEA notched solid VoIP/IMS revenue gains in 2Q14 over the same period a year ago, while North America skidded
Huawei and Metaswitch are the standout IMS/VoIP vendors in 2Q14, bucking the down quarter
The large network equipment vendors-Alcatel-Lucent, Ericsson, Huawei, and Nokia-are benefitting from VoLTE-related activity and product sets that extend beyond IMS