2014年8月22日米国カリフォルニア州キャンベル発―Infonetics Researchは、2014年第2四半期 Enterprise Unified Communications and Voice Equipment レポートから抜粋をリリースしました。このレポートは、PBX電話システム、IP電話システム、ユニファイドコミュニケーションを継続的に調査分析しています。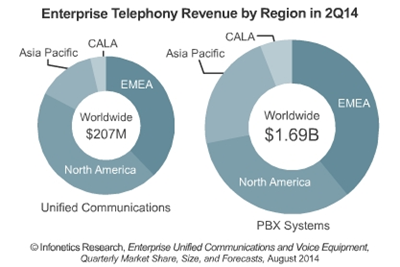 アナリストノート
我々が報告した、2014年第一四半期の企業向け電話通信市場の傾向は 第二四半期でも続いている。企業が ユニファイドコミュニケーション (UC) に投資する一方、クラウドを代替的に使うことを検討したり 現存の設備・ソリューションを使い続けているため、PBX市場は打撃を受け続けている。以上 Infonetics Researchで VoIP 、UC、 IMS らの主席アナリストを務めるDiane Myersによる。

Myersは「UCアプリケーションは 再び回復力を見せており、世界的収益が2014年第二四半期に前年同四半期比で31パーセントの上昇を見せ、拡大する生産性や従業員の柔軟性に応えるツールに対する需要が成長を加速している。」とも続けている。
企業電話通信とユニファイドコミュニケーション市場のハイライト
世界的にPBXの収益 (TDM,hybrid,純粋なIP) は2Q14に前年同期比で6パーセント減少しており、経時的にはほとんど変わらない (-1%)。
企業の支出は全体的に控えめで、施設の側面での電話通信の品質改良や拡張は あまり優先していない。
2Q14のPBXラインの発送は前年同四半期と比べ3%減少。
IP卓上電話の発送はユニットベースで1Q14と比べ2Q14には4%上昇。
アジアパシフィックでは2Q14のPBXは前年比で底堅い収益をあげたが、北米は全地域の中で最も困難な四半期となった。
ユニファイドコミュニケーション (UC) 市場の先導役であるベンダーのMicrosoftは電話通信の最前で成長し続け、2Q14のPBX 収入は(+4%) と三つのベンダーの中で唯一昨年比で増益となっている。
ENTERPRISE TELEPHONY AND UC REPORT SYNOPSIS
Infonetics' quarterly enterprise telephony report provides global and regional market size, vendor market share, forecasts through 2018, analysis, and trends for TDM PBXs, hybrid and pure IP PBXs, IP PBXs by system size, VoIP gateways, unified communications, and IP desk phones and softphones. Vendors tracked: Alcatel-Lucent, Audiocodes, Avaya, Cisco, Ericsson-LG Enterprise, Microsoft, Mitel, NEC, Polycom, Samsung, ShoreTel, Toshiba, Unify, Yealink, and others.
(原文)

PBX market struggles linger in first half of 2014; Unified communications up 31% from year ago
Campbell, CALIFORNIA, August 22, 2014-Market research firm Infonetics Research released excerpts from its 2nd quarter 2014 (2Q14) Enterprise Unified Communications and Voice Equipment report, which tracks PBX phone systems, voice over IP gateways, unified communications (UC) applications, and IP phones.
ANALYST NOTE
"The trends we reported on the enterprise telephony market in the first quarter of 2014 carried over into the second quarter, with the PBX market continuing to take hits as businesses evaluate cloud alternatives and hold onto existing solutions while investing in unified communications (UC) applications," notes Diane Myers, principal analyst for VoIP, UC, and IMS at Infonetics Research.

Myers continues: "UC applications once again proved their resiliency, with worldwide revenue increasing 31% in the second quarter of 2014 over the year-ago quarter as the demand for tools to provide increased productivity and employee flexibility continues to fuel growth."
ENTERPRISE TELEPHONY AND UC MARKET HIGHLIGHTS
Globally, PBX revenue (TDM, hybrid, pure IP) sank 6% year-over-year in 2Q14 and is nearly flat (-1%) sequentially
Enterprise spending remains conservative overall, with low priority being given to telephony upgrades and expansion on the premises side
2Q14 PBX line shipments are down 3% from the year-ago quarter
Unit shipments of IP deskphones grew 4% in 2Q14 from 1Q14
Asia Pacific posted solid year-over-year PBX revenue growth in 2Q14, while North America had the toughest quarter of any region
The leading vendor in the unified communications (UC) market, Microsoft, continues to grow on the telephony front and was 1 of only 3 vendors to post year-over-year PBX revenue growth (+4%) in 2Q14