2014年8月28日米国カリフォルニア州キャンベル発―Infonetics Research は、ケーブルブロードバンド市場での様々な機器や加入者情報を継続的に調査分析している CCAP, CMTS, and Edge QAM Hardware and Subscribers の2014年第2四半期のアップデート版の抜粋をリリースしました。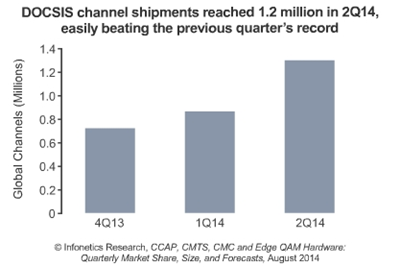 アナリストノート
Infonetics Researchでブロードバンドアクセスおよび有料テレビを担当する主席アナリスト、Jeff Heynen氏は次のように報告する。「CCAP (統合型ケーブル アクセス プラットフォーム) およびCMTSを合わせたアップストリーム/ダウンストリームDOCSISチャンネルの出荷数は、前四半期の記録を軽々と打ち破り、2014年第2四半期 (2Q14) には120万台に達しました。単一四半期でDOCSISチャンネルの出荷数が100万台を超えたのは初めてのことです。」

Heynen氏はこう続ける。「CMTSからCCAPへの移行速度は驚異的なものです。ケーブル事業者が密度の高さと1チャンネル当たりのコストの低さを活用する取り組みの中で、支出をCCAPプラットフォームへと振り向け続けたため、世界のCCAP収益は2014年第2四半期にはさらに42%連続上昇しました。」
2014年第2四半期、ケーブル ブロードバンド市場のハイライト
CCAP、CMTS、エッジQAM、CMC (同軸メディア コンバーター) 機器の収益を合わせると、2014年第2四半期には世界で前期比24%増の4.11億ドルに達した
北米ではCCAPへの移行が最も激しく、2014年第2四半期にはCCAP収益が前期比39%増となった
Arris、Casa Systems、Cisco (アルファベット順) は、2014年第2四半期のCCAP、CMTS、CMC市場総合でトップ3を占めている
REPORT SYNOPSIS
Infonetics' quarterly CCAP, CMTS, and edge QAM report provides worldwide and regional market size, vendor market share, forecasts through 2018, analysis, and trends for CCAP, CMTS, and edge QAM (linear broadcast, VoD and unicast video, switched digital video, and DOCSIS/M CMTS) equipment, coaxial media converter (CMC) platforms, and cable broadband subscribers (standard and wideband). Vendors tracked: Arris, Casa Systems, Cisco, Ericsson, Harmonic, others.
(原文)

DOCSIS channels pass 1 million for first time in Q2; CCAP revenue up 42%
Campbell, CALIFORNIA, August 28, 2014-Market research firm Infonetics Research released excerpts from its 2nd quarter 2014 (2Q14) CCAP, CMTS, and Edge QAM Hardware and Subscribers report, which tracks cable broadband equipment and subscribers.
ANALYST NOTE
"Easily beating last quarter's record, combined CCAP (converged cable access platform) and CMTS upstream and downstream DOCSIS channel shipments reached 1.2 million in the second quarter of 2014 (2Q14), the first time total DOCSIS channel shipments exceeded 1 million in a single quarter," reports Jeff Heynen, principal analyst for broadband access and pay TV at Infonetics Research.

"The velocity of the shift from CMTS to CCAP remains phenomenal," continues Heynen. "Global CCAP revenue jumped another 42% sequentially in 2Q14, as cable operators continued to shift spending to CCAP platforms in an effort to take advantage of their higher densities and lower per-channel prices."
2Q14 CABLE BROADBAND MARKET HIGHLIGHTS
Combined revenue for CCAP, CMTS, edge QAM, and CMC (coaxial media converter) equipment hit $411 million worldwide in 2Q14, up 24% from the previous quarter
In North America, where the shift to CCAP is most acute, CCAP revenue increased 39% in 2Q14 from the prior quarter
Arris, Casa Systems, and Cisco (in alphabetical order) are the top dogs in the combined CCAP, CMTS, and CMC market in 2Q14