2014年10月6日米国マサチューセッツ州ボストン発―Infonetics Researchは、最新の OTN and Packet Optical Hardware レポートの抄録をリリースしました。これはOTNスイッチング、パッケッとオプティカル機器の市場シェア、予測を継続的に調査しております。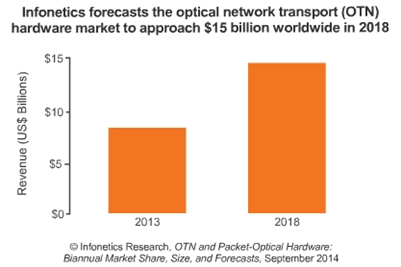 オプティカル アナリストノート
「昨年目の当たりにしたOTNスイッチングの劇的な成長は2014年上半期(1H14)も続きました。100Gのコヒーレント技術を発表し続けるサービスプロバイダーにより開発が触発され、収益は昨年同時期から35%急増しました」とInfonetics Researchのキャリア・トランスポート・ネットワーキング担当主席アナリストのAndrew Schmittは語る。「EMEAでの支出傾向が再び停滞しているため、OTNスイッチングの成長はほとんど北米市場によるものです。」

Schmittは以下のように続けている。「プロバイダー各社が、より複雑で高価なキャリア・イーサネット・システムよりもOTNとイーサネット・スイッチングを組み合わせたパケット・オプティカル・システムを引き続き支持しているため、14年上半期のP-OTS市場も35%伸びました。」
OTNおよびP-OTS市場のハイライト
世界のOTN市場は、2014年上半期(1H14)には2013年上半期(1H13)から9%伸び、総額43億ドルに成長した。
サービスプロバイダー各社はWDMおよびOTNスイッチング統合を採用し、コアに100Gコヒーレント技術を配備したため、主に恩恵を受けているのはAlcatel-Lucent、Ciena、およびInfineraである。
一方、中国のキャリアはOTNスイッチングの配備を拡大し続け、HuaweiとZTEがその恩恵を受けている。
Ciena、Cisco、Coriant、FujitsuおよびHuawei (アルファベット順)といった既存の事業会社がP-OTS市場を牽引しており、BTI、CyanおよびTransmodeがP-OTSプラットフォーム専業企業として新規参入している。
2013年から2018年のOTN市場は、WDM分野よりも若干早いペースの年複利成長率で12%成長するとInfoneticsでは予想している。
P-OTS / OTN REPORT SYNOPSIS
Infonetics' biannual OTN and packet optical report provides worldwide and regional market size, vendor market share, forecasts through 2018, analysis, and trends for OTN transport and switching hardware, including metro edge and metro regional port revenue forecasts by type and speed.Companies tracked:Adtran, Adva, Alcatel Lucent, BTI, Ciena, Cisco, Coriant (Tellabs), Cyan, ECI, Ericsson, Fujitsu, Huawei, Infinera, NEC, NSN, Transmode, ZTE, others.
(原文)

OTN switching and P-OTS markets shoot up 35% from year ago
Boston, MASSACHUSETTS, October 6, 2014-Market research firm Infonetics Research released its latest OTN and Packet Optical Hardware report, which tracks OTN switching and transport equipment as well as packet-optical transport system (P-OTS) market share.
OPTICAL ANALYST NOTE
"The dramatic growth of OTN switching we saw last year carried over into the first half of 2014 (1H14), with revenue soaring 35% from the same period a year ago as deployment is catalyzed by service providers continuing rollouts of 100G coherent technology," notes Andrew Schmitt, principal analyst for carrier transport networking at Infonetics Research. "Most of the growth in OTN switching is coming from North America as spending trends stagnate again in EMEA."

Schmitt adds: "The P-OTS market is also up 35% in 1H14, as providers continue to favor packet optical systems that combine OTN and Ethernet switching over more complex and expensive carrier Ethernet systems."
OTN AND P-OTS MARKET HIGHLIGHTS
The global optical transport network (OTN) market totaled $4.3 billion in the first half of 2014 (1H14), an increase of 9% from the first half of 2013 (1H13)
Alcatel-Lucent, Ciena, and Infinera are the key beneficiaries as service providers adopt integrated WDM and OTN switching and deploy 100G coherent technology in the core
Meanwhile, Chinese carriers continue to expand deployments of OTN switching, benefitting both Huawei and ZTE
Incumbent vendors Ciena, Cisco, Coriant, Fujitsu, and Huawei (listed in alphabetical order) are the P-OTS market leaders, and new players BTI, Cyan, and Transmode are challenging with pure-play P-OTS platforms
The OTN market is forecast by Infonetics to grow at a 12% compound annual growth rate (CAGR) from 2013 to 2018, slightly faster than the wavelength division multiplexing (WDM) segment