2014年10月28日米国カリフォルニア州キャンベル発―CInfonetics ResearchはDAS関連装置に関する最新レポートの抄録を公表した。分散アンテナシステム (DAS) 用装置類の台数と売上の現状を地域別およびカテゴリー (屋内用、戸外用、LTE、多標準向け) 別に調査し、将来予測を行ったものだ。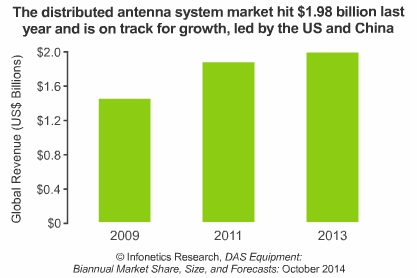 アナリストノート
「分散アンテナシステムの市場は、アメリカと中国の戦いの場となっています。昨年、中国はこのDASの展開に大きく出遅れました。LTEの配置の拡大に大掛かりに取り組んだからです。しかしこの2014年上半期には反転上昇の兆しが見られます。LTEのカバー率拡大を追う段階からカバー域内の利用と容量の向上を図る段階への移行が始まったようです。」 とInfonetics Researchのモバイルインフラおよびキャリヤー経済担当主席アナリストのStéphane Téralは語る。

Téralは続けてこう語った。「他方アメリカは、LTEのカバー域内での利用と通信容量を向上させるためのDASへの支出がピークに達しています。2014年上半期を通じて前年比2ケタ成長を記録しましたが、成長鈍化の兆しが見られるのです。」
DAS装置類市場のハイライト
分散アンテナシステム (DAS) 市場は2014年上半期 (1H14) に世界全体で$110億の規模に達した。これは前年同期 (1H13) に比べて11%の成長である。
北米ではDASからの収入は1H14に前年同期比19%の伸びを示した。
DAS利用拡大の原動力となる基本的な背景に変化はない。つまりそのカバー率、通信容量、スペクトル効率、干渉の軽減、データ利用の支持、拡張性、適応性などである。
このDAS市場のリーダー格の会社は、アルファベット順にAxell Wireless、CommScope、Corning Mobile、TE Connectivityである。
DAS EQUIPMENT REPORT SYNOPSIS
Infonetics' biannual DAS equipment report provides worldwide and regional market size, market share, forecasts through 2018, analysis, and trends for distributed antenna system (DAS) equipment. The report tracks DAS node units and DAS revenue by category (in-building, outdoor, LTE, multistandard) and includes a Service Provider DAS Activity Tracker. The report tracks equipment made by Axell Wireless, Comba, CommScope, Corning, Ericsson, JMA, Kathrein-Werke KG, Optiway, SOLiD, TE Connectivity, Zinwave, and many others.
(原文)

China bounces back in distributed antenna system (DAS) market, U.S. sees double-digit growth
Campbell, CALIFORNIA, October 28, 2014-Market research firm Infonetics Research released excerpts from its latest DAS Equipment report, which tracks and forecasts distributed antenna system (DAS) equipment units and revenue by geographic region and category (in-building, outdoor, LTE, multi-standard).
ANALYST NOTE
"In the distributed antenna system market, it's a U.S. versus China game. Last year, China was marked by an abyssal slowdown in DAS spending as it was preparing for massive LTE deployments, but the first half of 2014 saw a slight pickup that suggests the shift from LTE coverage buildout to coverage and capacity enhancement is starting," says Stéphane Téral, principal analyst for mobile infrastructure and carrier economics at Infonetics Research.

Continues Téral: "The U.S., on the other hand, has reached its DAS spending peak for LTE coverage and capacity enhancement, posting double-digit year-over-year growth during the first half of 2014 and signaling an upcoming slowdown."
DAS EQUIPMENT MARKET HIGHLIGHTS
The global distributed antenna system (DAS) market totaled $1.1 billion in the first half of 2014 (1H14), growing 11% over the same period a year ago (1H13)
In North America, DAS revenue grew 19% year-over-year in 1H14
Fundamental DAS drivers remain unchanged and include coverage, capacity, spectrum efficiency, interference mitigation, data support, scalability, and adaptability
The market share leaders in the DAS market are, in alphabetical order, Axell Wireless, CommScope, Corning Mobile, and TE Connectivity