2014年11月18日米国カリフォルニア州キャンベル発―Infonetics Research は、2014年第3四半期のPON, FTTH, and DSL Aggregation Equipment and Subscribers レポートの抄録をリリースしました。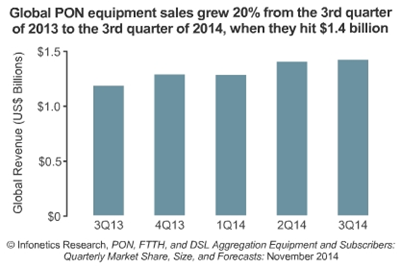 ブロードバンド アナリストノート
Infonetics Researchでブロードバンド アクセスと有料テレビを担当する主席アナリスト、Jeff Heynen氏は次のように語る。「PON (受動光ネットワーク) は、2014年第3四半期 (3Q14) に成長した唯一のブロードバンド集約機器カテゴリーでした。それも、北米での2.5G GPON ONT (光ネットワーク端末) の増加に牽引される形での、前期比でたった1%の成長でした。前年同期比で見ると、PONは世界で20%という見事な成長を見せています。」

Heynen氏はこうつけ加える。「DSL集約機器の収益は、2014年第3四半期に前期比6%減となりました。第3四半期は、支出を増加させる地域がある一方で、第4四半期の予算が出る前に支出をストップする地域もあり、一貫性のない状況です。おそらく前期の収益が連続で19%増加したことが、第3四半期の命運を決めてしまったのでしょう。良い知らせと言えば、第4四半期の支出が確実に増加するはずだということです。」
ブロードバンド市場のハイライト
世界のブロードバンド集約機器市場 (DSL、PON、イーサネットFTTH) は、2014年第3四半期に前期から1%減少して20億ドル規模となる。
第3四半期は、地域ごとに投資状況が異なるものとなった: ブロードバンド集約機器への支出はアジア太平洋地域と北米で増加したが、EMEA (欧州、中東、アフリカ) とCALA (カリブ海地域、ラテンアメリカ) では減少した。
2014年第3四半期のブロードバンド集約機器市場シェア上位はアルファベット順で、Alcatel-Lucent、Huawei、ZTEである。
北米では、一方でコネクト アメリカ ファンド (CAF)プロジェクトが進行中であり、他方でネットワーク中立性関連法がより明確になるまでAT&Tおよびその他のサービス事業者がブロードバンドの展開を中断する恐れがあるため、2014年第4四半期は動きの激しい期間になると予想されている。
BROADBAND REPORT SYNOPSIS
Infonetics' quarterly broadband aggregation report provides worldwide and regional market size, vendor market share, forecasts through 2018, analysis, and trends for EPON, GPON, FTTH, FTTB, PON, and DSL aggregation equipment and subscribers. Vendors tracked: Adtran, Alcatel Lucent, Alphion, Arris, Calix, Cisco, Dasan Networks, ECI, Fiberhome, Fujitsu, Genexis, Hitachi, Huawei, Iskratel, Mitsubishi, NEC, OF Networks, PacketFront, Sagemcom, Sumitomo, Tellabs, Tilgin, Ubiquoss, UTStarcom, Zhone, ZTE, ZyXel, others.
(原文)

Broadband equipment market flat in 3Q14 as PON grows and DSL slows
Campbell, CALIFORNIA, November 18, 2014-Market research firm Infonetics Research released vendor market share and preliminary analysis from its 3rd quarter 2014 (3Q14) PON, FTTH, and DSL Aggregation Equipment and Subscribers report.
BROADBAND ANALYST NOTE
"PON (passive optical network) was the only broadband aggregation equipment category to grow in the third quarter of 2014 (3Q14), and it was up just 1% sequentially, led by 2.5G GPON ONT increases in North America," says Jeff Heynen, principal analyst for broadband access and pay TV at Infonetics Research. "From the year-ago third quarter, PON is up a nice 20% globally."

Heynen adds: "DSL aggregation equipment revenue was down 6% quarter-over-quarter in 3Q14. The third quarter is an inconsistent one, with some regions ramping spending while others brake expenditures ahead of fourth quarter budget flushes. And last quarter's 19% sequential jump in revenue probably sealed Q3's fate. The good news is that fourth quarter spending should increase solidly."
BROADBAND MARKET HIGHLIGHTS
The global broadband aggregation equipment market (DSL, PON, and Ethernet FTTH) is down 1% in 3Q14 from 2Q14, to $2 billion
Q3 was a mixed bag for regional investment: Spending on broadband aggregation gear increased in Asia Pacific and North America, but declined in EMEA (Europe, Middle East, Africa) and CALA (Caribbean and Latin America)
The broadband aggregation equipment market share leaders in 3Q14 are, in alphabetical order, Alcatel-Lucent, Huawei, and ZTE
4Q14 is anticipated to be a dynamic one for the North American region, with Connect America Fund (CAF) projects getting underway on one hand, while on the other AT&T and other service providers threaten to halt broadband rollouts until there is more clarity on pending net neutrality legislation