2014年11月24日米国カリフォルニア州キャンベル発―Infonetics Research は、最新のCCAP, CMTS, and Edge QAM Hardware and Subscribers report (2014年第3四半期アップデート)よりその抄録をリリースしました。これは世界のブローバンド機器市場および加入者状況を継続的にトラッキングしています。。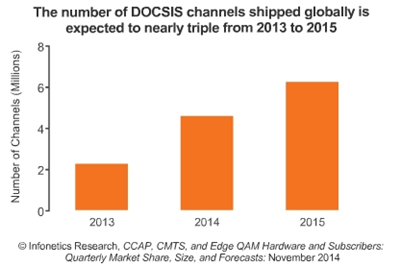 アナリストノート
「2014年第3四半期(3Q14)において世界で出荷されたアップストリームとダウンストリームのDOCSISチャネルの合計は前期比ではやや減少しましたが、120万の水準となり、前年同期比で驚異的な95%増となりました。これは、ケーブル会社がIPビデオなどの高帯域サービスをサポートし、光と競合するためにいかに多くの投資をしているかを反映しています」と、Infonetics Researchでブロードバンドアクセスとペイテレビを担当している主席アナリストであるJeff Heynen氏は述べている。
3Q14ケーブルブロードバンド市場のハイライト
世界全体のCCAP、CMTS、エッジQAM、CMC機器の収入は3Q14に4億4,500万ドル、前期比で8%増加した。
過去数四半期の間、CMTSからCCAPプラットフォームへのシフトが顕著にみられることで、CCAPの収入は 3Q14に前期比7%増の3億6,000万ドルとなった。
現在、北米ほどCCAPへのシフトが強くみられる地域はない。ここではケーブルオペレーターが新しいハードウェアの採用に注力している。
3Q14においてCCAP、CMTS、CMC市場を合わせた合計で上位にいる企業は、Arris、Casa Systems、Cisco、Harmonic (アルファベット順)となっている。
CABLE BROADBAND REPORT SYNOPSIS
Infonetics' quarterly CCAP, CMTS, and edge QAM report provides worldwide and regional market size, vendor market share, forecasts through 2018, analysis, and trends for CCAP, CMTS, coaxial media converter (CMC), and edge QAM (linear broadcast, VoD and unicast video, switched digital video, and DOCSIS/M CMTS) equipment, and cable broadband subscribers (standard and wideband). Vendors tracked: Arris, Casa Systems, Cisco, Ericsson, Harmonic, Huawei, others.
(原文)

Investment in high-bandwidth services pushes DOCSIS channel shipments up 95% YoY in 3Q
Campbell, CALIFORNIA, November 24, 2014-Market research firm Infonetics Research released excerpts from its 3rd quarter 2014 (3Q14) CCAP, CMTS, and Edge QAM Hardware and Subscribers report, which tracks cable broadband equipment and subscribers.
ANALYST NOTE
"Though down a bit sequentially, total upstream and downstream DOCSIS channels were still at 1.2 million in the third quarter of 2014 (3Q14), and up an incredible 95% over what was shipped globally just a year ago. This reflects just how much the cable companies are investing to support higher-bandwidth services such as IP video and to compete with fiber," notes Jeff Heynen, principal analyst for broadband access and pay TV at Infonetics Research.
3Q14 CABLE BROADBAND MARKET HIGHLIGHTS
Worldwide revenue for CCAP, CMTS, edge QAM, and CMC equipment totaled $445 million in 3Q14, an 8% sequential increase
Underscoring the tremendous shift from CMTS to CCAP platforms over the last few quarters, CCAP revenue increased 7% in 3Q14 from 2Q14, to $360 million
Nowhere is the current shift to CCAP being felt more acutely than in North America, where cable operators are focusing on deploying new hardware
Arris, Casa Systems, Cisco, and Harmonic (in alphabetical order) held steady at the top of the combined CCAP, CMTS, and CMC market in 3Q14