2014年12月4日米国カリフォルニア州キャンベル発―Infonetics Research は、最新(2014年第3四半期)の2G, 3G, LTE Mobile Infrastructure and Subscribers レポートの抄録をリリースしました。このレポートは、全ての現在稼働しているワイヤレスネットワークにおける50以上の機器群、ソフトウェア、および加入者を継続的に調査分析しています。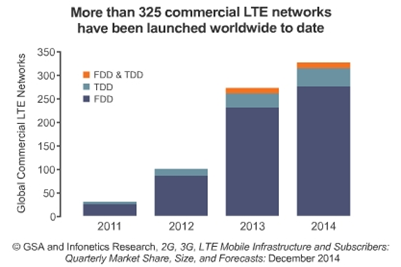 アナリストノート
「2014年第3四半期のモバイルインフラ市場は、前四半期とほぼ同じ状況が続きましたが、現在はシンプルな LTE公開のピークを迎えており、中でも中国市場が活発で、好調な動きのあった欧州、中東、ロシアの影を薄くしています」とInfonetics Researchのモバイルインフラおよびキャリアエコノミクス主席アナリストStéphane Téralは語る。
モバイルインフラ市場のハイライト
事業者たちは現在、LTEに四半期ごとに56億ドルほどを費やしており、これによりInfoneticsは、2014年の世界のマクロセル 2G、3G、4Gモバイルインフラ市場の予測額を、前年の430億ドルから454億ドルへと引き上げた。
当初2015年に充てられていた投資予算が2014年へと振り替えられ、LTE市場が2015年にピークを迎えるというInfoneticsの予測をより強固なものにしている。
2014年第3四半期の世界のマクロセル 2G/3G/4G モバイルインフラ市場は、連続0.4%成長して112億ドルに達し、前年比10%アップを記録した。
Nokia Networksは、米国と中国での高い業績を背景に、2014年第3四半期のLTE収益で1位に躍り出た。
中国は引き続きLTEが伸び続けているが、GSA(The Global mobile Suppliers Association)により2014年9月に331コマーシャルネットワークが開始され、他の地域でも急速にLTEへ移行している。
MOBILE REPORT SYNOPSIS
Infonetics' quarterly 2G, 3G, LTE mobile infrastructure report provides worldwide and regional market size, vendor market share, forecasts through 2018, deployment trackers, analysis, and trends for macrocell mobile network equipment, software, and subscribers.The report tracks more than 50 subsegments of the market, including radio access networks (RANs), base transceiver stations (BTSs), mobile softswitching, packet core equipment, and E-UTRAN macrocells.Vendors tracked:Alcatel-Lucent, Cisco, Datang Mobile, Ericsson, Fujitsu, Genband, HP, Huawei, NEC, Nokia Networks, Samsung, ZTE, others.
(原文)

LTE market to peak in 2015
Campbell, CALIFORNIA, December 4, 2014-Market research firm Infonetics Research released excerpts from its 3rd quarter 2014 (3Q14) 2G, 3G, LTE Mobile Infrastructure and Subscribers report, which tracks more than 50 categories of equipment, software, and subscribers based on all existing generations of wireless network technology.
ANALYST NOTE
"In the mobile infrastructure market, the third quarter of 2014 was almost a carbon copy of last quarter, and we are now reaching the peak of plain LTE rollouts, which are so brisk in China that they are overshadowing strong activity in Europe, the Middle East, and Russia," notes Stéphane Téral, principal analyst for mobile infrastructure and carrier economics at Infonetics Research.
MOBILE INFRASTRUCTURE MARKET HIGHLIGHTS
Operators are currently spending around $5.6 billion per quarter on LTE, and this has prompted Infonetics to raise its 2014 forecast for the global macrocell 2G, 3G, and 4G mobile infrastructure market to $45.4 billion, up from $43 billion the prior year
Investments initially earmarked for 2015 have shifted to 2014, reinforcing Infonetics' prediction that the LTE market will peak in 2015
The worldwide macrocell 2G/3G/4G mobile infrastructure market totaled $11.2 billion in 3Q14, up 0.4% sequentially, and up 10% year-over-year
Nokia Networks moved into the #1 spot for LTE revenue in 3Q14, propelled by strong performances in the U.S. and China
China continues to push LTE through the roof, but the rest of the world is also moving fast to LTE, with 331 commercial networks launched as of September 2014, as per the GSA