2014年12月10日米国マサチューセッツ州ボストン発―Infonetics Research は、2014年第3四半期 Wireless LAN Equipment and WiFi Phones レポートから抄録をリリースしました。 このレポートでは企業向けアクセスポイント、ワイヤレスLANコントローラおよびWiFi電話市場を継続的に調査分析しています。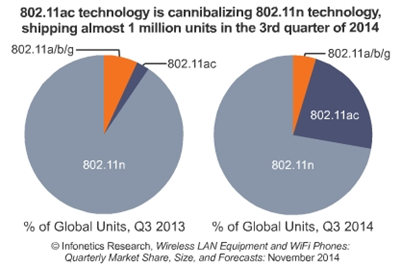 WLANアナリストノート
「今年、弱含んだ上半期の後、無線LANの売上高は、2014年第3四半期に政府や企業の顧客からの高い需要に支えられて増加した。収益の成長率は再びアクセスポイントの出荷台数を加速―上回るペースですらある―させており、ベンダーが価格設定を維持し、802.11acアクセスポイント、これは今や全出荷高の四分の一近くを占めるのだか、これ等の高価格機器に製品ミックスをシフトすることができたこと示す兆候だ。」と、Infonetics Researchにおける企業ネットワークおよび動画担当主席アナリストのMatthias Machowinski、は指摘している。
2014年第3四半期 WLAN市場のハイライト
2014年第3四半期にグローバル無線LAN(WLAN)機器市場は、引き続き5%成長して13億ドルとなった。
WiFi接続の需要は引き続き衰えない:アクセスポイントの出荷台数は、2014年第3四半期に前年比14%増加。
インタラクティブ・アクセスポイントが、2014年第3四半期に最も業績の良いWLANセグメントだ。
802.11acアクセスポイントの浸透率は、この一年間でほぼ10倍に増加し、2014年第3四半期には100万台近くが出荷された。
WLANの最大市場である北米での成長率は、前四半期にマイナスの落ちた後、2014年第3四半期にプラスに戻った。
ArubaとRuckusは、第3四半期に全WLAN機器ベンダー中で最も高い成長率を記録。
無線LAN電話の出荷は、ヘルスケア専門市場の弱さと企業電話システム向け需要の継続的な低迷のため、素晴らしかった2013年から逆のコースをたどって低迷している。
WIRELESS LAN REPORT SYNOPSIS
Infonetics' quarterly WLAN equipment report provides worldwide and regional market size, vendor market share, forecasts through 2018, analysis, and trends for WLAN infrastructure, including access points by type and technology, WLAN controllers, and enterprise single-mode WiFi phones. Vendors tracked: Aerohive, Alcatel-Lucent, Aruba, Brocade, Buffalo, Cisco, D-Link, Extreme, Juniper, Meru, Netgear, HP, Huawei, Ruckus, Spectralink, TP Link, Ubiquiti, Vocera, Xirrus, Zebra, others.
(原文)

Nearly a quarter of all access points are now 802.11ac, shows Infonetics WLAN market report
Boston, MASSACHUSETTS, December 10, 2014-Market research firm Infonetics Research released excerpts from its 3rd quarter 2014 (3Q14) Wireless LAN Equipment and WiFi Phones report, which tracks enterprise access points, wireless LAN (WLAN) controllers, and WiFi phones.
WLAN ANALYST NOTE
"After a weak first half of the year, wireless LAN sales improved in 3Q14 thanks to higher demand from government and enterprise customers. Revenue growth is once again accelerating-and even outpacing-access point shipments, a sign that vendors were able to sustain pricing and shift the product mix to higher-priced equipment such as 802.11ac access points, which now account for almost a quarter of all shipments," notes Matthias Machowinski, directing analyst for enterprise networks and video at Infonetics Research.
3Q14 WLAN MARKET HIGHLIGHTS
The global wireless LAN (WLAN) equipment market improved in 3Q14, growing 5% sequentially to $1.3 billion
Demand for WiFi connectivity continues unabated: Access point shipments are up 14% year-over-year in 3Q14
Interactive access points are the top-performing WLAN segment in 3Q14
802.11ac access point penetration is up almost 10-fold over the past year, with almost 1 million units shipped in 3Q14
Growth in North America, the largest region for WLAN, resumed in 3Q14 after falling negative in the prior quarter
Aruba and Ruckus notched the highest growth of all WLAN equipment vendors in Q3
WiFi phone shipments are reversing course from a great 2013 due to weakness in the healthcare vertical and continuing weak demand for enterprise phone systems