2015年1月19日米国カリフォルニア州キャンベル発―Infonetics Research (now part of IHS Inc.) は、最新版になる2014年第3四半期 Data Center Network Equipment レポートの抄録をリリースしました。このレポートでは、データセンター イーサネット スイッチ、セット販売のイーサネット スイッチ、アプリケーション デリバリ コントローラ (ADC)、WAN最適化製品について追跡調査を行っている。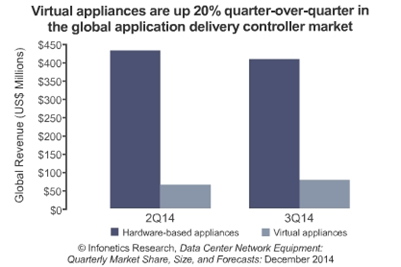 Infonetics Researchでデータセンター、クラウド、SDNを担当するアナリストCliff Grossnerは、次のように語った。「データセンターの新たなネットワーク設計を可能にする25GEと50GEによって、データセンター スイッチ市場はさらなる転換に向けて態勢を整えています。そのターゲットは、10GEのスイッチとサーバー接続性から100GEのスイッチと25GEのサーバー接続性への移行を目指している大手クラウドサービス事業者です。」

Grossner氏はこう付け加えた。「2015年、Broadcomの新世代スイッチング シリコンはポートスピードの組み合わせの中に25GEと50GEを追加することになるでしょう。」
2014年第3四半期 データセンター市場のハイライト
世界のデータセンター イーサネット スイッチ市場は2014年第3四半期に米国公共部門やクラウドサービス事業者などの後押しを受け、連続5%増の22億ドルという好成績を残した。
世界的なアプリケーション デリバリ コントローラ (ADC) の収益は2014年第3四半期に前期から2%減少したものの、ADC市場の最新の6四半期を見ると、前年比ベースでは着実に成長している。

仮想ADC機器は、前四半期から20%増加している。

世界的に見ると、WAN最適化の収益は2014年第3四半期に連続して9%増加したが、前年同期比では1%の減少だった。
WAN最適化の分野にはSiarasやViptelaといった新規参入があるが、市場自体はまだ長期成長過程に戻っていない。
DATA CENTER REPORT SYNOPSIS
Infonetics' quarterly data center equipment report provides worldwide and regional market size, vendor market share, forecasts, analysis and trends for data center network equipment, including data center Ethernet switches, ADCs, WAN optimization appliances, and Ethernet switches sold in bundles. Vendors tracked: A10, Alcatel Lucent, Arista, Array Networks, Aryaka, Barracuda, Blue Coat, Brocade, CloudGenix, Cisco, Citrix, Dell, Exinda, F5, HP, Huawei, IBM, Ipanema, Juniper, Kemp, NEC, Radware, Riverbed, Siaras, Silver Peak, Talari, VeloCloud, Viptela and others.
(原文)

25GE and 50GE poised to transform data center switching market
Campbell, CALIFORNIA (January 19, 2015) - Technology market research firm Infonetics Research, now part of IHS Inc. (NYSE: IHS), today released excerpts from its 3rd quarter 2014 (3Q14) Data Center Network Equipment report, which tracks data center Ethernet switches, Ethernet switches sold in bundles, application delivery controllers (ADCs) and WAN optimization products.
"The data center switching market is poised for another transformation with 25GE and 50GE enabling new data center network architectures targeting large cloud service providers looking to migrate from 10GE switching and server connectivity to 100GE switching and 25GE server connectivity," said Cliff Grossner, Ph.D., directing analyst for data center, cloud, and SDN at Infonetics Research.

Grossner added: "A new generation of Broadcom switching silicon will add 25GE and 50GE to the mix of port speeds in the data center for 2015."
3Q14 DATA CENTER MARKET HIGHLIGHTS
The global data center Ethernet switch market put in a good showing in 3Q14, up 5 percent sequentially to $2.2 billion; positive forces include the U.S. public sector and cloud service providers
Though worldwide application delivery controller revenue is down 2 percent in 3Q14 from 2Q14, the ADC market has grown consistently on a year-over-year basis for the last 6 quarters

Virtual ADC appliances are up 20 percent from the previous quarter

Globally, WAN optimization revenue is up 9 percent sequentially in 3Q14, but down 1 percent from the year-ago 3rd quarter
There are more new entrants in the WAN optimization space with Siaras and Viptela jumping in, but the market has yet to return to long-term growth