2015年2月9日米国カリフォルニア州キャンベル発―Infonetics Research (now part of IHS Inc. (NYSE: IHS)は、 Diameter信号制御機器の市場レポートの抄録をリリースしました。それによるとiameter信号制御機器の市場は2014年から2018年にかけて3倍に成長し$130億の規模に達する。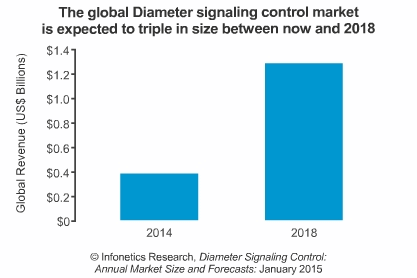 Infonetics社のDiameter信号制御レポートはDiameter信号の制御機器を追跡している。これは、携帯IPフォンを用いたデータ・音声サービスの普及に伴い、サービスプロバイダーのネットワーク上で猛烈な勢いで増大しているDiameter信号のトラフィックを安全かつ確実に取り扱うための機器である。

「次世代の信号伝達プロトコルとして開発されたDiameterが、LTEの利用の普及とVoLTE (ボイスオーバーLTE) の出現を受けて、市場に浸透し始めました。その結果、Diameter関連市場が2014年には前年度比81%増の急上昇となりました。」 とInfonetics ResearchのVoIP・UC・IMS担当主席アナリストのDiane Myersは言う。「Diameter関連のベンダーは早くも淘汰の季節を迎え、そのトップ争いもHuawei、F5とOracleの間で激しさを増しています。Ericssonも強力になってきましたし、Alcatel-Lucent、Sonus、そして最近Ulticom社を買収したMavenirも攻勢に出ています。企業の合併の動きはこれからも続き、2015年位はより活発になるでしょう。」
DIAMETER関連市場のハイライト
全世界のDiameter信号制御関連の市場規模は総額で2014年に$3.81億に達し、2013年に比べ81%の増大となった。
Diameter信号制御の利用形態で一番多かったのは、前年に引き続き集中型ルーティング処理だが、DEA (Diameter Edge Agent) 経由のローミングがすぐ後に迫っている。
北米が2014年のDiameter信号制御機器の売り上げの3分の1以上を占め、その後をEMEAとアジア太平洋地域が追っている。

これらの地域での増大の多くはLTE契約者数の増大を受けたものだが、EMEAでは通信事業者の数が非常に多いためにローミング目的での信号制御機器の利用が必要なことも影響している。

Infoneticsは、2015年にはDiameter信号制御機器がVNF (ヴァーチャルネットワーク機能) 環境に装備され始めると予測する。北米の通信事業者といくつかの欧州の携帯電話の事業者がその先鞭をつけるだろう。
DIAMETER REPORT SYNOPSIS
Infonetics' annual diameter signaling control report provides worldwide and regional market size and forecasts through 2019 of manufacturer revenue and transactions/second licenses for Diameter signaling controllers, which provide centralized routing, traffic management and load-balancing in IMS and mobile broadband networks. The report includes market analysis, trends and a Diameter deployment tracker. Companies tracked: Alcatel-Lucent, BroadForward, Dialogic, Diametriq (Intellinet), Ericsson, F5 Networks, Huawei, Openet, Oracle, Sonus Networks (PT), Ulticom (Mavenir) and others.
(原文)

Diameter Signaling Controller Market Soared 81 Percent in 2014 on the Wings of LTE
Campbell, CALIFORNIA (February 9, 2015)-Technology market research firm Infonetics Research, now part of IHS Inc. (NYSE: IHS), today reported that the Diameter signaling control market will grow threefold between 2014 and 2018, to $1.3 billion.
Infonetics' Diameter Signaling Control report tracks Diameter signaling controllers, which handle and secure the exponentially increasing Diameter signaling traffic on service provider networks triggered by mobile IP data and voice services.

"Developed as the next-generation signaling protocol, Diameter has begun to permeate networks, driven by increasing LTE usage and the emergence of VoLTE (voice over LTE). As a result, the Diameter market spiked 81 percent in 2014 from the previous year," said Diane Myers, principal analyst for VoIP, UC, and IMS at Infonetics Research. Myers added: "The Diameter vendor landscape is beginning to shake out, and it's a tight race at the top between Huawei, F5 and Oracle. We see a strengthening of Ericsson and a push from Alcatel-Lucent, Sonus and now Mavenir with its acquisition of Ulticom. The consolidation continues, and we expect even more in 2015."
MORE DIAMETER MARKET HIGHLIGHTS
Globally, the Diameter signaling control market totaled $381 million in 2014, an increase of 81 percent over 2013
The top use case for Diameter signaling control in 2014 was once again centralized routing, but roaming via DEA (Diameter Edge Agent) was right behind
North America accounted for over a third of Diameter signaling controller revenue in 2014, followed by EMEA and Asia Pacific

Growth in the regions is predominantly tied to rising LTE subscribers, however in EMEA, where there are many more operators, the need for signaling controllers for roaming is having an impact

Infonetics looks for Diameter signaling controllers to be implemented as VNFs (virtual network functions) beginning in 2015, with North American operators and a few European mobile operators leading the way