2015年2月17日米国マサチューセッツ州ボストン発―Infonetics Researchは、その最新レポートService Delivery Platform Software and Service 2015の抄録をリリースしました。API公開プラットフォームと大企業および中堅・中小企業 (SMB) に後押しされる形で、サービス配信プラットフォーム (SDP) ソフトウェアとサービスの世界市場は2014年に13%成長して47億ドル弱の規模に達した。

InfoneticsによるSDPソフトウェアとサービスレポートでは、事業者が加入者に対してサービスを提供する際に利用するモバイルおよび固定回線のSDPソフトウェアとサービスについて追跡調査を行っている。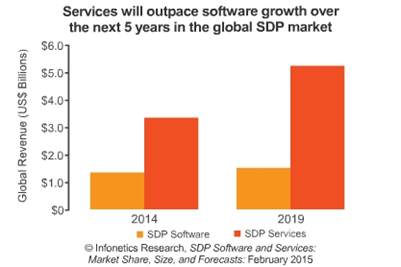 Infonetics Researchでサービス利用可能性と加入者インテリジェンスを担当するアナリスト、Shira Levine氏は次のように語った。「仮想化は今、通信業界全体で注目の話題になっており、サービス配信プラットフォーム (SDP) 分野もその例外ではありません。」

Levine氏はこう続けた。「事業者の大多数、とりわけ既存市場でティア1ステータスを持つ事業者は、専用のハードウェアを利用した自社内ソリューションというもっとも慣れ親しんだ方法を採用し続けています。しかし、プライベートクラウド上でのSDPの仮想化に対する関心は、特に共用リソースの有効活用を目指す大規模な多国籍事業者の間で大きくなっています。また、サービスとしてのソフトウェア (SaaS) とサービスとしてのプラットフォーム (PaaS) への需要も高まっています。事業者はこれらを利用することで仮想移動体通信事業者 (MVNO) サービスやマシン・ツー・マシン (M2M) サービスのような異業種への挑戦を、より低リスクかつコスト効率的に行うことが可能になります。」
SDP市場のハイライト
事業者は、呼出音や不在着信通知、ポリシー管理、認証・承認、加入者分析のような従来のAPIと公開機能の範囲を拡げつつある。
新興地域では、顧客機会がサービス配信プラットフォームへの投資を促進し続けている一方で、先進国市場の多くがこの時機に急成長しているM2Mなど大企業およびSMB向けのサービスに投資を集中している。
EricssonとHuaweiがSDP収益の市場シェアランキングで首位の座を互角に争っている。
Infoneticsの予想では、SDPソフトウェアとサービス市場の世界規模が2019年までに67億ドルに達する。
SDP REPORT SYNOPSIS
Infonetics' annual SDP software and services report provides worldwide and regional market size, vendor market share, forecasts through 2019, analysis and trends for wireless and fixed-line SDP components and services by network and service types. Vendors tracked: Accenture, Aepona, Ericsson, HP, Huawei, IBM, Layer 7, Oracle, ZTE and others.
(原文)

Virtualization an Emerging Trend in the Service Delivery Platform (SDP) Market
Boston, MASSACHUSETTS (February 17, 2015) -Propelled by API exposure platforms and enterprise and small- and medium-sized business (SMB) services, the global market for service delivery platform (SDP) software and services grew 13 percent in 2014, to just under $4.7 billion, according to a new report by technology market research firm Infonetics Research, now part of IHS Inc. (NYSE: IHS).

Infonetics' SDP Software and Services report tracks the mobile and fixed-line SDP software and services that operators use to create and deliver services to their subscribers.
"Virtualization is a hot topic throughout the communications industry right now, and the service delivery platform (SDP) segment is no exception," said Shira Levine, directing analyst for service enablement and subscriber intelligence at Infonetics Research.

"Though the majority of operators - particularly Tier 1s in established markets - continue to be most comfortable with on-premise solutions deployed on purpose-built hardware, we're seeing a growing interest in virtualizing the SDP on a private cloud, particularly among large multinational operators looking to better leverage shared resources," Levine said. "There is also emerging demand for software-as-a-service (SaaS) and platform-as-a-service (PaaS), which provide operators with a lower-risk and more cost-effective way to trial different lines of business, such as mobile virtual network operator (MVNO) offerings and machine-to-machine (M2M) services."
MORE SDP MARKET HIGHLIGHTS
Operators are going beyond traditional APIs and exposing capabilities such as ringback tones, missed call notification, policy management, authentication and authorization, and subscriber analytics
The consumer opportunity continues to drive service delivery platform spending in emerging regions, while more developed markets are focusing investments on enterprise and SMB services, including the burgeoning M2M opportunity
Ericsson and Huawei are neck-and-neck at the top of the SDP revenue market share leaderboard
Infonetics projects the worldwide combined SDP software and services market to reach $6.7 billion by 2019