2015年2月23日米国マサチューセッツ州ボストン発―Infonetics Researchが今日発表したレポートによると、 より効率の高いオプティカルネットワークの構築にに使われるWDM (波長分割多重) 機器への2014年の世界の支出は、前年比6%増の$100億となった。

Infoneticsのオプティカルネットワーク機器に関するレポート暫定版は、世界のオプティカル機器市場について、2014年第4四半期 (4Q14) 及び2014年通年のベンダー別マーケットシェアと初期の評価結果を紹介している。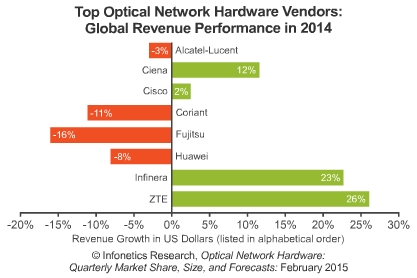 「北米のオプティカル市場は2014年にはっきりと2つに分かれました。Adva、InfineraそれにCienaが好業績となった一方で、Alcatel-Lucent、FujitsuやCoriantなどの伝統のあるベンダーは低迷しました。」 とInfonetics Research社のキャリア・トランスポート・ネットワーキング担当主席アナリストAndrew Schmittは語った。「傾向は極めてはっきりしています。従来のキャリアに足場を固めている会社は業績が伸びませんでした。ただし、理由ははっきりしませんがAT&TやVerizonの支出について新聞や投資家はいまだに大きな魅力を感じ続けているようです。」

「EMEA地域について一言付け加えなければなりません。ユーロベースで見ると、WDMオプティカル市場への第4四半期の支出は前年同期より14%増と急上昇をしました。過去5年間にない大きな数字です。」 とSchmittは言う。
オプティカル機器市場のハイライト
世界のWDMオプティカル機器の売り上げは上昇したが、SONET/SDH関連機器は低迷期に入り、2014年に25%の減少となった。
このWDMとSONET/SDHを合わせたオプティカルネットワーク機器の市場全体では4Q14の売り上げは$32億に達した。これは前期より7%、前年同期より3%の増大である。
2014年の通年では、オプティカルネットワーク機器市場は全体で前年比1%の縮小となった。
年度末に向けて資本支出が急上昇する傾向はEMEA (ヨーロッパ、中東、アフリカ) 地域で引き続いて見られ、前期に比べ50%増となった。
Cienaが2014年の世界市場でAlcatel-Lucentを僅差で押しのけ、第2位のオプティカル・ベンダーとなった。Huaweiは一位の座を守った。
西欧 (北米およびEMEA) で成長が一番速かった会社はInfineraで、2014年に前年比23%の売り上げの成長を記録した。Cienaの12%がそれに続く。
Ciscoのオプティカル関連の売り上げは前年比2.4%の増大となった。同社は、企業向け及びデータセンター向け市場で従来からの顧客が急速に新技術へのシフトを進める中、NCS 4000プラットフォームを推進し営業方針の改革を進めてきた。
OPTICAL REPORT SYNOPSIS
Infonetics' quarterly optical hardware report provides worldwide and regional market size, market share, forecasts through 2019, analysis and trends for metro and long haul SONET/SDH and WDM equipment, Ethernet optical ports, SONET/SDH/POS ports, and WDM ports. Vendors tracked: Adtran, Adva, Alcatel-Lucent, Ciena, Cisco, Coriant, Cyan, ECI, Fujitsu, Huawei, Infinera, NEC, Padtec, Transmode, TE Connectivity, Tyco Telecom, ZTE, others.
(原文)

Global Optical Network Hardware Market Sees Diverse Results by Vendor and Region in 2014; Ciena Edges Up
Boston, MASSACHUSETTS (February 23, 2015)-Technology market research firm Infonetics Research, now part of IHS Inc. (NYSE: IHS), today reported that global spending on wavelength division multiplexing (WDM) equipment, which is used to build more efficient optical networks, grew 6 percent in 2014 from 2013, to $10 billion.

Infonetics' early edition Optical Network Hardware report contains vendor market share and preliminary analysis for the global optical equipment market for the fourth quarter of 2014 (4Q14) and the full-year 2014.
"The North American optical market diverged sharply in 2014, with strong results from Adva, Infinera and Ciena balanced by major weakness at traditional vendors like Alcatel-Lucent, Fujitsu and Coriant," Andrew Schmitt, principal analyst for carrier transport networking at Infonetics Research, said. "The pattern here could not be clearer: companies whose fortunes are tied to traditional carriers are underperforming. Yet the press and investor echo chamber's fascination with AT&T and Verizon spending inexplicably remains."

"One important note on the EMEA region: when measured in euros, fourth quarter WDM optical spending surged 14 percent from the year prior. This has no precedent in the past five years," Schmitt said.
OPTICAL HARDWARE MARKET HIGHLIGHTS
While global WDM optical hardware revenue is up, SONET/SDH gear continues its downward spiral, down 25 percent in 2014
Combined, the WDM and SONET/SDH optical network equipment market totaled $3.2 billion in 4Q14, up 7 percent sequentially, and up 3 percent from the year-ago quarter
For the full year, the overall optical network hardware market ended down 1 percent in 2014 over 2013
The end-of-year capex surge is still in fashion in EMEA (Europe, Middle East, Africa), where optical spending surged nearly 50 percent from the previous quarter
Ciena became the second largest optical vendor in the world in 2014, just edging out Alcatel-Lucent; Huawei remains number-one
Infinera, the fastest-growing optical company in the West (North America and EMEA combined), was the big success story for 2014, with 23 percent revenue growth from the previous year, followed by Ciena at 12 percent
Cisco optical revenue was up 2.4% for the year as the company seeks customers for its NCS 4000 platform and re-orients sales efforts due to the rapidly changing tastes of traditional customers in the enterprise and data center markets