2015年2月27日米国カリフォルニア州キャンベル発―Infonetics Researchは本日、企業やサービスプロバイダーのデータやインフラを保護するのに使用されているコンテンツセキュリティゲートウェイ機器とソフトウェアに対する世界の支出金額が2014年に前年比3%増加して 28億ドルになったと報告した。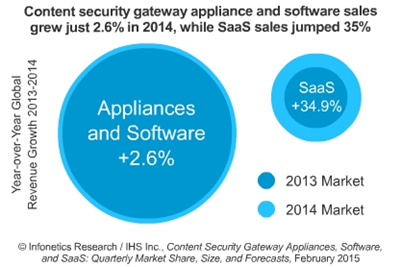 「コンテンツセキュリティゲートウェイ機器の市場は横ばいか下向きのトレンドを示し、伝統的な企業向けソフトウェア市場も低迷していますが、これらの分野への支出減は、SaaSやバーチャル機器への投資増により相殺されています」としたうえで、アドバンスドスレッドプロテクション(ATP)などの新たな脅威保護ソリューションや、これまでのウェブやメールのセキュリティゲートウェイに代わるサンドボックスに対しても投資が行われています」と、Infonetics Researchでセキュリティを担当しているリサーチディレクターのJeff Wilson氏は述べている。
コンテンツセキュリティ市場のハイライト
通年ベースでは3%増となったものの、4Q14のコンテンツセキュリティゲートウェイ機器とソフトウェアの市場規模は3Q14との比較で1%減少し、世界全体で6億9800万ドルとなった。
コンテンツセキュリティの問題は世界中でみられる。2014年において世界のコンテンツセキュリティゲートウェイ関連収入の半分超は北米が占めており、次いでEMEA (欧州、中近東、アフリカ)、アジア太平洋が続いている。中南米の規模は限定的である。
Infonetics/HISでは、コンテンツセキュリティゲートウェイのSaaS関連収入は2014年から2019年にかけて12%の年間平均増加率(CAGR)で成長すると予測している。
2014年におけるコンテンツセキュリティゲートウェイ収入での最大手はMcAfeeであった。上位5社のうち残り4社をアルファベット順に並べると、Blue Coat、Cisco、Symantec、Websenseとなる。
一方、SaaSセグメントでは2014年のベンダーシェア最大手はMicrosoftであった。これにCisco、McAfee、Proofpoint、Symantec (アルファベット順)が続いている。
新たな進化形の脅威保護ツールや技術がウェブやマルウェアのゲートウェイソリューションとして注目されており、これがコンテンツセキュリティ市場に力を与えている。
CONTENT SECURITY REPORT SYNOPSIS
Infonetics' quarterly content security report provides worldwide and regional market size, vendor market share, forecasts through 2019, analysis and trends for content security gateway software (messaging, web/malware), gateway appliances (messaging, web/malware, integrated) and SaaS (messaging, web/malware). Beginning next quarter, Infonetics will also break out sandboxing/ATP and web application firewall data. Vendors tracked: Barracuda, Blue Coat, Cisco, Citrix, McAfee, Microsoft, Proofpoint, SonicWall, Symantec, Trend Micro, Websense, others.
(原文)

Software-as-a-Service and Virtual Appliances Buoy Flagging Content Security Gateway Market
Campbell, CALIFORNIA (February 26, 2015)-Technology market research firm Infonetics Research, now part of IHS Inc. (NYSE: IHS), today reported that global spending on content security gateway appliances and software, which are used to protect enterprise and service provider data and infrastructure, grew 3 percent in 2014 from 2013, to $2.8 billion.
Infonetics' fourth quarter 2014 (4Q14) and year-end Content Security Gateway Appliances, Software, and SaaS market share and forecast report tracks gateway software, gateway appliances and software-as-a-service (SaaS).

"The content security gateway appliance market is trending flat to down long term and the traditional enterprise software market is decreasing as well, but this spending decrease is being offset by increased investments in SaaS and virtual appliances," said Jeff Wilson, research director for security at Infonetics Research. "We're also seeing investments in new threat prevention solutions like advanced threat protection (ATP) and sandboxing displacing sales of traditional web and mail security gateways."
MORE CONTENT SECURITY MARKET HIGHLIGHTS
While up 3 percent for the year, overall content security gateway appliance and software revenue declined 1 percent between 3Q14 and 4Q14, to $698 million worldwide
Content security is a global issue: North America accounted for just over half of total content security gateway revenue in 2014, followed by EMEA (Europe, Middle East, Africa), Asia Pacific and, very distantly, Latin America
SaaS revenue for content security gateways is forecast by Infonetics/IHS to grow at a compound annual growth rate (CAGR) of 12 percent from 2014 to 2019
In 2014, McAfee was the content security gateway revenue market share leader; rounding out the top five are, in alphabetical order, Blue Coat, Cisco, Symantec and Websense
Meanwhile, in the SaaS segment, Microsoft led all vendors in 2014 market share, followed by (in alphabetical order) Cisco, McAfee, Proofpoint and Symantec
New advanced threat protection tools and techniques are finding their way into web and malware gateway solutions, providing a boost for the content security market