2015年3月3日米国カリフォルニア州キャンベル発―Infonetics Research, now part of IHS Inc. (NYSE: IHS))は本日、2014年第4四半期アップデート(PON, FTTH, and DSL Aggregation Equipment report)として2014年の世界のブロードバンドアグリゲーション関連機器への支出が9%増大し$82億に達したと報告した。これを牽引したのはギガビット・パッシブ・オプティカルネットワーク (GPON) 関連機器の堅調な売り上げであり、特に中国での伸びが大きかった。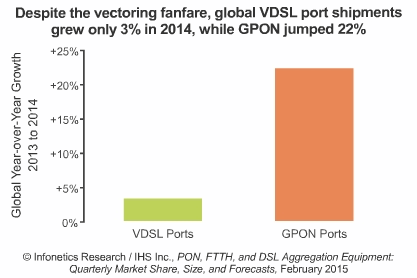 「ブロードバンドアグリゲーションの市場が強かったのは、GPON関連機器が2年連続で記録的な伸びを示したことが原因です。世界の通信事業者は、顧客により高速広帯域を提供しようと、柔軟性に富み相違を超えて相互に利用しあえる技術を探し求めています。GPONの普及で先頭に立っているのが中国で、2014年のGPONの総売り上げの半分を占めています。その一方でラテン・アメリカはGPON関連の売り上げが258%増と記録的な数字になりました。このGPONの急拡大を支えたのは、ブラジルの激しい競争、それからメキシコやコロンビアでのFTTH (ファイバー・トゥ・ザ・ホーム) の大プロジェクトです。」 と、現在IHSの子会社であるInfonetics Researchのブロードバンド・アクセスおよびペイテレビ担当首席アナリストのJeff Heynenは語った。
ブロードバンド市場のハイライト
DSLやPONそれにイーサネットFTTHなどの世界のブロードバンドアグリゲーション用機器市場は2014年の年度末にかけ強力な数字を記録した。4Q14の売り上げは前期比7%増大し、$22億に達した。
一つの技術は大きく伸びた (GPON) が、他は減少した。2014年のDSLへの支出は2013年に比べ15%減少したが、これはADSL (非対称型DSL) の価格の下落が止まらないことと、VDSL (超高速DSL) の売り上げが頭打ちになっていることによる。
ベクトル化技術を鳴り物入りで進めたにも拘らず、2014年のVDSLポートの出荷数の増大はわずか3%にとどまった。以前の中央局型ADSLに比べても運用期限が長くなっていることに加え、プロバイダーが激しい競争を受けてG.fastやFTTHへの移行を急かされていることが原因であろう。
2014年通年で、固定ブロードバンド関連機器市場で売り上げのシェアトップ5は、アルファベット順にAdtran、Alcatel-Lucent、Calix、HuaweiおよびZTEである。
BROADBAND REPORT SYNOPSIS
Infonetics' quarterly broadband aggregation report provides worldwide and regional market size, vendor market share, forecasts through 2019, analysis and trends for EPON, GPON, FTTH, FTTB, PON and DSL aggregation equipment and subscribers. Vendors tracked: Adtran, Alcatel Lucent, Alphion, Arris, Calix, Cisco, Dasan Networks, ECI, Fiberhome, Fujitsu, Genexis, Hitachi, Huawei, Iskratel, Mitsubishi, NEC, OF Networks, PacketFront, Sagemcom, Sumitomo, Tellabs, Tilgin, Ubiquoss, UTStarcom, Zhone, ZTE, ZyXel, others.
(原文)

Record Year for Broadband Equipment Market in 2014, Thanks to Gigabit Mantra
Campbell, CALIFORNIA (March 3, 2015)-Technology market research firm Infonetics Research, now part of IHS Inc. (NYSE: IHS), today reported that worldwide spending on broadband aggregation equipment rose 9 percent in 2014, to $8.2 billion, driven by robust sales of Gigabit Passive Optical Network (GPON) equipment, particularly in China.

Infonetics' early edition PON, FTTH, and DSL Aggregation Equipment report contains vendor market share and preliminary analysis for the broadband aggregation equipment market for the fourth quarter of 2014 (4Q14) and the full-year 2014.
"The strength in the broadband aggregation market is due to another record year for GPON equipment, as operators around the world seek a flexible, interoperable technology for offering higher-bandwidth speeds to their customers. China leads in GPON spending, accounting for half of all GPON sales in 2014, while Latin America notched the largest increase in GPON spending, up 258 percent. Fierce competition in Brazil combined with key FTTH (fiber-to-the-home) projects in Mexico and Colombia helped expand GPON's reach," said Jeff Heynen, principal analyst for broadband access and pay TV at Infonetics Research, now part of IHS.
BROADBAND MARKET HIGHLIGHTS
The global broadband aggregation equipment market, including DSL, PON and Ethernet FTTH, closed out 2014 on a strong note, with 4Q14 revenue growing 7 percent sequentially, to $2.2 billion
Where one technology gained (GPON), another lost: DSL spending was down 15 percent in 2014 from 2013 as continued price erosion for asymmetric DSL (ADSL) and very-high-bit-rate DSL (VDSL) tamped revenue
Despite the fanfare surrounding vectoring, VDSL port shipments were up only 3 percent in 2014, pointing to longer deployment timelines than traditional, CO based ADSL, and heavy competition pushing providers closer to G.fast or FTTH
The top five fixed broadband equipment revenue market share leaders for full-year 2014 are, in alphabetical order, Adtran, Alcatel-Lucent, Calix, Huawei and ZTE