2015年4月21日米国カリフォルニア州キャンベル発―Infonetics Researchは、2014年にモバイルインフラ支出が急増したことを示すレポートを公表した。China Unicom (中国聯合通信) がW-CDMAネットワークを拡大したこと、China Mobile (中国移動通信) がTD-LTE eNodeBを大規模導入したことの影響が大きい。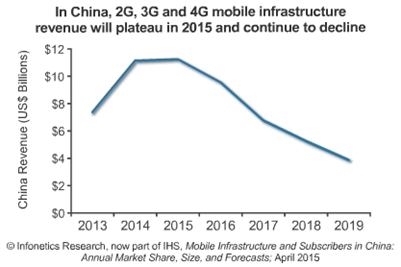 現在IHS傘下のInfonetics Researchでモバイルインフラとキャリア経済状況のリサーチを担当するStéphane Téral氏は次のように語る。「モバイルへの資本支出を見ると、China Telecom (中国電信) による3分の1近い支出削減、China Unicomによる4分の1程度の支出拡大、China Mobileによる前2社の合計を超える支出という3つの要因のバランスによって、2014年の中国は期待通りの結果を残しました。」

Téral氏はこう続けた。「China Mobileは自社のTD-LTE展開目標を突破し、72万台のTD-LTE eNodeBを設置して2014年を終えました。これは前年より57万台多く、50万台達成という自社計画を十分に超えるもので、TD-SCDMA時代から早く抜け出したいChina Mobileの本気度をよく表しています。」

Infoneticsによる2015年版世界のモバイルインフラ機器レポートをもとに、特定の国を取り上げた中国のモバイルインフラと加入者市場シェア・規模・予測レポートでは、中国における2G・3G・LTEインフラ市場と加入者について追跡調査している。
中国モバイルインフラ市場のハイライト
中国のモバイルインフラ市場は、2013年から51%急増して2014年には111億ドル規模に達した。
中国の携帯電話事業者は2014年に5,800万人のモバイル加入者を獲得し、総加入者数は13億人に達した。
中国の携帯電話加入者の約60%はChina Mobileのネットワークを利用している。
HuaweiとZTEで、中国における2014年の基地局 (BTS) 出荷台数の60%超を占めた。
.CHINESE MOBILE REPORT SYNOPSIS
Infonetics' annual China mobile equipment report provides market size, vendor market share, forecasts through 2019, analysis and trends for 2G GSM, 3G CDMA2000 (TD SCDMA, W-CDMA) and 4G LTE (E-UTRAN, EPC) mobile network equipment and subscribers in China. The report also includes an LTE deployment tracker. Vendors tracked: Alcatel-Lucent, Datang Mobile, Ericsson, Fiberhome, Huawei, Potevio, Newpostcom, Nokia Networks, ZTE, others.
(原文)

Mobile Infrastructure Spending in China Jumped 51 Percent in 2014
Campbell, CALIFORNIA (April 21, 2015)-Technology market research firm Infonetics Research reported that mobile infrastructure spending soared in 2014, led by W-CDMA network expansion at China Unicom and robust TD-LTE eNodeB deployments at China Mobile.
"Looking at mobile capex, China delivered again in 2014 via a balancing act that had China Telecom cutting capex by nearly a third, China Unicom increasing spending by almost a quarter and China Mobile shelling out more than the two combined," said Stéphane Téral, research director for mobile infrastructure and carrier economics at Infonetics Research, now part of IHS.

"China Mobile blew up its own target of TD-LTE rollouts, ending the year with 720,000 TD-LTE eNodeBs. That's 570,000 above last year and well in excess of its own plan of bringing the footprint up to 500,000, illustrating China Mobile's commitment to exit the TD-SCDMA era as fast as possible," Téral said.

Based on Infonetics' 2015 global Mobile Infrastructure Equipment report, the country specific Mobile Infrastructure and Subscribers in China market share, size and forecasts report tracks the 2G, 3G and LTE infrastructure markets and subscribers in China.
MOBILE INFRASTRUCTURE IN CHINA MARKET HIGHLIGHTS
The Chinese mobile infrastructure market came to US$11.1 billion in 2014, a 51 percent jump over 2013
China's mobile operators added 58 million mobile subscribers in 2014, pushing the number of total subscribers to 1.3 billion
Around 60 percent of Chinese mobile subscribers are on China Mobile's network
Huawei and ZTE together commanded over 60 percent of China's 2014 base transceiver station (BTS) unit shipments