2015年5月6日英国ロンドン発―Infonetics Researchは今日、2014年下半期におけるWiFi機器の世界収益が、China Mobileなど最大手事業者の支出によって、同年上半期から23%増の3.36億ドルに押し上げられたと報告した。Infoneticsは、キャリアWiFi市場に2015年一年間で88%という大きな飛躍を見込んでいる。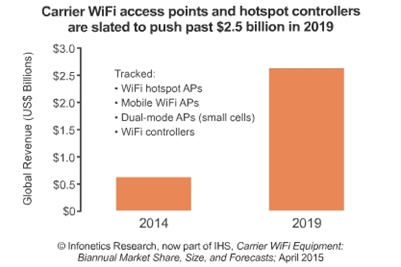 現在IHS傘下のInfonetics Researchでモバイルバックホールとスモールセルのリサーチを担当するRichard Webb氏は次のように語った。「いくつかの強力な成長因子によって、キャリアWiFi市場は急成長しています。オフロードとブロードバンド増強に対する需要に加えて、802.11acやHotspot 2.0などの技術革新があり、データ分析、ロケーションベースのサービス、WiFiローミングのようなサービス機会がキャリアWiFi機器の導入を促進しています。」

Webb氏はこう続けた。「市場は今後数年間、WiFi機能内臓型のスモールセルを展開するモバイル事業者からの後押しも得るでしょう。」

InfoneticsによるキャリアWiFi機器 (Carrier WiFi Equipment)の市場シェア・規模・予測レポートでは、事業者が公共スペースに導入する無線インターネットアクセスのためのWiFi機器について追跡調査している。
キャリアWiFi市場のハイライト
2014年通年でキャリアWiFi機器の世界市場は16%成長した。
2014年のキャリアWiFi機器収益の大部分はアクセスポイントによるもので、WiFiコントローラーは売上の22%を占めた。
802.11acアクセスポイントは、2014年下半期のWiFiアクセスポイント収益の17%に貢献し、少なくとも2019年までホットスポットをアップグレードするための支出を促進させると見込まれる。
SIMベースのWiFiアクセスポイントは、WiFiホットスポットのアクセスポイントを売上規模の点で急速に追い越した。
2014年のキャリアWiFi市場シェア上位は、アルファベット順でCisco、Huawei、Ruckusである。
SERVICE PROVIDER WIFI REPORT SYNOPSIS
Infonetics' biannual carrier WiFi equipment report provides worldwide and regional market size, vendor market share, forecasts through 2019, analysis and trends for WiFi hotspot controllers and carrier WiFi access points (WiFi hotspot APs, SIM-based WiFi APs, dual-mode 3G/WiFi picocells and metrocells, and dual-mode 4G/LTE/WiFi mini eNodeBs). The report includes carrier WiFi vendor announcements and customer wins and a Mobile Operator WiFi Offload Strategies Tracker. Vendors tracked: Alcatel-Lucent, Aruba Networks, Cisco, Edgewater Wireless, Ericsson, HP, Huawei, Motorola Solutions, Nokia Networks, Ruckus Wireless, others.
(原文)

Big Jump in Carrier WiFi Gear Expected in 2015 as 802.11ac and Hotspot 2.0 Accelerate
London, UK (May 6, 2015)-Technology market research firm Infonetics Research, now part of IHS Inc. (NYSE: IHS), today reported that operator spending, particularly by large tier-1s such as China Mobile, drove global carrier WiFi equipment revenue to US$336 million in the second half of 2014, up 23 percent over the first half of 2014. Infonetics expects a big annual jump-88 percent-in the carrier WiFi market in 2015.
"Several strong growth factors are feeding the rapid acceleration of the carrier WiFi market. In addition to the demand for offload and broadband enhancement, there are technology innovations such as 802.11ac and Hotspot 2.0, and service opportunities like data analytics, location-based services and WiFi roaming that are driving deployment," said Richard Webb, research director for mobile backhaul and small cells at Infonetics Research, now part of IHS.

"The market will get another push from mobile operators deploying small cells with integrated WiFi over the coming few years," Webb said.

Infonetics' Carrier WiFi Equipment market share, size and forecast report tracks WiFi equipment deployed by operators in public spaces for wireless internet access.
CARRIER WIFI MARKET HIGHLIGHTS
For the full year 2014, the global carrier WiFi equipment market grew 16 percent
Access points made up the bulk of carrier WiFi revenue in 2014, while WiFi controllers accounted for 22 percent of sales
802.11ac access points contributed 17 percent to 2H14 WiFi access point revenue and are expected to drive hotspot upgrade expenditures through at least 2019
SIM-based WiFi access points have rapidly overtaken WiFi hotspot access points as the highest volume segment
The carrier WiFi market share leaders for 2014 are, in alphabetical order, Cisco, Huawei and Ruckus