2015年5月8日米国カリフォルニア州キャンベル発―Infonetics Researchは本日、世界のボイスオーバーIP (VoIP)サービスの市場規模が2014年に700億ドルをわずかに下回る水準になったと報告した。前年比では3%増であるが、この増加は企業向けVoIPサービスが住居用VoIPサービス収入の落ち込みを相殺することでもたらされた。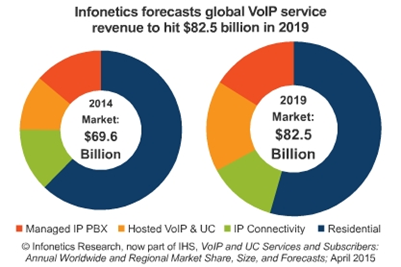 「IPへの積極的な移行があらゆる事業用セグメントでクラウド、トランキング・マネジドサービスに影響をもたらしているなか、企業向け音声サービスはVoIPサービス市場の中でも成長の原動力となっています。特に大企業は、施設をベースとする採用にあたってはSIPトランキングへ移行もしている一方で、クラウドユニファイドコミュニケーションを前向きに評価しています。この市場が衰える気配はありません」と、Infonetics Research(現在はIHSの子会社)でVoIP、UC、IMSを担当しているリサーチ・ディレクターのDiane Myers氏は述べている。

「住居用に関して言えば加入者数は増加を続けていますが、世界の多くの地域でVoIPサービスがトリプルプレーのパッケージでほぼ追加費用なしで含まれていることもあり、収入面では減少しています」と、Myers氏は続けて述べている。

InfoneticsのVoIP and UC Services and Subscribersレポートは、サービスプロバイダーの住居用、事業用VoIP、ユニファイドコミュニケーション(UC)サービスを追跡調査している。
VOIP・UCサービス市場のハイライト
VoIPサービス販売全体の38%を占めている事業用VoIPサービスの収入は2014年に前年比9.7%増加した。
2014年、世界には2億2,400万の住居用VoIP加入者がいた(前年比5%増)。
今後数年、マネジドIP PBXサービスは事業用VoIPサービスの最大セグメントとなるだろう。専用のクラウドユニファイドコミュニケーション・ソリューションからは新たな成長がもたらされる。
クラウドをベースとする企業向けサービスへの需要が継続したことで、ホステッドPBX及びユニファイドコミュニケーションサービスの収入は2014年に8%増加、シートは30%増加した。
VOIP AND UC REPORT SYNOPSIS
Infonetics' annual VoIP and unified communications report provides worldwide and regional market share, market size, forecasts through 2019, analysis and trends for residential and business VoIP and unified communication services and subscribers. The report includes a Hosted PBX/UC Tracker highlighting deployments by service provider, region and vendor platform. Residential VoIP providers in the report include AT&T, Cablevision, Charter, Comcast, Cox, Embratel, Iliad, J:Com, KDDI, KT, LG Uplus, Liberty Global, NTT, Numbericable-SFR, ONO, Orange, Rogers, Shaw Communications, Sky, SoftBank, TalkTalk, Time Warner Cable, Verizon, Vonage and others.
(原文)

In VoIP Services Market, Business Segment Offsets Residential Slowdown
Campbell, CALIFORNIA (May 8, 2015)-Technology market research firm Infonetics Research, now part of IHS Inc. (NYSE: IHS), today reported that the worldwide voice over IP (VoIP) service market hit just shy of $70 billion in 2014, a 3 percent increase over the prior year fueled by growth in business VoIP services, which offset a slowdown in residential VoIP services revenue.
"Business voice services are the driving force within the VoIP services market as the move to IP positively impacts cloud, trunking and managed services across all business segments. Larger enterprises in particular continue to actively evaluate cloud unified communications while also migrating to SIP trunking for premises-based deployments. And there are no signs of it slowing down," said Diane Myers, research director for VoIP, UC and IMS at Infonetics Research, now part of IHS.

"On the residential side, subscribers continue to grow, but revenue has fallen off as VoIP services are included in triple-play packages for almost no cost in many parts of the world," Myers said.

Infonetics' VoIP and UC Services and Subscribers report tracks service provider residential and business VoIP and unified communications (UC) services.
VOIP AND UC SERVICES MARKET HIGHLIGHTS
Comprising 38 percent of overall VoIP services sales, business VoIP service revenue grew 9.7 percent in 2014 over 2013
There were 224 million residential VoIP subscribers worldwide in 2014, up 5 percent from the previous year
Managed IP PBX services will make up the largest segment of business VoIP services for the next several years, with new growth coming from dedicated cloud unified communication solutions
Owing to continuing demand for enterprise cloud-based services, hosted PBX and unified communication service revenue increased 8 percent year-over-year in 2014, and seats rose 30 percent