2015年5月12日米国マサチューセッツ州ケンブリッジ発―Infoneticsは本日、企業及びデータセンター市場への10G、40G、100G光トランシーバ販売からもたらされた収入は2014年に21%増加して14億ドルとなったほか、その増加の大半は40GのQSFP (着脱可能クアッド小型フォームファクタ)への支出によってもたらされたと報告した。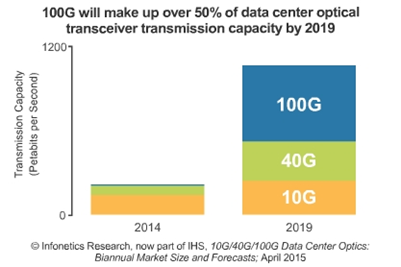 「特にブレイクアウトケーブル経由の高密度10Gインターフェースとして40GbEがデータセンターにより採用されているなか、40Gトランシーバが増加を続けています。シングルモードファイバー上の40G QSFPに対する需要増は、インターネットコンテンツプロバイダーであるMicrosoftと Googleへの大量出荷の結果もたらされているものです」と、IHS Infoneticsでキャリアトランスポートネットワーキングを担当しているリサーチディレクターのAndrew Schmitt氏は述べた。

「100Gデータセンター光の市場は拡大していますが、40G QSFP光で見られたようなデータセンターによる大掛かりな採用によって加速する事態には至っていません。この状況は、安価な100Gシリコンの製造が始まり、その結果としてQSFP28の出荷が増加するにつれて劇的に変わっていくでしょう」としたうえで、「来年は100GbEにとって大きな機会になるでしょう」と、Schmitt 氏は続けて述べた。

HIS Infoneticsが年2回発行している10G/40G/100G Data Center Optics 市場規模・予測レポートは、光トランシーバ、ショートリーチ光を、速度・リーチ・波長・フォームファクタ別に詳しく追跡調査している。
データセンター光市場のハイライト
データセンタートランシーバは全体(テレコムとデータコム)10G/40G/100G光トランシーバ市場の65%を占めている。
全40Gトランシーバの収入は2014年第2四半期(2H14)に前年同期比81%増加した。
データセンターにおける10Gの出荷数は堅調に増加しているが、高密度10Gインターフェースとして使用される40Gが増加していることによる影響を受けている。
一方、世界的なクライアント10Gモジュールの収入は2014年に前年比で横ばいだった。
IHS Infoneticsでは、データコムトランシーバ市場の規模が2019年までに21億ドル超に成長すると予測している。
REPORT SYNOPSIS
IHS Infonetics' biannual 10G/40G/100G data center optics report provides worldwide market size, forecasts through 2019, analysis and trends for manufacturer revenue, units shipped and ARPU. The report analyzes the optical transceiver market by module speed (10G, 40G, 100G), reach, wavelength and form factor. Unit volume forecasts are based on IHS Infonetics' 1G/10G/40G/100G Networking Ports forecast, which aggregates trends from a wide range of enterprise, datacenter, optical transport, and carrier routing and switching equipment.
(原文)

In Data Center Optics Market, 40G Transceivers Ubiquitous, 100G Accelerating
Cambridge, MASSACHUSETTS (May 12, 2015)-Technology market research firm IHS Infonetics (NYSE: IHS) today reported that revenue from 10-, 40- and 100-Gigabit optical transceivers sold into the enterprise and data center markets grew 21 percent in 2014 to $1.4 billion, almost entirely due to increased 40G QSFP (quad small form factor pluggable) spending.
"40G transceivers are ramping up hard as data centers deploy 40GbE, particularly as a high-density 10G interface via breakout cables. 40G QSFP demand growth over single-mode fiber is primarily a result of large shipments to internet content providers Microsoft and Google," said Andrew Schmitt, research director for carrier transport networking at IHS Infonetics.

"The market for 100G data center optics is accelerating, but it has yet to be turbocharged by widespread data center deployment in the way 40G QSFP optics have. This will change dramatically in 2016 as cheap 100G silicon reaches production and QSFP28 shipments surge as a result," Schmitt said. "Next year is going to be huge for 100GbE."

IHS Infonetics' biannual 10G/40G/100G Data Center Optics market size and forecast report tracks in granular detail optical transceivers, or short reach optics, by speed, reach, wavelength and form factor.
DATA CENTER OPTICS MARKET HIGHLIGHTS
Data center transceivers account for 65 percent of the overall (telecom and datacom) 10G/40G/100G optical transceiver market
Total 40G transceiver revenue grew 81 percent in the second half of 2014 (2H14) over the same period a year ago (2H13)
10G shipments in the data center continue to grow at healthy rates, but are being impacted by growth of 40G interfaces used as high-density 10G interfaces
Meanwhile, worldwide revenue for client 10G modules was flat on a year-over year basis in 2014
IHS Infonetics expects the datacom optical transceiver market to grow to over $2.1 billion by 2019