2015年5月22日米国カリフォルニア州キャンベル発―Infoneticsによれば2014年における世界全体の分散アンテナシステム (DAS) の売上高は、アジア太平洋地域と北米が原動力となり、前年比11%増の22億ドルに達したと最新のDASレポートの抄録をリリースしました。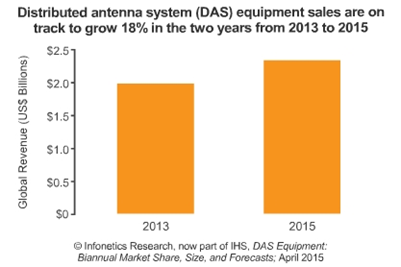 「中国はすでにマクロのLTE対応エリア構築から、容量・能力と対応エリアの増強へとシフトする過程にあります。アジア太平洋地域においてDASを先導するComba Telecomは、2014年のワイアレス増強事業が前年に比べて17%増加し、中国におけるDASの動きが確実に回復していることを示しました。これは中国にとって、前年の2桁台の減少からの完全な逆転劇となっています」と、Stéphane Téral氏は語った
DAS装置市場のハイライト
2014年の分散アンテナシステム関連の売上高は、前年に比べてアジア太平洋地域で17%上昇し、北米では11%上昇した。
IHSでは、スポーツ / エンターテイメントを開催するスタジアム、コンベンションセンター、交通機関の駅や港の数や規模から、少なくとも2019年まで中国と米国が世界最大のDASマーケットであり続けるであろうと考えている。
DASベンダーの勢力図は、北米マーケットを牽引するCommScope、Corning、TE Connectivityと、主に大規模な投資元であるChina Mobileのおかげで、アジア太平洋地域で優位に立つ、香港を拠点とするComba Telecomに分かれている。
DAS EQUIPMENT REPORT SYNOPSIS
The biannual IHS Infonetics DAS Equipment market research report tracks and forecasts distributed antenna system equipment units and revenue by vendor, geographic region and category (in-building, outdoor, LTE, multi-standard). The research service provides worldwide and regional market size, vendor market share, forecasts through 2019, analysis, trends and a Service Provider DAS Activity Tracker. Vendors tracked include Axell Wireless, Comba, CommScope, Corning, Ericsson, JMA, Kathrein-Werke KG, Optiway, SOLiD, TE Connectivity, Zinwave and many others.
(原文)

Distributed Antenna Systems (DAS) Market Hits $2.2 Billion, Led by China Turnaround
Campbell, CALIFORNIA (May 22, 2015)-IHS (NYSE: IHS) today reported that worldwide distributed antenna system (DAS) revenue reached $2.2 billion in 2014, growing 11 percent over 2013, powered by Asia Pacific and North America.
"China's already in the process of shifting from macro LTE coverage buildouts to capacity and coverage enhancements. In 2014, Comba Telecom, Asia Pacific's DAS bellwether, increased its wireless enhancement business 17 percent year-over-year, showcasing a solid comeback for DAS activity in China. This is a complete reversal of fortune for China after a double-digit decline last year," said Stéphane Téral, [[[ research director for mobile infrastructure and carrier economics at IHS. ]]]
DAS EQUIPMENT MARKET HIGHLIGHTS
In 2014 versus 2013, distributed antenna system revenue is up 17 percent in Asia Pacific, and up 11 percent in North America
IHS believes China and the US will remain the world's two largest DAS markets through at least 2019 due to the number and magnitude of their sports/entertainment stadiums, convention centers, transport stations and ports
The DAS vendor ecosystem is fragmented, with CommScope, Corning and TE Connectivity leading the North American market and Hong Kong-based Comba Telecom dominating in Asia Pacific, mainly due to major spender China Mobile