2015年6月2日米国カリフォルニア州キャンベル発―世界のテレコムサービスプロバイダーによる資本支出は2014年に前年比2.9%増加し、3億5,200万ドルになったことがIHS (NYSE: IHS)による最新 IHS Infonetics Service Provider Capex, Revenue, and Capex by Equipment Typeレポートにより明らかとなった。他方、世界のテレコムサービスの収入は2014年に0.4%増加して1兆9,970億ドルとなった。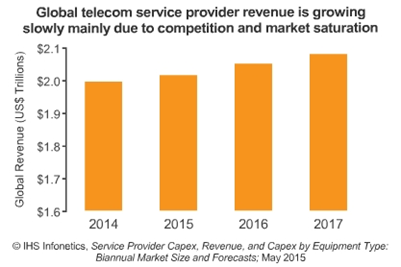 「私たちはいま、テレコム支出がシンクロしない新時代に突入しているといえます。各地域、経済大国での投資にはそれぞれの特徴・ペースがあり、大きなイベントがない限り2019年までの資本支出は横ばいか1桁台の増加にとどまるでしょう」と、IHSでモバイルインフラとキャリアエコノミクスを担当しているStéphane Téralリサーチディレクターは述べている。
CAPEXレポートのハイライト
TDM音声を除く全機器の2014年における支出金額は前年比で微増かほぼ横ばいであった。
欧州はキャリアによる資本投資が3.3%増加した。これは主にDeutsche TelekomとVodafoneで増加したことによる。
中国は日本と韓国の落ち込みを相殺したことにより、アジア太平洋全体の資本支出を4.2%拡大させた。
一方、中南米ではワールドカップサッカーの熱が醒めたことでテレコム支出は低迷した。
HISでは世界のテレコム投資支出が2015年から2019年にかけての5年間の累計で1.8兆ドルになると予測している。
CAPEX REPORT SYNOPSIS
IHS Infonetics' biannual service provider capex report provides worldwide and regional market size, forecasts through 2019, analysis, and trends for revenue and capex by service provider type (incumbent, competitive, cable operators, independent wireless, satellite) and capex by equipment type (broadband aggregation equipment; wireless infrastructure; IP routers and CES; optical equipment; IP and TDM voice infrastructure; video infrastructure; all other telecom/datacom network equipment; and CPE non-telecom/datacom network equipment).
(原文)

Telecom Carrier Spending Entering New Era Marked by Diverse Regional Trends
Campbell, CALIFORNIA (June 2, 2015)- Worldwide telecom service provider capital expenditures grew 2.9 percent year-over-year in 2014, to US$352 billion, according to the latest IHS Infonetics Service Provider Capex, Revenue, and Capex by Equipment Type report from IHS (NYSE: IHS). Meanwhile, global telecommunications service revenue grew 0.4 percent in 2014, to US$1.997 trillion.
"We're entering a new era of desynchronized cycles in telecom spending. Regions and economic powers have their own investment agendas and pace, and this will result in overall flat-to-low-single-digit capex growth through 2019 unless a major event occurs," said Stéphane Téral, research director for mobile infrastructure and carrier economics at IHS.
CAPEX REPORT HIGHLIGHTS
In 2014, expenditures for every type of equipment except TDM voice slowly grew or stayed flat from the year prior
Europe posted 3.3 percent year-over-year growth in carrier capex, mainly fueled by Deutsche Telekom and Vodafone
China more than offset spending declines in Japan and South Korea to drive Asia Pacific's capex growth to 4.2 percent year-over-year in 2014
Meanwhile, a World Cup hangover slowed telecom spending in Latin America
IHS forecasts worldwide telecom capex to total a cumulative US$1.8 trillion in the 5 years from 2015 to 2019