2015年6月4日英国ロンドン発―オペレーターが引き続き資本支出に慎重であったことにより2015年第一四半期(1Q15)の世界におけるマイクロ波機器市場の規模は12億ドル、前期比9%減となったことが、Infonetics Microwave Equipment レポートにより明らかにされた。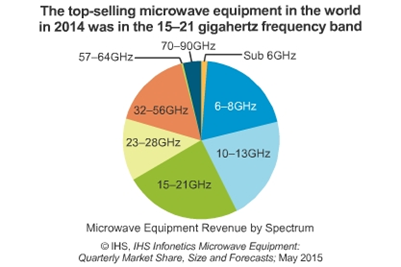 「第一四半期は季節特徴的な動きが見られるものですが、オペレーターが投資支出に慎重な姿勢を見せていることでマイクロ波市場は例年と比較してやや軟調でした。この市場の明るい面としては、前年同期比で15%増加したことがあります」と、IHSでモバイルバックホールとスモールセルを担当しているRichard Webbリサーチディレクターは述べている。

「長い目で見ればLTE/LTE-Aバックホールのアップグレードやスモールセルの採用という新たな成長要因がありますので、この市場は活性化され、2017年の初めには再び拡大するでしょう」と、Webb氏は続けて述べている。
マイクロ波機器市場のハイライト
価格圧力とファイバーをベースとするバックホールソリューションの影響により、マイクロ波機器の収入はここ数年下方トレンドが続いている。
1Q15において、マイクロ波機器収入の85%をバックホールが占めた。トランスポートの構成比は8%、アクセスは7%であった。
テクノロジー面からみると、デュアルEthernet/TDMとオールEthernetセグメントはQ1におけるマイクロ波収入の大半を占めた。
EMEAとアジア太平洋地域はまたもやマイクロ波機器市場を主導しており、両地域を合わせると世界の81%を占めた。
1Q15、マイクロ波機器メーカーは前期比で業績が悪化した。
MICROWAVE EQUIPMENT REPORT SYNOPSIS
The quarterly IHS Infonetics Microwave Equipment report provides worldwide and regional market size, vendor market share, forecasts through 2019, analysis and trends for Ethernet, TDM microwave, Dual Ethernet/TDM microwave, and V-Band and E-Band millimeter wave equipment by spectrum, capacity, form factor, architecture and line of sight. Vendors tracked include Alcatel-Lucent, Aviat Networks, Ceragon, DragonWave, Ericsson, Exalt, Huawei, Intracom, NEC, SIAE, ZTE, others.
(原文)

Microwave Market Slumps in Q1 as Operators Remain Capex Cautious
London, UK (June 4, 2015)-]]] The global microwave equipment market totaled $1.2 billion in the first quarter of 2015 (1Q15), a 9 percent sequential decline as operators continued to be cautious with spending, according to the IHS Infonetics Microwave Equipment report from IHS (NYSE: IHS).
"While some seasonality in the first quarter is typical, the microwave market was a little softer than usual in the first quarter as operators kept a tight rein on capex. On the plus side, the market did grow 15 percent from the year-ago first quarter," said Richard Webb, research director for mobile backhaul and small cells at IHS.

"In the long term, new shoots of growth from LTE/LTE-A backhaul upgrades and small cell deployments will give the market a boost, driving it back to revenue growth beginning in 2017," Webb said.
MICROWAVE EQUIPMENT MARKET HIGHLIGHTS
Microwave equipment revenue has been trending downward for the last few years due to pricing pressure and competition from fiber-based backhaul solutions
Backhaul comprised 85 percent of microwave equipment revenue in 1Q15, while transport made up 8 percent and access 7 percent
From a technology perspective, the dual Ethernet/TDM and all-Ethernet segments dominated microwave sales in Q1
EMEA and Asia Pacific again led in microwave equipment revenue, together combining for 81 percent of global share
Most microwave gear manufacturers reported decreased quarter-over-quarter results in 1Q15