2015年6月8日米国カリフォルニア州キャンベル発―IHS/Infoneticsは、「PON, FTTH, and DSL Aggregation Market Share & Forecast 2015年第1四半期」レポートの抄録をリリースしました。DSL、PON、Ethernet FTTHを含む世界のブロードバンド集約機器市場の総規模は2015年第1四半期に21億ドルとなった。前期比では5%減少したものの、GPONとVDSLの普及拡大に牽引される形で前年比では14%増加した。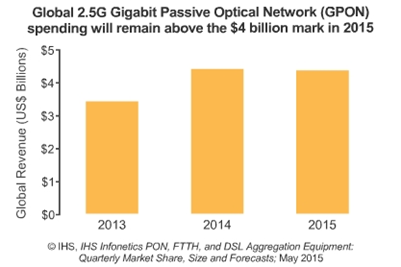 IHSでブロードバンドアクセスのリサーチを担当するJeff Heynen氏は次のように語った。「ブロードバンド集約機器への支出額は直近の3四半期の間ずっと20億ドルを超えていました。そのため、今年度の初めに多少減速してもおかしくはありませんでした。」

Heynen氏はこう続けた。「当社では、2015年通年の総支出額が78億ドル程度に落ち着くものと見ていますが、それでも十分に史上最高額であり、高品質な固定ブロードバンドサービスを引き続き世界中に提供していこうという事業者の意志の表れです。」
ブロードバンド市場のハイライト
北米の既存事業者、公共施設、地方自治体は、FTTHとギガビットサービスが住宅向け非対称型サービスに限られているケーブル事業者に対抗するためのチャンスになると考えている。

このような光ファイバーに対する関心の高さがGPONとEthernet FTTH機器への支出の増加につながっている。

何年にもわたって企業統合や規制の影響を受けていたラテンアメリカでは競争が激化しており、地域のケーブル事業者と電話会社が不足していた分を補うように投資を行っている。
世界的なPON機器の2015年第1四半期の収益は前年同期比で18%増加した。
BROADBAND REPORT SYNOPSIS
The quarterly IHS Infonetics PON, FTTH, and DSL Aggregation Equipment market research report tracks BPON, EPON, GPON, FTTH, FTTB, PON and DSL aggregation equipment and subscribers. The research service provides worldwide and regional market size, vendor market share, forecasts through 2019, analysis and trends. Vendors tracked include Adtran, Alcatel-Lucent, Alphion, Arris, Calix, Cisco, Dasan Networks, ECI, Fiberhome, Fujitsu, Genexis, Hitachi, Huawei, Iskratel, Mitsubishi, NEC, OF Networks, PacketFront, Sagemcom, Sumitomo, Tilgin, Ubiquoss, UTStarcom, Zhone, ZTE, ZyXel, others.
(原文)

14 Percent Increase for Broadband Equipment Market from a Year Ago as GPON, VDSL Take Hold
Campbell, CALIFORNIA (June 8, 2015)-The global broadband aggregation equipment market, including DSL, PON and Ethernet FTTH, totaled $2.1 billion in the first quarter of 2015 (1Q15), a 5 percent sequential falloff, but a 14 percent gain year-over-year driven by GPON and VDSL deployments, according to a new report from IHS (NYSE: IHS).
"Broadband aggregation equipment spending went above $2 billion in each of the last three quarters, so there was bound to be some slowdown to start the year," said Jeff Heynen, research director for broadband access at IHS.

"Though we look for spending to drop to around $7.8 billion for the full-year 2015, that total is well above historical years and shows operators' continued commitment to providing premium fixed broadband services around the world," Heynen said.
BROADBAND MARKET HIGHLIGHTS
In North America, incumbents, utilities and municipalities are feeling that FTTH and Gigabit services are giving them a chance to compete against cable companies, which are limited to asymmetric residential services

This focus on fiber is resulting in increased spending on GPON and Ethernet FTTH equipment

The competitive landscape has heated up in Latin America after years of consolidation and regulatory restrictions; Cable operators and telcos in the region are investing after years of underinvestment
Globally, PON equipment revenue was up 18 percent in 1Q15 from the year-ago first quarter