2015年6月11日米国カリフォルニア州キャンベル発―IHSは、本日WiFiネットワークのカバレッジ改善に使用されるWiFiエクステンダーの出荷台数が、2014年の530万台から、2019年には世界全体で96億台に達するであろうと発表した。

「WiFiエクステンダーの出荷は今後数年間、特にWiFi信号を遮る、あるいは弱める傾向がある軽量コンクリート・ブロックの壁がある、大きめの家屋あるいは古い家屋の割合が高くなっている北米や欧州中近東で増加することを見込んでいます」と、IHSでブローバンド・アクセスと有料TVの調査責任者を務めるJeff Heynen氏は語った。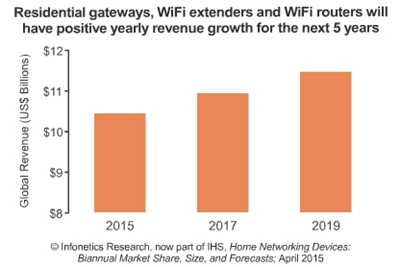 「サービス事業者は、自社のブロードバンドおよび有料TVサービスの差別化をするため、ますますマルチスクリーン・ビデオに頼ることになり、ユーザーはそれらサービスが滞りなく提供されることを期待していますので、そのことがWiFi信号のばらつきに対する技術的挑戦をもたらしています」と、Heynen氏は続けた。
家庭用ネットワーク機器市場のハイライト
2014年の家庭用ネットワーク機器市場は、前年から8%伸長し、126億ドルに到達した。
2014年には802.11acルーターがWiFiルーター全出荷の16%を構成し、前年対比744%と飛躍的に増加した。
IHSでは、WiFiルーター出荷の内訳はさらに802.11acルーターの割合が増加し、2019年までには全出荷の約86%を構成すると見込んでいる。
HOME NETWORKING REPORT SYNOPSIS
The 2015 IHS Infonetics Home Networking Devices report tracks broadband routers; residential gateways; set-top boxes (STBs); multimedia over coax (MoCA) optical network terminals (ONTs); WiFi broadband routers and extenders; and HomePlug Powerline, MoCA coax Ethernet and HPNA/G.hn adapters. Published biannually, the report provides worldwide and regional market size, vendor market share, forecasts through 2019, analysis and trends. Vendors tracked: Actiontec, Alcatel Lucent, Arris, AVM, Belkin, Cisco, Comtrend, Devolo, D-Link, Fiberhome, Hitron, Huawei, Netgear, Pace, Sagemcom, SMC Networks, Technicolor, TP-Link, TrendNet, Ubee Interactive, ZTE, ZyXel and others.
(原文)

Reliable WiFi for Multiscreen TV Is Powering Explosive Growth in WiFi Extender Market
Campbell, CALIFORNIA (June 11, 2015)-IHS today reported that unit shipments of WiFi extenders, which are used to improve the range of WiFi networks, will hit 9.6 billion worldwide in 2019, up from 5.3 million in 2014.
"We look for shipments of WiFi extenders to grow worldwide over the next several years, especially in North America and EMEA, where there are higher percentages of larger homes or older homes with cinderblock walls that tend to block or weaken WiFi signals," said Jeff Heynen, research director for broadband access and pay TV at IHS.

"Service providers will increasingly rely on multiscreen video to differentiate their broadband and pay TV services, and customers will expect these services to work consistently, posing a technical challenge given the variability of WiFi signals," Heynen said.
MORE HOME NETWORKING DEVICE MARKET HIGHLIGHTS
The home networking device market came to $12.6 billion in 2014, an 8 percent increase over 2013
In 2014, 802.11ac routers comprised 16 percent of all WiFi router shipments, soaring 744 percent year-over-year
IHS sees the breakdown of WiFi router shipments moving further in favor of 802.11ac routers, which are forecast to make up roughly 86 percent of all shipments by 2019