2015年6月15日米国カリフォルニア州キャンベル発― IHS Infoneticsの統合課金 (コンバージェント・チャージング) ソフトウェアおよびサービスレポートによると、2014年の世界の統合課金市場は31億ドル規模に達した。この成長の要因には、事業者が加入者の増加をサポートするために収容量を買い増ししたことや、大手ティア1事業者数社が取引を行ったこと、小口契約が相当数成立したことがある。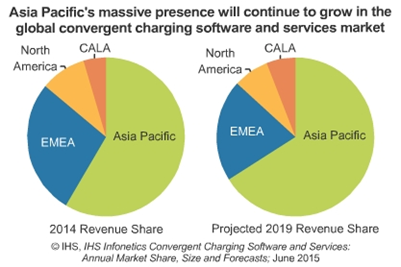 IHSでサービス可用性および加入者インテリジェンスのリサーチディレクターを務めるShira Levine氏は次のように語った。「統合課金ソリューションは従来の請求システムの補助として導入され続けています。その一方で、より大きなBSS (ビジネスサポートシステム) 転換プロジェクトの一部として統合課金が実装されるケースも増えています。」

Levine氏はこう続けた。「SingtelやTelefonicaなどの事業者は数年にわたって自社の請求・課金環境全体の見直しを行っています。多くの場合、ネットワークの近代化の必要性に駆られて始まったことです。事業者は、LTEによって可能になった新しいサービスをサポートするために、既存のシステムが十分な柔軟性と拡張性を持っていないことを自覚しているのです。」
統合課金市場のハイライト
Huaweiは2013年と2014年、2年連続で統合課金市場のトップシェアを獲得し、NetCrackerとEricssonは2位の座をめぐって争った。
クラウドベースのサービスとしてのソフトウェア (SaaS) モデルを利用した請求・課金システムの実現に関心が集まっており、すでにベンダー数社がこの業務モデルを提供あるいは計画している。
統合課金への投資を進める要因には、サービス層やスポンサー付きデータ、追加オプションなどの新しい課金・価格モデルが含まれる。
IHSの予測では、世界の統合課金市場は2014年から2019年にかけて16%の複合年間成長率 (CAGR) で成長する。
CONVERGENT CHARGING REPORT SYNOPSIS
The annual IHS Infonetics Convergent Charging Software and Services market research report tracks charging software built for communications providers to handle multiple dimensions of convergence, including convergence across payment methods, service types and access networks, along with related consulting, integration and managed services. The research service provides worldwide and regional market size, market share, forecasts through 2019, analysis and trends, and includes a convergent charging product roadmap and strategic outlook. Vendors tracked include AsiaInfo-Linkage, Alcatel-Lucent, Amdocs, Comverse, CSG Systems, Ericsson, Huawei, NetCracker, Openet, Oracle, Orga Systems, RedKnee, SAP, others.
(原文)

Network Operators Overhaul Billing Systems, Look to Cloud in Convergent Charging Market
Cambridge, MASSACHUSETTS (June 15, 2015)-The convergent charging market reached $3.1 billion worldwide in 2014, driven by operators' purchase of additional capacity to support subscriber growth, several major Tier 1 deals and a healthy number of smaller engagements, according to the IHS Infonetics Convergent Charging Software and Services report.
"While the deployment of convergent charging solutions as adjuncts to legacy billing systems continues, we're also increasingly seeing convergent charging being implemented as part of larger BSS transformation projects," said Shira Levine, research director for service enablement and subscriber intelligence at IHS.

"Operators such as Singtel and Telefonica are overhauling their entire billing and charging environments over the course of several years-initiatives often spurred by network modernizations as operators recognize that their existing systems are not flexible or scalable enough to support the new services that LTE enables," Levine said.
CONVERGENT CHARGING MARKET HIGHLIGHTS
Huawei nabbed the convergent charging market share lead for the second consecutive year in 2014; NetCracker and Ericsson competed for the #2 position
Interest in delivering billing and charging via a cloud-based software-as-a-service (SaaS) model is on the rise, with several vendors already offering this delivery model or considering it
Key drivers behind convergent charging spending include new billing and pricing models such as service tiers, sponsored data and bolt-on options
IHS forecasts the global convergent charging market to grow at a 16 percent compound annual growth rate (CAGR) from 2014 to 2019