2015年米国カリフォルニア州キャンベル発―IHSは今日、IHS Infonetics Report: NFV Hardware & SoftwareServiceからの抜粋を公表した。レポートでは、世界におけるネットワーク機能の仮想化 (NFV) ハードウェア・ソフトウェア・サービス市場が2015年の23億ドルから2019年には116億ドル規模に達すると予想している。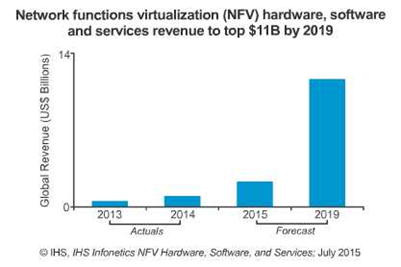 IHSでキャリアネットワークに関する上級リサーチディレクターを務めるMichael Howard氏は次のように語った。「NFVでは事業者がハードウェアからソフトウェアに重心を移す動きが見られ、当社の調査からもそれがわかります。当社は、2019年のNFV総収益116億ドルのうち、NFVソフトウェアが80%を占めることになると考えています。」

Howard氏はこう続けた。「サーバー・ストレージ・スイッチハードウェアと比べると、はるかに大きな投資が常にソフトウェアに対して行われています。それは、NFVへの投資の約80%を占めています。」
NFV市場のハイライト詳細
サービス事業者は、長期 (10~15年) にわたる仮想化ネットワークへの転換期のまだ早い段階にいる。
NFVプロジェクト向け外部委託サービスの収益は、2014年から2019年にかけて71%の複合年間成長率 (CAGR) で成長すると予測される。
IHSの予測では、データの管理・配布に用いられる映像コンテンツ配信ネットワーク (CDN) 機能のうちソフトウェアだけで成り立つ製品の収益は2015年から2019年にかけて30倍に成長する。
NFV REPORT SYNOPSIS
The 2015 IHS Infonetics NFV Hardware, Software, and Services market research report tracks outsourced services for network functions virtualization (NFV) projects as well as service provider NFV hardware, including NFV infrastructure (NFVI) servers, storage and switches; and NFV software split out by service management and orchestration (NFV MANO) software and virtual network function (VNF) software, including virtual routers (vRouters) and the software-only functions of mobile core and EPC, IMS, PCRF and DPI, security, video content delivery networks (CDN), and other VNF software. The research service provides worldwide and regional market size, forecasts through 2019, in-depth analysis and trends.
(原文)

NFV Market to Grow More than 5-Fold Through 2019, Says HIS
Campbell, CALIFORNIA (July 20, 2015) -IHS today released excerpts from its IHS Infonetics NFV Hardware, Software, and Services report, which forecasts the global network functions virtualization (NFV) hardware, software and services market to reach $11.6 billion in 2019, up from $2.3 billion in 2015.
"NFV represents operators' shift from a hardware focus to software focus, and our forecasts show this. We believe NFV software will comprise over 80 percent of the $11.6 billion total NFV revenue in 2019," said Michael Howard, senior research director for carrier networks at IHS.

"The software is always a much larger investment than the server, storage and switch hardware, representing about $4 of every $5 spent on NFV," Howard said.
MORE NFV MARKET HIGHLIGHTS
Service providers are still early in the long-term, 10- to 15-year transformation to virtualized networks
Revenue from outsourced services for NFV projects is projected to grow at a 71 percent compound annual growth rate (CAGR) from 2014 to 2019
Revenue from software-only video content delivery network (CDN) functions for managing and distributing data is forecast by IHS to grow 30-fold from 2015 to 2019