2015年9月17日米国カリフォルニア州キャンベル発-世界のネットワークセキュリティ市場は季節的な落ち込みのみられた第1四半期から2015年第2四半期(2Q15)には反転し、前期比(+9%)、前年同期比(+13%)ともに増加したことがIHS Infonetics Network Security Appliances and Softwareレポートにより明らかにされた。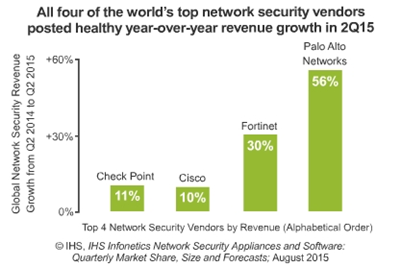 「2015年の上半期はネットワークセキュリティにとって幸先の良いスタートとなりました。上位4社のベンダーであるCisco、Check Point、Fortinet、Palo Alto Networksは2Q15に前年同期比で2桁増を記録しています」と、IHSでサイバーセキュリティを担当しているリサーチディレクターのJeff Wilson氏は述べている。

「ネットワークセキュリティのベンダーは、事前統合型の複雑なセキュリティソリューションからクラウド向けの革新的なバーチャライゼーションソリューションまで、顧客のインフラに自社サービスを埋め込むための複数の戦略を採用しているほか、自社の幅広いセキュリティプラットフォームにさらに進化した脅威回避・クラウドアクセスのセキュリティブローカー技術を追加しています」と、Wilson氏は続けて述べている。
ネットワークセキュリティ市場のハイライト
世界的なネットワークセキュリティの機器・ソフトウェアの市場規模は2Q15に20億ドルとなった。
データセンター・キャリア機器(3万ドル超)とバーチャルセキュリティ機器の収入は2015年から2019年にかけて42%増加するとIHSは予測している。
2015年から2019年にかけて、特設バーチャル機器の成長が最も著しいだろう。
NETWORK SECURITY REPORT SYNOPSIS
The quarterly "IHS Infonetics Network Security Appliances and Software" report provides worldwide and regional market size, vendor market share, forecasts through 2019, analysis, and trends for integrated security appliances, secure routers, SSL VPN gateways, VPN and firewall software, and intrusion detection and prevention products. Vendors tracked: Array Networks, CA, Check Point, Cisco, Citrix, D-Link, Dell, Extreme Networks, eSoft, F5, Fortinet, GTA, HP, Huawei, ISS, Juniper, McAfee, NetASQ, Palo Alto Networks, WatchGuard, ZyXel.
(原文)

Network Security Market Rebounds, Top Vendors Score Double-Digit Year-over-year Growth
Campbell, CALIFORNIA (September 17, 2015)-The worldwide network security market rebounded in the second quarter of 2015 (2Q15) from the seasonally-down first quarter to post quarter-over-quarter (+9 percent) and year-over-year (+13 percent) growth, according to the IHS Infonetics Network Security Appliances and Software report.
"The first half of 2015 is off to a fantastic start for network security, with the top four vendors-Cisco, Check Point, Fortinet and Palo Alto Networks-posting double-digit growth in 2Q15 from the year-ago second quarter," said Jeff Wilson, research director for cybersecurity technology at IHS.

"Network security vendors are using multiple strategies to embed themselves deeper into customers' infrastructure, from pre-integrating complex security solutions, to innovating virtualized solutions for the cloud and adding new advanced threat prevention and cloud access security broker technology to their broader security platforms," Wilson said.
NETWORK SECURITY MARKET HIGHLIGHTS
Globally, network security appliance and software revenue totaled $2 billion in 2Q15
Revenue for data center and carrier appliances ($30,000 and up) and virtual security appliances is forecast by IHS to grow 42 percent from 2015 to 2019
Purpose-built virtual appliances show the most growth between 2015 and 2019.