2011年8月22日カリフォルニア州キャンベル—マーケットリサーチ会社Infonetics Researchは、2011年第2四半期のIMS Equipment and SubscribersとService Provider VoIP Equipment and Subscribersのマーケットシェア報告の一部を発表した。
アナリストノート
「Carrier voice over IP設備市場の一部、特に、ソフトスイッチやゲートウェイ等が、引き続き落ち込んでいるのに対しこのIMS設備市場はその逆で、2011年第2四半期には、去年の同じ時期に比べて87%上昇した。IMS市場の大幅な伸びには多くの要因があった。中国とヨーロッパにおける大規模なサービスプロバイダーがクラス 5級のリプレースメントプロジェクトの真っただ中にあること;加入者が、現在のIMSネットワークに次々と加わっていること;北米のワイヤレス事業者がメッセージン機能としてIMSを立ち上げ、2012年にはVoice over LTE (VoLTE) を開始する予定であること。などが挙げられる」とInfonetics Research でVoIP とIMS notesを分析しているDiane Myersは話す。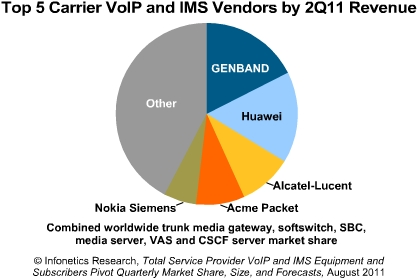 IMS市場のハイライト
Global IMS (IP Multimedia Subsystem) 設備メーカー収益は連続して20%の上昇。また2011年第2四半期には去年に比べ87%の上昇。
2011年第2四半期、Alcatel-Lucentが急成長中のIMS session control function (CSCF) サーバー市場をリード。
中国・日本・韓国の活動により、Asia Pacificは2011年第2四半期、全IMS設備支出の68%を占める。
特に北アメリカでは、LTEの設置を増やし、2012年に向けてVoLTEの準備をしているため、携帯のIMSを基盤とした支出が2011年後半において、IMS市場の成長に大きく寄与すると予測される。
VOIPサービスプロバイダー市場のハイライト
2011年第2四半期、国際的サービスプロバイダーのVoIP設備市場 (基幹メディアのゲートウェイ、SBCs、メディアサーバー、ソフトスイッチ、ボイスアプリケーションサーバー) は連続して13%上昇して5億700万ドルになった。
前年比 (2010年第2四半期から2011年第2四半期) で世界市場は10.4%下がった。
IPとIMSに移行したことで、Session border controller (SBC) とvoice application server (VAS) は収益を前年比でそれぞれ15%と42%上げた。
GENBANDはサービスプロバイダーのVoIP and IMS設備市場を2011年第2四半期リードしており、それにHuawei、Alcatel-Lucent、Acme Packet、Nokia Siemens Networksが続く。
IMS REPORT SYNOPSIS
Infonetics' quarterly IMS report provides worldwide and regional market size, market share, forecasts through 2015, and analysis of mobile and fixed-line IMS subscribers and equipment. Equipment tracked: IMS voice and IM/presence application servers and IMS core equipment, including home subscriber servers (HSS), CSCF servers, media resource function (MRF), breakout gateway control function (BGCF), and media gateway control function (MGCF). Includes an IMS deployment tracker by region, country, carrier, and vendor. Vendors tracked: Alcatel-Lucent, BroadSoft, Ericsson, Huawei, Mavenir, NEC, Nokia Siemens Networks, ZTE, others.
SERVICE PROVIDER VOIP REPORT SYNOPSIS
Infonetics' quarterly Service Provider VoIP Equipment report provides worldwide and regional market share, market size, forecasts, and analysis for VoIP subscribers and media processing and call control carrier VoIP equipment, including high-, mid-, and low-density trunk media gateways, line access media gateways, SBCs, media servers, Class 4 and Class 5 softswitches, and voice application servers (IP Centrex/hosted IP PBX, IP trunking, residential). Vendors tracked: Acme Packet, Alcatel-Lucent, AudioCodes, BroadSoft, Cisco, Dialogic, Ericsson, GENBAND, Huawei, Italtel, MetaSwitch, Nokia Siemens, RadiSys, Sonus, Technicolor, Tekelec, Xener, ZTE, others.
(原文)
IMS market up 87% year-over-year; GENBAND leads combined carrier VoIP and IMS market
Campbell, CALIFORNIA, August 22, 2011—Market research firm Infonetics Research today released excerpts from its second quarter 2011 (2Q11) IMS Equipment and Subscribers and Service Provider VoIP Equipment and Subscribers market share reports.
ANALYST NOTE
"While parts of the carrier voice over IP equipment market, specifically softswitches and gateways, are faced with ongoing declines, the IMS equipment market is experiencing the opposite, up 87% in the second quarter of 2011 compared to the same quarter a year ago. Many factors are contributing to strong IMS market growth: Large service providers in China and Europe are in the midst of significant class 5 replacement projects; subscribers are being added to existing IMS networks on an ongoing basis; and wireless operators in North America have launched IMS for messaging and plan to go live with voice over LTE (VoLTE) in 2012," notes Diane Myers, directing analyst for VoIP and IMS at Infonetics Research.
IMS MARKET HIGHLIGHTS
Global IMS (IP Multimedia Subsystem) equipment manufacturer revenue is up 20% sequentially and 87% year-over year in 2Q11
Alcatel-Lucent leads the fast-growing IMS session control function (CSCF) server market in 2Q11
In 2Q11, Asia Pacific contributed 68% of all IMS equipment spending, driven primarily by activity in China, Japan, and South Korea
Mobile IMS-based spending will be a strong contributor to IMS market growth in the second half of 2011, particularly in North America as operators ramp up LTE deployments and prepare for VoLTE in 2012
SERVICE PROVIDER VOIP MARKET HIGHLIGHTS
In 2Q11, the global service provider VoIP equipment market (trunk media gateways, SBCs, media servers, softswitches, voice application servers), grew 13% sequentially to $507 million
Year-over-year (from 2Q10 to 2Q11), the global market is down 10.4%
Session border controller (SBC) and voice application server (VAS) revenue is up 15% and 42% year-over-year, respectively, benefitting from the industry shift to IP and IMS
GENBAND leads the combined service provider VoIP and IMS equipment market in 2Q11, followed by Huawei, Alcatel-Lucent, Acme Packet, and Nokia Siemens Networks