2011年8月25日カリフォルニア州キャンベル発 - 市場調査会社Infonetics Researchは本日、第2四半期(2Q11)のPON, FTTH, and DSL Aggregation Equipment and Subscribers vendor market share and forecast reportの抜粋を公表した。
アナリストノート
「挑戦的な第1四半期の後に、DSL装置マーケットは、ブロードバンド政策とVDSLに対する個々の電気通信事業者の出資の積み重ねとの混合に助けられ、北アメリカでの強い活動により促進させられて、第2四半期でうまくリバウンドし、そしてEMEA地域においては当地のオペレーターがボイスオーバーIPを採用してTDM音声ラインを撤収させ、VDSLと音声にポートを使い続けた。同様に、この四半期で特筆すべきは中国における目を見張るようなEPONマーケットの増加量であり、EPON出費が米国の6億ドルの目標を上回り、そしてEPONポートが初めて3百万の目標を上回ったのは、China TelecomとChina Unicomによるものである」Infonetics Researchのブロードバンドアクセス部門主任アナリストJeff Heynenは指摘する。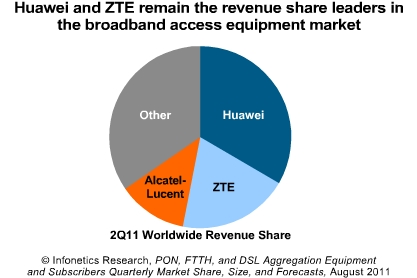 PON、FTTH、DSL集合装置のマーケットハイライト
PON、FTTH、DSL集合体装置に対する全体の出費は、全装置カテゴリー及び地域において、季節による失速を見せた1Q11の後に健全なリバウンドを示すという状態で2Q11において、12%増の21億米ドルとなった。
前年比(2Q10と2Q11の比較)では、ブロードバンド・アクセス市場全体は26%上昇している。
2Q11のブロードバンド・アクセス装置出費で最も大きな増加を見せたのは中央アメリカとラテンアメリカ(CALA)であり、連続的に40%上昇した。
EMEA地域では、GPON設備投資が前四半期に25%増加の後に、2Q11には56%急上昇した。
HuaweiとZTEは、Huawei のレベニューシェアがやや増加し全世界トータルの約1/3を獲得するという状態で、2Q11のブロードバンド・アクセス装置マーケット全体でリードを保った。
REPORT SYNOPSIS
Infonetics' quarterly PON, FTTH, and DSL Aggregation report provides worldwide and regional market size, market share, analysis, and forecasts through 2015. Revenue and ports are tracked for the following equipment: DSL aggregation (MSAPs, next gen DLCs, ATM and IP DSLAMs), BPON, 1.25G/2.5G EPON, 2.5G GPON, 10G EPON, 10G GPON, and Ethernet FTTH (CPE and service provider equipment). The report also tracks DSL subscribers by type (ADSL/ADSL2+, VDSL/VDSL2, G.SHDSL). Companies tracked: ADTRAN, Alcatel-Lucent, Allied Telesis, Calix, Ciena, Corecess, Dasan, ECI, Enablence, Ericsson, Fujitsu, Huawei, Iskratel, Millinet, Motorola, NEC, Nokia Siemens, Samsung, Sumitomo, Tellabs, UTStarcom, Zhone, ZTE, ZyXEL, and others. Regions tracked: Asia Pacific (with breakouts for China, Japan and the rest of Asia), CALA, EMEA (Europe, Middle East, Africa), North America, and worldwide.
(原文)
Healthy rebounds in DSL equipment market in Q2, Huawei and ZTE lead
Campbell, CALIFORNIA, August 25, 2011—Market research firm Infonetics Research today released excerpts from its second quarter (2Q11) PON, FTTH, and DSL Aggregation Equipment and Subscribers vendor market share and forecast report, which tracks broadband access equipment and subscribers.
ANALYST NOTE
"After a challenging first quarter, the DSL equipment market rebounded nicely in the second quarter, driven by strong activity in North America, helped by a mix of Broadband Stimulus and tier 1 carrier spending on VDSL (very high bitrate DSL lines), and in the EMEA region, where operators continue to spend on VDSL and voice ports as they retire their TDM voice lines in favor of voice over IP. Also notable this quarter is the phenomenal EPON market growth in China, where EPON spending surpassed the US$600 million mark and EPON ports surpassed the 3 million mark for the first time, thanks to China Telecom and China Unicom," notes Jeff Heynen, directing analyst for broadband access at Infonetics Research.
PON, FTTH, AND DSL AGGREGATION MARKET HIGHLIGHTS
Total spending on PON, FTTH and DSL aggregation equipment jumped 12% to US$2.1 billion in 2Q11, with every equipment category and region showing healthy rebounds after a seasonally slow 1Q11
Year-over-year (2Q11 compared to 2Q10), the overall broadband access market is up 26%
The biggest increase in broadband access equipment spending in 2Q11 was in Central America and Latin America (CALA), up 40% sequentially
GPON equipment investments jumped 56% in the EMEA region in 2Q11, following a 25% increase the previous quarter
Huawei and ZTE hold on to their lead in the overall broadband access equipment market in 2Q11, with Huawei's revenue share increasing a bit, taking in about 1/3 of the global total