キャンベル、カリフォルニア、2011年9月26日-市場調査会社Infonetics Research 社は本日、2011年第2四半期(2Q11)の市場シェアと将来見通しに関するレポートの概要を発表した。タイトルはデータセンター機器 とSAN機器。
アナリストノート
「データセンターネットワークインフラのまさに収斂(しゅうれん)し、ついにその基礎が固められたといえる。我々がみるところ、専用データセンタースイッチ市場の成長からFibre Channel over Ethernet の爆発的な採用の面において、収斂は加速している。企業は、コスト削減、経営効率化、規模の経済性のメリット取得のために単一ネットワークインフラを早急に採用するであろうから、まもなく全てのネットワークをデータセンターに統合するようなポイント(反転ポイント)に到達するであろう。企業の大多数がこの投資サイクルを完結させるまで、データセンターとSAN機器の両方の市場セグメントにおいて力強い投資が継続されるだろう。」 とInfonetics Research 社のデータセンターおよびクラウドの主席アナリストであるSam Barnett氏は予想している。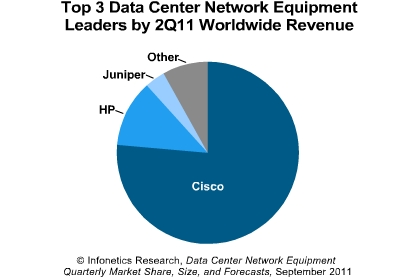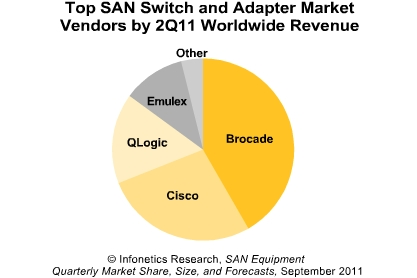 データセンターネットワーク機器市場のハイライト
2011年第2四半期において、データセンターEthernet switches、application delivery controllers (ADCs)、WAN optimization appliancesを含むグローバルなデータセンターネットワーク機器市場は、前期比+3.1% 増加、前年同期比+4.2% 増加。
アジア太平洋のデータセンター機器市場は、新興国経済の成長により、2011年第2半期に前期比および前年同期比ともに+16%増と、全ての地域市場のなかで最も高い成長を記録。
Cisco は全体売上の95%が専用データセンターEthernet switches からのものである。激しい競争による平均販売価格(ASPs)の低下により、出荷増加率はこのセグメントの売上増加率を上回っている。
F5 は引き続きADC市場をリードしており、2011年第2四半期に力強い成長を記録したが、グローバルなADC売上を前期比+55%増加させてCisco に代わりシェア第2位となったCitrix に対して市場シェアを喪失した。
2010年第2四半期から2011年第2四半期にかけての1年間のデータセンター機器市場全体で、Ciscoのマーケットシェアは約8%ポイント下落したのに対して、HPのマーケットシェアはほぼ3倍となり、Juniperのマーケットシェアは半分以下にとどまった。
SAN 機器市場のハイライト
SAN switch と SAN adapter の2011年第2四半期における売上は前期比-1%減となったが前年比では+16%増の746百万ドルとなった。
これまでの市場最大手であるBrocade は2011年第2四半期にSAN機器売上を-6%減少させたが、前年同期比では+8%増となった。Cisco の売上は前期と同水準であったが前年比では+39%の驚異的な増加となった。
10G chassis と fixed Fibre Channel over Ethernet (FCoE) switchesのグローバルな売上は2010年第2四半期から2011年第2四半期にかけての1年間で+165%増加となり、Infonetics の予測によれば、FCoE switch の出荷は、2015年までに2010年より4%増加してSAN機器市場の48%を占めることになるという。
DATA CENTER REPORT SYNOPSIS
Infonetics' quarterly Data Center Network Equipment report provides worldwide and regional market size, vendor market share, forecasts and analysis for data center Ethernet switches (general purpose, purpose-built and blade switches), ADCs, and WAN optimization appliances. Companies tracked: ADTRAN, Alaxala, Alcatel-Lucent, Arista, Avaya, Blade, Blue Coat, Brocade, Cisco, Citrix, D-Link, Enterasys, Expand, Extreme, F5, Force10, H3C, HP, Huawei, Ipanema, Juniper, NETGEAR, Radware, Riverbed, Silver Peak, others
SAN EQUIPMENT REPORT SYNOPSIS
Infonetics' quarterly SAN Equipment report provides worldwide and regional market size, market share, forecasts, and analysis for Fiber Channel host bus adapters (FC HBAs), iSCSI host bus adapters (iSCSI HBAs), FCoE converged network adapters (CNAs), and chassis and fixed Fibre Channel and FCoE SAN switches by type (10G FCoE, FC 2G, FC 4G, FC 8G, FC 16G, iSCSI). Vendors tracked: ATTO, Brocade, Chelsio, Cisco, Dell, Emulex, Intel, LSI, Mellanox/Voltaire, Myricom, Neterion, QLogic, others.
(原文)

Data center equipment up 4% YoY, HP nearly triples share; SAN equipment up 16% YoY with Cisco up 39%

CAMPBELL, California, September 26, 2011-Market research firm Infonetics Research today released excerpts from 2 second quarter (2Q11) market share and forecast reports: Data Center Network Equipment and SAN Equipment.
ANALYST NOTE
"The foundation is finally set for true convergence of data center network infrastructure. Any way we look at it, we see convergence accelerating, from growth in the purpose-built data center switch market to the exploding adoption of Fibre Channel over Ethernet. Very soon we're going to hit the inflection point where we can unify all networking silos in the datacenter, as companies rapidly adopt a single network infrastructure to lower costs, simplify management, and reap the benefits of economies of scale. Strong investment will continue in both the data center and SAN equipment market segments going forward until the majority of enterprises complete this investment cycle," anticipates Sam Barnett, directing analyst for data center and cloud at Infonetics Research.
DATA CENTER NETWORK EQUIPMENT MARKET HIGHLIGHTS
In 2Q11, the global data center network equipment market, including datacenter Ethernet switches, application delivery controllers (ADCs) and WAN optimization appliances, grew 3.1% sequentially and is up 4.2% year-over-year
The Asia Pacific data center equipment market had the strongest regional performance in 2Q11, up 16% both quarter-over-quarter and year-over-year, driven by emerging economies
Cisco captures 95% of the global revenue derived from purpose-built data center Ethernet switches; port shipment growth is outpacing revenue growth in this segment due to fierce competition that is eroding average selling prices (ASPs)
F5 continues to lead the ADC market, which was up strongly in 2Q11, but is losing market share to Citrix, which increased its global ADC revenue by 55% sequentially and displaced Cisco as the #2 player
Year-over-year, from 2Q10 to 2Q11, in the overall data center equipment market, Cisco's share has declined about 8 percentage points while HP's share has nearly tripled, and Juniper's has inched up less than half a percentage point
SAN EQUIPMENT MARKET HIGHLIGHTS
SAN switch and SAN adapter revenue is down 1% sequentially but up 16% year-over-year, totaling $746 million in 2Q11
Perennial market leader Brocade posted a 6% decline in SAN equipment revenue in 2Q11, but is up 8% year-over-year, and Cisco had a flat quarter but is up a phenomenal 39% year-over-year
Global revenue from 10G chassis and fixed Fibre Channel over Ethernet (FCoE) switches jumped 165% year-over-year (2Q10 to 2Q11) and FCoE switch ports are forecast by Infonetics to make up 48% of the SAN equipment market by 2015, up from 4% in 2010