2011年9月27日 カリフォルニア州キャンベル発 - 市場調査会社Infonetics Researchは今日、「Managed Security Services and SaaSレポートの抜粋を公表した。レポートでは、大規模・中規模ビジネス向けにサービス事業者が管理しているSaaS (サービスとしてのセキュリティー)、CPE (顧客宅内機器)およびクラウドベースのセキュリティーサービスの市場を分析・予測している。
アナリストノート
「2008年半ばに始まった世界経済のメルトダウンにも関わらず、セキュリティへの脅威の広がり、携帯端末利用の増加、クラウドへの移行による需要に押される形で、セキュリティーサービス市場は底固い成長を続けています。企業にとってセキュリティーの管理は自社でやるよりもサービス事業者を雇った方が安上がりな場合が多く、セキュリティー問題の解決が複雑化しているためにこのようなアウトソーシングの傾向は今後も続くでしょう。当社の予想では、管理セキュリティーサービス市場(Managed Security Service)の2011年の成長は13%となり、SaaS分野の力強い成長に伴って少なくとも2015年までは毎年堅調な成長が続き、市場規模は168億ドルに達するものと見られます。」(Infonetics Researchセキュリティー部門主任アナリスト、Jeff Wilson)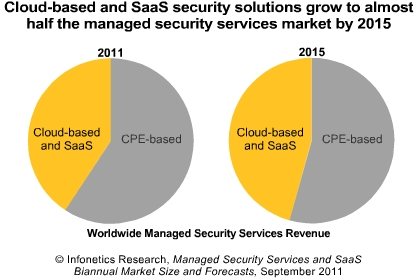 管理セキュリティー市場のハイライト
企業は、ウェブ上の脅威から身を守るため、また、膨大な種類の機器 (スマートフォン、タブレット端末、ラップトップ、キオスク端末など) を使って社内データやアプリケーションに様々な場所からアクセスするユーザーを保護するために、限られた時間で対策に取り組んでいる。そのため、セキュリティー市場のSaaS分野の規模は2011年から2015年の間に2倍を超える成長を見せるとInfoneticsは予想している。
2015年には、CPEベースのセキュリティーサービスの収入は管理セキュリティー市場全体の54%に下落する一方で、クラウドベースのサービスおよびSaaSは2010年の38%から46%に上昇すると見られる。
中小規模の組織は管理セキュリティーサービスへの支出を増やしており、Infoneticsの予想では、2015年には大規模・中規模ビジネスでセキュリティーサービスへの支出が同規模になり、小規模組織での支出が世界市場全体の4分の1以上を占めるまで成長するものと見られる。
MANAGED SECURITY REPORT SYNOPSIS
Infonetics' Managed Security Services and SaaS report provides market size, forecasts through 2015, and analysis for managed security services by technology (managed firewalls, content security, IDS/IPS, other), service type (CPE-based, cloud-based, security-as-a-service), and organization size. The service includes 2 service provider scorecards for the security SaaS market: for messaging security players, and for Web security players that analyze and rank vendors based on installed base, security reputation, financial stability, market strategy, service capabilities, and support options.
(原文)

Managed security services hot despite cool economy due to growing threats, mobile devices, move to cloud

Campbell, CALIFORNIA, September 27, 2011-Market research firm Infonetics Research today released excerpts from its Managed Security Services and SaaS report, which analyzes and forecasts the market for security-as-a-service (SaaS) and CPE- and cloud-based security services managed by service providers for small, medium, and large businesses.
ANALYST NOTE
"Despite the global economic meltdown that started in mid-2008, the security services market is strong and growing, with demand driven by the proliferation of security threats, growth in the use of mobile devices, and the shift to the cloud. It's often cheaper for companies to hire a service provider to manage their security than to do it themselves, and with the growing complexity of security solutions, this outsourcing trend will continue. We expect the managed security services market to grow about 13% in 2011, and see healthy annual growth through at least 2015, when we forecast it to reach $16.8 billion, with the strongest growth coming from the SaaS segment," notes Jeff Wilson, principal analyst for security at Infonetics Research.
MANAGED SECURITY MARKET HIGHLIGHTS
Infonetics expects the security SaaS segment of the market to more than double between 2011 and 2015 as companies wrestle to keep up with the short window they have to protect themselves against Web threats and to protect a geographically diverse user base accessing corporate data and applications from an immense variety of devices (smartphones, tablets, laptops, kiosks, etc.)
By 2015, CPE-based security services revenue will drop to 54% of the total managed security market while cloud-based services and SaaS grow to 46% (from 38% in 2010)
Small and medium organizations are increasing their spending on managed security services, such that, by 2015, Infonetics expects medium and large business to spend the same amount on security services, and expects small organization spending to grow to more than 1/4 of the global market