マサチューセッツ州、ボストン、2011年10月6日-市場調査会社 Infonetics Researchは、本日、スペーシング技術及びディグリーカウントを評価基準にしてROADM (Reconfigurable Optical Add/Drop Multiplexer)の光ネットワーク装置市場とwavelength selective switch (WSS)コンポーネントを観察したROADM コンポーネントの最新リポートからの抜粋を公表した。
アナリストノート
「コンポーネント・キャパシティ制約という段階の典型的な終わりに、ROADM WSS市場は2011年の前半に後退という形で短期的にはショックを受けました。この例外は別として、世界的なWSSコンポーネント市場は、サービスプロバイダによるROADMベースのWDMネットワーキングの迅速な採用に基づいて、堅固な持続する成長の準備ができています」Infonetics Researchの光学部門の主任アナリストAndrew Schmittは予測する。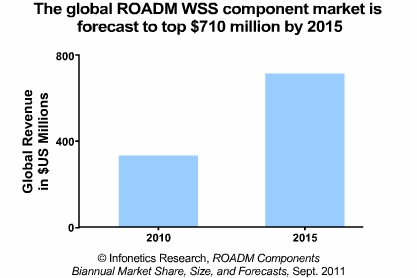 ROADM WSS COMPONENTマーケットのハイライト
2010年の、2009年からの123%の収益上昇、そして2010年前半に比した同年後半の39%の急上昇の後、ROADM WSSコンポーネント市場は2011年の前半に約8%縮小した。
市場の縮小がベンダーの市場占有率に大きな変化をもたらし、若干のベンダーが他社よりも後退の強い影響を受けた事によって、JDSUが大きくリードを拡大した-- JDSUとFinisarが互角であった2010年から劇的に変化した。
2011年前半と2010年前半を比較した前年比においては、ROADM WSSコンポーネント市場は堅実な2桁の収入増を公表しており、恒常的好況が続くと見られる。
Infonetics ResearchはROADM WSSコンポーネント市場が2015年までに世界市場において7億1,000万ドルに達すると予測している。
先の、より小さな 1x4 WSSサイズへの移行とROADMsのネットワーク・エッジへの展開が進む事との混合により、低価格化による収益の伸びを上回って、ROADM WSS コンポーネントのユニット出荷が26%の年平均成長率(CAGR)で増大する事が予測される。
REPORT SYNOPSIS
Infonetics' biannual ROADM Components report provides market size, vendor market share, forecasts, and in-depth analysis on WSS components (revenue and units), with added historical and current ROADM optical equipment market size and share for a big-picture view of the market. The report provides WSS component pricing trends, supplier size, ASP forecast, deployment models, and market drivers and trends. ROADM WSS components are tracked in 4 discrete categories: 1) 1x4 or fewer add/drop ports, 100GHz; 2) 1x4 or fewer add/drop ports, 50GHz; 3) 1x5 or more add/drop ports, 100GHz; and 4) 1x5 or more add/drop ports, 50GHz.
WSS component manufacturers tracked: Capella, CoAdna, Finisar, JDSU, Neophotonics, Nistica, Oclaro/Xtellus, and others.
ROADM optical equipment market share is included for ADVA, Alcatel-Lucent, Ciena (Nortel), Cisco, ECI, Ericsson, Fujitsu, Huawei, Infinera, NEC, Nokia Siemens, Tellabs, Transmode, and others.
(原文)

ROADM WSS component market contracts in 1H11, causing big vendor market share shift

Boston, MASSACHUSETTS, October 6, 2011-Market research firm Infonetics Research today released excerpts from its latest ROADM Components report, which tracks the Reconfigurable Optical Add/Drop Multiplexer optical network equipment market and the wavelength selective switch (WSS) components within it, measured by spacing technology and degree-count.
ANALYST NOTE
"In a classic end to a period of component capacity constraints, the ROADM WSS market experienced a short-term shock in the form of a pull-back in the first half of 2011. This anomaly aside, the global WSS component market is poised for strong, sustained growth on an annual basis based on rapid adoption of ROADM-based WDM networking by service providers," notes Andrew Schmitt, directing analyst for optical at Infonetics Research.
ROADM WSS COMPONENT MARKET HIGHLIGHTS
Following a 123% revenue jump in 2010 over 2009, and a 39% hike in the second half of 2010 compared to the first half, the ROADM WSS component market contracted by about 8% in the first half of 2011
The market contraction caused a big shift in vendor market share, as some vendors were more affected by the pull-back than others, with JDSU seizing the lead by a significant margin -- a dramatic shift from 2010, when JDSU and Finisar were neck and neck
Year-over-year, comparing the first half of 2011 to the first half of 2010, the ROADM WSS component market posted solid double-digit revenue increases and will continue its secular boom
Infonetics Research forecasts the ROADM WSS component market to grow to $710 million worldwide by 2015
Unit shipments of ROADM WSS components are expected to grow at a 26% compound annual growth rate (CAGR), outstripping revenue growth due to price reductions and a later shift in the mix to smaller 1x4 WSS sizes as ROADMs are deployed further toward the edges of networks