キャンベル、カリフォルニア州、2011年10月17日 - 市場調査会社 Infonetics Research は本日、新しいレポート モバイルVoIPサービスと加入者 の抄録を発行した。このレポートはネイティブなモバイル・ボイス・オーバーIP (別名、ボイス・オーバー・ロング・ターム・エボリューション、またはVoLTE) とオーバー・ザ・トップ (OTT) mVoIPサービスの売上高、加入者数、全世界での進展について状況を追っている。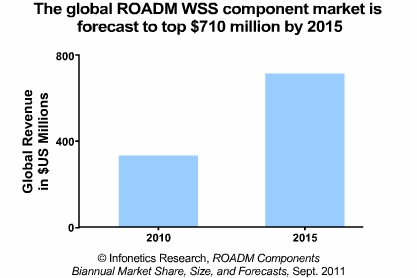 アナリストノート
「オーバー・ザ・トップ (OTT) モバイルVoIPサービスの採用は急速に伸長しているが、課題が無いわけではない。無料のアプリケーションとユーザーからの非常に低い売り上げという環境に置かれ、Google、Microsoft、Telef?nicaといったより大規模な企業のような深いポケットを持たないアプリケーション提供者にとって、長期に持続可能なビジネスモデルを持つのは並大抵のことではない。モバイルVoIP加入者数は2010年から2015年までで約10倍に成長すると我々が予想しているという事実にもかかわらず、短期的にはそのビジネスからの稼ぎは相対的に少ない。」とInfonetics Research社のVoIPとIMSのアナリストダイアンマイヤーズは主張している。

Infonetics Research社のモバイル基盤担当首席アナリストでレポートの共著者ステファン・テラルは、次のように付け加えている。「LTEが広範なモバイル基盤となるにつれ、TDMボイス -年間5000億ドル規模の事業- VoLTE (ネイティブなモバイルVoIP) に統合されてゆくだろう。しかし短期的には、2つの重要な課題に対処する必要がある。まず、VoLTEをサポートするLTE端末が世界中で入手可能となること (この状況は現実になりつつある) と、音声通話がLTEと在来ネットワーク間でシームレスに動作するためにSRVCC (Single Radio Voice Call Continuity) 機能が完成することが必要だということである。勘違いしてはいけないが、VoLTEは将来のものであり実現するにはまだ何年もかかる。
モバイルVoIP市場のハイライト
Skypeを筆頭とするOTT 提供者が、世界規模のモバイルVoIPサービス市場で優位に立っている。
Infonetics Research社は、スマートフォンの増加とモバイル・ブロードバンドの普及により、モバイルVoIP加入者数は2010年の4700万人から、2015年までには4億1000万人に増加すると予測している。
ネイティブのモバイルVoIPは、2012年にVerizon社のVoLTEサービスとして開始するが、世界中に完全なLTEが普及するまで (2020年頃まではそうならないだろう) は、全モバイルVoIP市場の中ではごく小さな部分を占めるに留まるだろう。
2010年に通信事業者のユーザーあたり年間売り上げが、平均でわずか13.21ドルでしかなかったということが、OTT mVoIPサービスがもたらす売り上げがいかに少ないかを証明している。
REPORT SYNOPSIS
Infonetics' new Mobile VoIP report features a Mobile VoIP Deployment Tracker highlighting over-the-top mVoIP deployments by platform availability and VoLTE deployments by start date. The report provides worldwide and regional market size, forecasts, and analysis of OTT and native mobile VoIP (VoLTE) services and subscribers. OTT mVoIP providers currently tracked include Altphone, Barablu, EQO, Fring, Google Voice, JahJah, Jaxtr, Line2, Mo Call, mobiVoIP, Nimbuzz, OctroTalk, Rebtel, Skype, Talkonaut, Telfree, ThruTu, Tivi, Toolani, Truphone, Viber, Vopium, WingBee, and others.
RELATED REPORTs
Infonetics ups VoIP services forecast to $76B in 2015, driven by SIP trunking, hosted business VoIP
Tablet sales jump 80% in 2Q11; Apple increases smartphone share, HTC, Samsung gain
2G, 3G, 4G mobile gear up 25% year-over-year, up 5% in 2Q11; LTE surpasses WiMAX
LTE survey shows 3/4 of operators deploy HSPA+ before LTE; no rush to offer VoLTE
BT, TDC, Vodafone among top hosted business VoIP services leaders in EMEA
Verizon and New Global Telecom top business VoIP services leaders
(原文)

Mobile VoIP subscribers will near 410 million by 2015; VoLTE still a long way off

CAMPBELL, California, Oct. 17, 2011-Market research firm Infonetics Research today released excerpts from its new Mobile VoIP Services and Subscribers report, which tracks native mobile voice over IP (a.k.a. voice over Long Term Evolution, or VoLTE) and over-the-top (OTT) mVoIP service revenue, subscribers, and deployments by world region.
ANALYST NOTE
"The adoption of over-the-top (OTT) mobile VoIP services is growing rapidly but it is not without challenges. With free applications and extremely low revenue from users, it is tricky for application providers without the deep pockets of larger companies like Google, Microsoft, and Telef?nica to have a sustainable long-term business model. Despite the fact that we expect mobile VoIP subscribers to grow nearly 10-fold from 2010 to 2015, there is relatively little money to be made from it in the near term," poses Diane Myers, directing analyst for VoIP and IMS at Infonetics Research.

Co-author of the report Stephane Teral, Infonetics Research's principal analyst for mobile infrastructure, adds: "As LTE becomes the universal mobile infrastructure, TDM voice - which is a $500 billion-a-year business - will migrate to VoLTE (native mobile VoIP). In the near term, though, two key challenges need to be addressed: the world needs widely available LTE handsets that support VoLTE - and we're nowhere near that stage - and Single Radio Voice Call Continuity (SRVCC) needs to be finalized so that voice calls work seamlessly between LTE and legacy networks. Make no mistake: VoLTE is the future; it will just take many years to get there."
MOBILE VOIP MARKET HIGHLIGHTS
OTT providers, led by frontrunner Skype, dominate the worldwide mobile VoIP services market
Infonetics Research forecasts the number of mobile VoIP subscribers to grow from 47 million in 2010 to almost 410 million by 2015, driven by increased smartphone and mobile broadband adoption
Native mobile VoIP will launch with Verizon's VoLTE service in 2012, but will remain an extremely small portion of the total mobile VoIP market until there is full LTE coverage around the world, not likely until around 2020
In 2010, operators made on average only $13.21 per user per year from mobile VoIP services, demonstrating how little revenue there is to be made from OTT mVoIP services