キャンベル、カリフォルニア州、2011年10月27日 - 市場調査会社 Infonetics Research は本日、最新のSecurity Client Softwareのベンダー市場シェアと予想報告からの抄録を発表した。これは、同企業と消費者のモバイルセキュリティクライアントソフトウェアとデスクトップセキュリティクライアントソフトウェア市場を地域・世界規模で調査しているものである。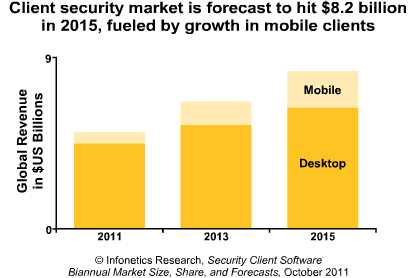 アナリストノート
「ハッカーは引き続き、世界中の何億台というデスクトップコンピューターのインストールベースに勢力をそそいでいるが、2010~15年の間におよそ30億台のスマートフォンとタブレットが新たに世界に出荷されると予想されるので、金銭的動機によるスマートフォンハッキングは毎年著しく増加するだろう。多くの企業や消費者がモバイルデバイス保護に乗り出したことにより、モバイルセキュリティクライアント市場は弾みをつけ、5年間の年平均成長率が驚異的な41%増になると予想している」とInfonetics Researchセキュリティ主席アナリストのJeff Wilson氏は指摘した。
セキュリティソフトウェア市場のハイライト
Infoneticsは、2015年までにデスクトップとモバイルセキュリティクライアントの世界市場は82億ドルに達するとみている。
非常にゆっくりとした成長ながら、消費者重視のデスクトップとラップトップクライアントセキュリティソリューションは市場で最も大きな部分を占める。
Symantecは引き続きデスクトップセキュリティクライアント市場をリードするが、McAfee/Intel DeepSAFEの立ち上げによって市場シェアの景観はまもなく変化する可能性がある。
モバイルセキュリティクライアントのゆるやかな成長予想は、多くの企業がクラウドベースソリューションやSaaSをモバイルセキュリティとして注目していることを示している。
REPORT SYNOPSIS
Infonetics' Security Client Software report provides regional and worldwide market size, vendor market share, forecasts, and analysis for consumer and enterprise mobile security clients and security client software for desktops and laptops. The report tracks and forecasts security client revenue, licenses, and revenue per license. Companies tracked: AhnLab, Avast!, AVG, Avira, BitDefender, Bluefire, Bullguard, Check Point, Credant, Dr. Web, F-Secure, Juniper/SMobile, Kaspersky, McAfee, Mobile Armor, Panda, Sophos, Symantec, Trend Micro, and others.
RELATED RESEARCH
Download report prospectuses, tables of contents, etc. from Infonetics' online portal at http://www.infonetics.com/login (see SECURITY for 2011 and new 2012 services).
Managed security services hot despite cool economy due to growing threats, mobile devices, cloud
Enterprise security survey underscores trend toward hybrid CPE/cloud security solutions
Network and content security markets rebound in 2Q11, positive 3Q11 outlook; Cisco strong
Cloud deployments and vendor consolidation drive virtual security appliance market
Cisco tops Infonetics Research's web security SaaS scorecard
Intrusion prevention system (IPS) survey highlights move to integrated solutions
Google and Symantec top Infonetics Research's messaging security SaaS scorecard
Security spending for virtualized environments to spike; Microsoft, Cisco, VMware early leaders
(原文)

Smartphone hacking fueling big growth in mobile security client software sales

Campbell, CALIFORNIA, Oct. 27, 2011-Market research firm Infonetics Research today released excerpts from its latest Security Client Software vendor market share and forecast report, which tracks the enterprise and consumer mobile security client software and desktop security client software markets on a regional and global basis.
ANALYST NOTE
"Hackers continue to focus their energy on the installed base of hundreds of millions of desktop computers around the globe, but with nearly 3 billion new smartphones and tablets expected to ship worldwide between 2010 and 2015, the opportunity for financially motivated hacking of smartphones grows significantly every year. As more enterprises and consumers set out to protect their mobile devices, we expect the mobile security client market to take off, growing at a phenomenal 41% 5-year compound annual growth rate," notes Jeff Wilson, principal analyst for security at Infonetics Research.
SECURITY SOFTWARE MARKET HIGHLIGHTS
Infonetics forecasts the global market for desktop and mobile security clients to hit $8.2 billion by 2015
Consumer-focused desktop and laptop client security solutions make up the largest segment of market, albeit the slowest-growing
Symantec continues to lead the desktop security client market, although the McAfee/Intel DeepSAFE launch could soon shake up the market share landscape
Tempering growth expectations for mobile security clients is the fact that many companies will look to cloud-based solutions and SaaS for mobile security