Campbell、California州、2011年11月22日-市場調査会社Infonetics Researchは2011年第3四半期 (3Q11) のサービスプロバイダのルーター及びスイッチベンダー市場シェアレポートから抄録を発表した。これはIPエッジ・ルーター、IPコア・ルーター、キャリア・イーサネットスイッチ (CES) マーケットセグメントとその範疇にいるメーカーを分析したものである。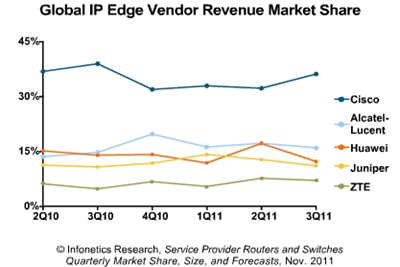 アナリストノート
「トップ5ベンダーのうち、Ciscoだけが2011年第3四半期、全体的なキャリアルーター及びスイッチ収益を増やし、前四半期より3%アップの14億3000万ドルだった。同時期にAlcatel-Lucent、Huawei、JuniperまたZTEはすべて、キャリアルーター及びスイッチ収益において二桁パーセント落ち込んだため、Ciscoは今年初めて最大40%を超す市場シェアを盛り返した」とInfonetics Researchのキャリアネットワーク担当主任アナリストのMichael Howard氏は指摘する。

Howard氏はさらに「今やキャリアルーター及びスイッチ市場の79%を占めるクリティカルIPエッジセグメント (エッジ・ルーター及びキャリア・イーサネットスイッチ) の中で、Ciscoは最近新たにしたキャリア・イーサネットスイッチ・ポートフォリオとASR 9000の強みを生かしてリードを36.2%にまで拡大した。Ciscoのシェア拡大はトップの競争相手、特にHuawei、の後退によるものだ。Huaweiが、3Q11のIPエッジ市場が前四半期比で17.2%から12.3%と最大に低下したと公表し、CiscoのIPエッジシェアは現在Huaweiの3倍近い」と話す。
市場ハイライト
IPエッジ・ルーター、IPコア・ルーター、キャリア・イーサネットスイッチ (CES) を含む世界のサービスプロバイダのルーター及びスイッチ市場は、前四半期に14.3%上昇した後、7.1%前四半期比で落ち込み35億ドルに。
前年比で、キャリアルーター及びスイッチ市場は4.5%の上昇。
3Q11に、IPエッジセグメント (IPエッジ・ルーター及びCES) は、前四半期比で6.7%減だが、前年の第3四半期比では4.3%増。
3Q11に2Q11を上回りIPエッジセグメントで増加を記録したトップベンダー: Alaxala、Cisco、Ericsson、NEC、Nokia Siemens。
地域別に見ると、Euro zoneに対するさまざまな懸念にも関わらず、North Americaが、キャリアルーター及びスイッチ収益で最大の減少 (2Q11より-15%) を記録したことにより、3Q11の減少傾向を引っ張っている。

EMEAとAsia Pacific地域はそれぞれ6%の減少を発表している。一方、Central and Latin America (CALA) はBrazilにリードされ唯一、増加を発表している。
REPORT SYNOPSIS
Infonetics' quarterly Service Provider Routers and Switches report tracks Alaxala, Alcatel-Lucent, Brocade, Ciena, Cisco, Ericsson, Extreme, Force10, Fujitsu, Hitachi Cable, Huawei, Juniper, NEC, Nokia Siemens, Orckit-Corrigent, Tellabs, ZTE, and others. The report provides worldwide and regional market share, market size, and analysis for IP edge routers, IP core routers, and CES. The report tracks the IP edge by application, including multiservice edge (MSE), broadband remote access server (BRAS), Ethernet access transport (EAT), and Ethernet service edge (MSE).
RELATED MARKET RESEARCH
Infonetics Research ups its Carrier Ethernet equipment forecast to $40.2 billion by 2015
Telecom capex up 6% to $311B in 2011, rev. up 8% to $1.86T, driven by mobile broadband
Survey confirms carriers want to integrate IPoDWDM and OTN optics into routers
Majority of carriers plan IPv6 in 2011; caching, CDN critical to reduce traffic loads
Service providers capitalize on Ethernet, IP MPLS VPN services; $78B market by 2015
Small cell backhaul driven by capacity, coverage, quality; all-IP/Ethernet backhaul imminent
White Paper: How Carrier Ethernet solves the challenges of LTE mobile backhaul
(原文)

Cisco storms back in IP Edge market, Huawei posts biggest loss

Campbell, CALIFORNIA, November 22, 2011-Market research firm Infonetics Research today released excerpts from its third quarter 2011 (3Q11) Service Provider Routers and Switches vendor market share report, which analyzes the IP edge router, IP core router, and carrier Ethernet switch (CES) market segments and the manufacturers within them.
ANALYST NOTE
"Of the top five vendors, only Cisco increased its overall carrier router and switch revenue in the third quarter of 2011, up 3% from the previous quarter to $1.43 billion. Since Alcatel-Lucent, Huawei, Juniper and ZTE all saw double-digit percent declines in their carrier router and switch revenue in the same period, Cisco rises back up to over 40% market share for the first time this year," notes Michael Howard, principal analyst for carrier networks at Infonetics Research.

Howard adds: "In the critical IP Edge segment (edge routers and carrier Ethernet switches), which now makes up 79% of the carrier router and switch market, Cisco expanded its lead to 36.2% on the strength of its recently refreshed carrier Ethernet switch portfolio and its ASR 9000. Cisco's share gain is at the expense of its top competitors, particularly Huawei. With Huawei posting the largest sequential drop in IP edge market share in 3Q11, from 17.2% to 12.3%, Cisco's IP edge share now nearly triples Huawei's."
MARKET HIGHLIGHTS
The global service provider router and switch market, which includes IP edge routers, IP core routers, and carrier Ethernet switches (CES), is down 7.1% sequentially to $3.5 billion, following a 14.3% increase the previous quarter
Year-over-year, the carrier router and switch market is up 4.5%
In 3Q11, the IP edge segment (IP edge routers and CES), is down 6.7% sequentially but up 4.3% from the year-ago third quarter
Top vendors posting gains in the IP edge segment in 3Q11 over 2Q11: Alaxala, Cisco, Ericsson, NEC, and Nokia Siemens
Regionally, North America lead the downward trend in 3Q11 with the largest decline in carrier router and switch revenue (-15% from 2Q11), despite all the concerns about the Euro zone

The EMEA and Asia Pacific regions each posted 6% declines, while Central and Latin America (CALA) is the only region that posted an increase, led by Brazil