Campbell, CALIFORNIA, 2011年11月22日-市場調査会社Infonetics Research社は本日Carrier Ethernet Equipmentに関して最新の市場規模、市場シェアおよび予測レポートの抜粋を発表。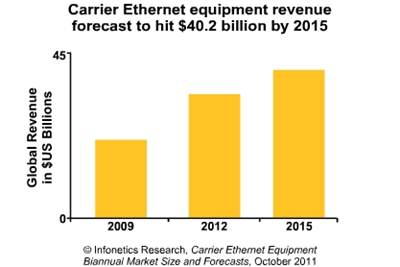 アナリストノート
" Infonetics Research社のキャリアネットワーク(通信事業者ネットワーク)の主席アナリストのMichael Howardは「キャリアイーサネット装置市場(通信事業者のイーサネット装置市場)は堅調に成長したため、2015年までの市場規模の長期予測を3,750億ドルから4,020億ドルに上方修正しました。いくつかの市場セグメントは当社の当初予測よりも速く成長している一方でその他のセグメントの成長は減速しています。最大の下方修正セグメントはイーサネットマイクロ波とVDSL装置セグメントで、最大の上方修正セグメントは今話題のキャリアイーサネットスイッチセグメントです。」と説明する。
キャリアイーサネット装置市場のハイライト
Infonetics社は世界のイーサネット装置市場が2010年の30.5%拡大に引き続き2011年末までに15.7%拡大して3,200億ドルになると予想。
サービスプロバイダーのキャリアイーサネット装置への投資は電気通信事業者全体の設備投資のペースを上回り続けるので、2011年内に6%上昇するとInfonetics社は予想。
キャリアイーサネット市場はパケットベースのIP次世代ネットワークに対する変化や、成長する消費者、企業およびモバイルバックホールのネットワーク(特にビデオトラフィック)によって牽引される。
ユーザーが段々SONET/SDHの代わりにイーサネットによるトランスポートを使用するようになるにしたがい、キャリア(通信事業者)のパケットに対する動きは IP、MPLS、イーサネットに大きく依存する。
モバイルバックホールはキャリアイーサネットの際立った成長分野であり続け、IP/イーサネット装置は2015年までにモバイルバックホールへの全支出の95%を占めるようになる。
最大のキャリアイーサネットへの投資はルーターとキャリアイーサネットスイッチ(CES)と光学装置で、これらを合わせて全キャリアイーサネット市場の3分の2以上を占める。
Cisco社がイーサネットスイッチ市場を牽引し、市場からの収益の45%を占め、互角の競争相手はいない。
ADVA社やCiena社が急成長のイーサネットアクセスデバイス(EAD)市場を牽引する。
REPORT SYNOPSIS
Infonetics' Carrier Ethernet report measures use and penetration of, and investment in, carrier Ethernet products in service provider networks. The report provides worldwide and regional market size, vendor market share, analysis, and forecasts for all carrier Ethernet equipment in service provider networks, including carrier Ethernet switches, IP core routers, IP edge routers, SONET/SDH Ethernet equipment, WDM Ethernet equipment, VDSL, fiber and copper Ethernet access devices, EPON, Ethernet and dual Ethernet/TDM microwave equipment, and carrier Ethernet ports by speed.

Companies tracked include Actelis, ADTRAN, ADVA, Alaxala, Alcatel-Lucent, Brocade, Ciena, Cisco, ECI, Ericsson, Extreme, FibroLAN, Fujitsu, Hatteras, Hitachi-Cable, Huawei, Infinera, IPITEK, Juniper, MRV, NEC, NexComm, Nokia Siemens, OneAccess, Overture, Positron, RAD Data, Sycamore, Telco Systems/ANDA, Tellabs, Telrad, Transmode, Zhone, ZTE, and others.
RELATED MARKET RESEARCH
Cisco storms back in IP Edge market, Huawei posts biggest loss
Telecom capex up 6% to $311B in 2011, rev. up 8% to $1.86T, driven by mobile broadband
Survey confirms carriers want to integrate IPoDWDM and OTN optics into routers
Majority of carriers plan IPv6 in 2011; caching, CDN critical to reduce traffic loads
Service providers capitalize on Ethernet, IP MPLS VPN services; $78B market by 2015
Small cell backhaul driven by capacity, coverage, quality; all-IP/Ethernet backhaul imminent
White Paper: How Carrier Ethernet solves the challenges of LTE mobile backhaul
(原文)

Infonetics Research ups its Carrier Ethernet equipment forecast to $40.2 billion by 2015

Campbell, CALIFORNIA, Nov. 22, 2011-Market research firm Infonetics Research today released excerpts from its latest Carrier Ethernet Equipment market size, market share, and forecast report.
ANALYST NOTE
"The carrier Ethernet equipment market continues to grow strongly, so much so that we've increased our long-term forecast from $37.5 billion to $40.2 billion by 2015. Some market segments are growing faster while others are slowing faster than we originally anticipated. The largest downward changes are in the Ethernet microwave and VDSL equipment segments, and the largest upward change is in the hot carrier Ethernet switch segment," explains Michael Howard, principal analyst for carrier networks at Infonetics Research.
CARRIER ETHERNET EQUIPMENT MARKET HIGHLIGHTS
Infonetics expects the global carrier Ethernet equipment market to finish 2011 up 15.7% to $32.0 billion, following a 30.5% hike in 2010
Service provider investment in carrier Ethernet equipment continues to outpace overall telecom capex, which Infonetics expects to be up 6% in 2011
The carrier Ethernet equipment market is being driven chiefly by the move to packet-based IP next-generation networks and growing consumer, business, and mobile backhaul traffic, particularly video traffic
The carrier move to packet depends heavily on IP, MPLS, and Ethernet, as operators gradually employ the use of Ethernet transport instead of SONET/SDH
Mobile backhaul continues to be a particular growth area for carrier Ethernet, with IP/Ethernet equipment expected to make up 95% of all mobile backhaul spending by 2015
The largest carrier Ethernet investments are in routers, carrier Ethernet switches (CES), and optical gear, which together make up more than two-thirds of the total carrier Ethernet market
Cisco leads the carrier Ethernet switch market with 45% of global revenue, with no close competitors
ADVA and Ciena lead the fast-growing global Ethernet access device (EAD) market