キャンベル、カリフォルニア州、2011年12月6日-市場調査会社の Infonetics Research は本日、第3四半期(3Q11)のネットワークセキュリティ機器およびソフトウェア(Network Security Appliances and Software)に関するレポートより、ベンダー市場シェアと市場予測を発表した。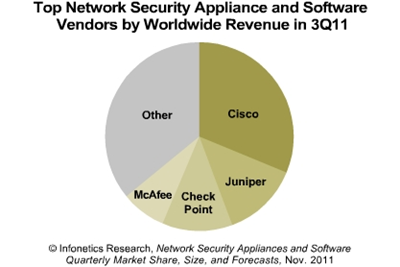 アナリストノート
「全ての主要なネットワークセキュリティ機器およびソフトウェア供給事業者は2011年第4四半期に成長すると予想しており、そのうちの大部分の事業者はネットワークセキュリティ関連の売上が第3四半期を超える6%から12%増になるとみている。」と、Infonetics Research でセキュリティ部門の主席アナリストであるJeff Wilson は予想している。
ネットワークセキュリティ市場のハイライト
グローバルなネットワークセキュリティ機器およびソフトウェア市場は2011年第3四半期に第2四半期を超える6.4%の成長となり、14.6億ドルになった。
マーケットリーダーであるCiscoは、2011年第3四半期にネットワークセキュリティ機器およびソフトウェアの売上を4.5%増加させ、難なく業界最大手の地位を維持し、世界的な売上高の3分の1近い水準を占めた。
Juniperのネットワークセキュリティ機器およびソフトウェア収入は2011年第3四半期に22%増となり、Check Point を上回って第2位のポジションに返り咲いた。
市場拡大の促進要因:インターネットに24時間週7日接続されているスマートフォン、アイパッド、ネットブックおよびその他の通信機器。インフラを悪意のあるソフトウェアからいかに守るかについて企業に再考を促していること。
REPORT SYNOPSIS
Infonetics' quarterly Network Security Appliances and Software report provides worldwide and regional market share, market size, forecasts, and analysis of integrated security appliances by price, secure routers by price, SSL VPN gateways, VPN and firewall software, and in-line and traditional network-based intrusion detection and prevention (IDS/IPS) products. Vendors tracked: Alcatel-Lucent, Array, Check Point, Cisco, Citrix, CA, D-Link, Enterasys, F5, Fortinet, ISS, Juniper, McAfee, Netgear, Palo Alto Networks, SonicWALL, Sourcefire, Symantec, TippingPoint, WatchGuard, ZyXEL, and others.
RELATED SECURITY RESEARCH
Latest Infonetics Security research newsletter:http://bit.ly/toeIcR
Turmoil among top content security players creates unique opportunity for leadership change
Smaller vendors driving growth in the NAC appliance market
Smartphone hacking fueling big growth in mobile security client software sales
Managed security services hot despite cool economy due to threats, mobile devices, move to cloud
Enterprise security survey underscores trend toward hybrid CPE/cloud security solutions
Cisco tops Infonetics Research's web security SaaS scorecard
Intrusion prevention system (IPS) survey highlights move to integrated solutions
Google and Symantec top Infonetics Research's messaging security SaaS scorecard
Security spending for virtualized environments to spike; Microsoft, Cisco, VMware early leaders
(原文)

Juniper jumps back to 2nd in network security market; Cisco gains;
market up 6%

Campbell, CALIFORNIA, December 6, 2011-Market research firm Infonetics Research today released vendor market share standings and market forecasts from its third quarter (3Q11) Network Security Appliances and Software report.
ANALYST NOTE
"We expect all major network security appliance and software vendors to post growth in the fourth quarter of 2011, with most of them increasing their network security revenue 6% to 12% over the third quarter," anticipates Jeff Wilson, principal analyst for security at Infonetics Research.
NETWORK SECURITY MARKET HIGHLIGHTS
The global network security appliance and software market grew 6.4% in 3Q11 over 2Q11 to $1.46 billion
Market leader Cisco increased its network security appliance and software revenue 4.5% in 3Q11, easily maintaining its #1 position with close to 1/3 of global revenue
Juniper's network security appliance and software revenue jumped 22% in 3Q11 moving them back into 2nd place ahead of Check Point
Helping to drive the market: smartphones, iPads, netbooks, and other mobile devices connected to the Internet 24/7, forcing companies to re-assess how their infrastructure is protected from malware