キャンベル、カリフォルニア州、2011年12月6日-市場調査会社Infonetics Researchは、継続的にネットワークアクセスコントロール機器市場に関する現状分析と予測を行っており、年2回発行のNACエンフォースメント機器 (NAC Enforcement Appliances)レポート11月号より概要を発表した。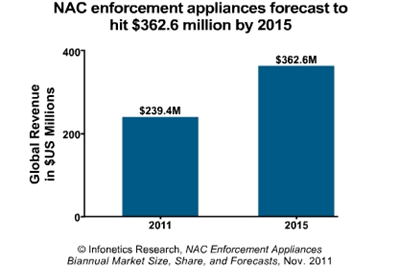 アナリストノート
「CiscoはこれまでNACエンフォースメント市場の成長を牽引してきたが、2011年上半期はセキュリティ全般について力強さがみられなかった。しかしながら、予想されているとおり、2011年下半期にはセキュリティが堅調な実績を示しており、年後半にNAC機器市場が好転することが判明している。Ciscoは紛れもないマーケットリーダーであるが、年前半にはAvenda (Aruba Networksによって買収された)、ForeScoutそしてBradfordなど小規模供給事業者で成長がみられた。」と、Infonetics Researchにおけるセキュリティ部門の主席アナリストであるJeff Wilson はコメントしている。
NAC市場のハイライト
2011年第2四半期において、世界的なNACエンフォースメント機器関係の売上は2011年第1四半期を上回る8%の成長を達成した。
Infoneticsは、世界的なNACエンフォースメント機器の市場規模が2015年までに362.6百万ドルに達すると予想している。
NAC技術が提供するプロテクションに対する需要は少なくないが、単独ソリューションとしてのNACに対する需要は減少している。
北米は世界のNACエンフォースメント機器収入の半分以上を占めており、アジア太平洋がこれに続いている。
REPORT SYNOPSIS
Infonetics' biannual NAC Enforcement Appliances report provides worldwide and regional market size, analysis, and forecasts through 2015 for revenue, unit shipments, and revenue per unit for NAC enforcement appliances priced above and below $30,000. The report tracks Avenda, Bradford, Cisco, Enterasys, Extreme, ForeScout, Fortinet, HP, Juniper, McAfee, Nevis, StillSecure, TippingPoint, Trend Micro, and others. Regions tracked include North America, EMEA (Europe, Middle East, Africa), Asia Pacific, and CALA (Central and Latin America).
RELATED SECURITY RESEARCH
Latest Infonetics Security research newsletter:http://bit.ly/toeIcR
SECURING YOUR EMPLOYEES' MOBILE DEVICES webinar with Infonetics, IBM, Juniper Networks
Juniper jumps back to 2nd in network security market; Cisco gains; market up 6%
Turmoil among top content security players creates unique opportunity for leadership change
Smartphone hacking fueling big growth in mobile security client software sales
Managed security services hot despite cool economy due to threats, mobile devices, move to cloud
Enterprise security survey underscores trend toward hybrid CPE/cloud security solutions
Cisco tops Infonetics Research's web security SaaS scorecard
Intrusion prevention system (IPS) survey highlights move to integrated solutions
Google and Symantec top Infonetics Research's messaging security SaaS scorecard
Security spending for virtualized environments to spike; Microsoft, Cisco, VMware early leaders
(原文)

Smaller vendors driving growth in the NAC appliance market

Campbell, CALIFORNIA, December 6, 2011-Market research firm Infonetics Research today released excerpts from the November edition of its biannual NAC Enforcement Appliances report, which tracks and forecasts the network access control appliance market.
ANALYST NOTE
"Cisco, historically the driving force behind the NAC enforcement market, had a weak first half of 2011 for security overall. However, as expected, they're already seeing stronger security performance in the second half of 2011, so we know the back half of the year will be better for NAC appliances. Cisco is the clear market leader; however, smaller vendors like Avenda (just acquired by Aruba Networks), ForeScout, and Bradford drove the growth we did see in the first half of the year," notes Jeff Wilson, principal analyst for security at Infonetics Research.
NAC MARKET HIGHLIGHTS
In 2Q11, worldwide NAC enforcement appliance revenue grew 8% over 1Q11
Infonetics forecasts the global NAC enforcement appliance market will reach $362.6 million by 2015
While there is not less demand for the protection NAC technology provides, there is decreasing demand for NAC as a standalone solution
North America makes up over half of the world's NAC enforcement appliance revenue, followed by Asia Pacific