カリフォルニア州キャンベル、2011年12月6日 市場調査会社Infonetics Researchは本日、第3四半期 (3Q11) のベンダーのマーケットシェア順位とマーケット予測のコンテンツセキュリティー機器とソフトウェア報告を発表した。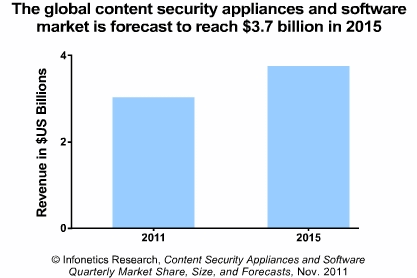 アナリストノート
「コンテンツセキュリティーゲートウェイマーケットで進行しているビジネスの混乱が少しあり、トッププレーヤーのいくつかは挑戦に直面し、例えばブルーコートにおける最近のCEOの転換や、シリアのウェブ通信を制御するのに製品が使われてしまったことの調査や、インテルが獲得してマカフィーの将来が曇りってきたことなどである。これによって、コンテンツセキュリティーゲートウェイのような高成長マーケットに稀に見られる興味深い状況が作り出され、トッププレーヤー間のビジネスの混乱は、他者が参入しマーケットシェアをつかむ大きな機会を作り出し、シスコが喜んで参加を表明するという役割となっている」と、Infonetics Researchのセキュリティー担当主任アナリストのジェフ・ウィルソンは指摘する。
コンテンツセキュリティーマーケットのハイライト
マカフィーは3Q11のコンテンツセキュリティーゲートウェイ収益シェアで全体の1位の位置を維持し、僅差でシスコが続く。

マーケットシェアの1ポイント以下の差で、2位、3位、4位のベンダー、シスコ、ウェブセンス、シマンテックが分かれている。

シスコは前四半期に機器区分でつかんだリードを保ち、ブルーコートの先を行っている。
世界的コンテンツセキュリティーゲートウェイ機器とソフトウェアの販売は、2Q11に対して3Q11は1.7%下がって753百万ドルとなり、第3四半期としては変則的である。
前年第3四半期から、コンテンツセキュリティー機器とソフトウェアのマーケットは5.6%上昇している。
Infoneticsは、コンテンツセキュリティー機器とソフトウェアのマーケットが2011年に11%上昇し、2015年には37億ドルになると予測する。
ハイブリッドコンテンツセキュリティーマーケットは、メッセージング、アンチウィルス (AV) 、マルウェア、ウェブセキュリティーソリューションなど、自社運用の機器とソフトウェアそしてクラウドセキュリティーサービスとSaaSの混合を意味し、2011年から2015年で2倍以上になるとInfoneticsは予測している。
REPORT SYNOPSIS
Infonetics' quarterly Content Security Appliances and Software report provides worldwide and regional market share, market size, forecasts, and analysis of content security gateway software and appliances (messaging, Web/malware, integrated) and hybrid content security deployments for messaging and AV/malware/web applications. Vendors tracked: Barracuda, Blue Coat, Cisco, Citrix, McAfee, SonicWALL, Symantec, Trend Micro, WatchGuard, Websense, and others.
RELATED SECURITY RESEARCH
Latest Infonetics Security research newsletter:http://bit.ly/toeIcR
SECURING YOUR EMPLOYEES' MOBILE DEVICES webinar with Infonetics, IBM, Juniper Networks
Juniper jumps back to 2nd in network security market; Cisco gains; market up 6%
Smaller vendors driving growth in the NAC appliance market
Smartphone hacking fueling big growth in mobile security client software sales
Managed security services hot despite cool economy due to threats, mobile devices, move to cloud
Enterprise security survey underscores trend toward hybrid CPE/cloud security solutions
Cisco tops Infonetics Research's web security SaaS scorecard
Intrusion prevention system (IPS) survey highlights move to integrated solutions
Google and Symantec top Infonetics Research's messaging security SaaS scorecard
Security spending for virtualized environments to spike; Microsoft, Cisco, VMware early leaders
(原文)

Turmoil among top content security players creates unique opportunity for leadership change

Campbell, CALIFORNIA, December 6, 2011-Market research firm Infonetics Research today released vendor market share standings and market forecasts from its third quarter (3Q11) Content Security Appliances and Software report.
ANALYST NOTE
"There's a bit of business turmoil going on in the content security gateway market, with some of the top players facing challenges, including Blue Coat with its recently turned-over CEO and scrutiny over its products being used to control web traffic in Syria, and McAfee's cloudy future since the Intel acquisition. This creates an interesting situation rarely seen in a high-growth market like content security gateways; business turmoil among the top players will create a great opportunity for somebody else to step in and grab market share, a role that Cisco appears more than happy to play," notes Jeff Wilson, principal analyst for security at Infonetics Research.
CONTENT SECURITY MARKET HIGHLIGHTS
McAfee maintained its 1st place position in overall content security gateway revenue share in 3Q11, followed closely by Cisco

Less than 1 market share point separates 2nd, 3rd and 4th place vendors Cisco, Websense and Symantec

Cisco held onto the lead it took the previous quarter in the appliance segment, ahead of Blue Coat
Global content security gateway appliance and software sales dipped 1.7% in 3Q11 over 2Q11, to $753 million, atypical for the third quarter
From the year-ago third quarter, the content security appliances and software market is up 5.6%
Infonetics forecasts the content security appliance and software market to be up 11% in 2011 and to grow to $3.7 billion by 2015
The hybrid content security market - messaging, anti virus (AV), malware, and web security solutions involving a mix of on-premise appliances/software and cloud security services/SaaS - is forecast by Infonetics to more than double between 2011 and 2015