ボストン、マサチューセッツ州、2011年12月8日-市場調査会社Infonetics Researchは本日、2011年第3四半期(3Q11)の イーサネットスイッチ と 企業向けルータ ( Ethernet Switches and Enterprise Routers)市場シェアレポートの概要を公表した。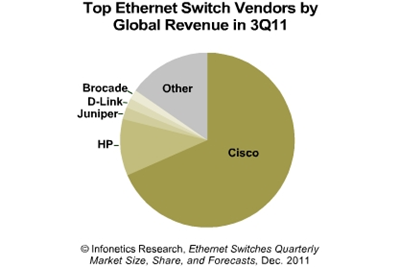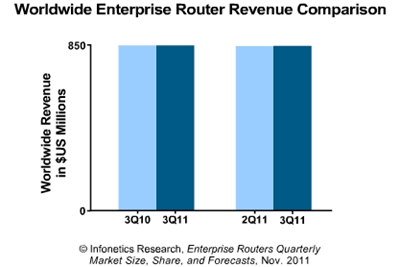 アナリストノート
「前年からのイーサネットスイッチ市場における競争の高まりによりCiscoは悪影響を受けたものの、2011年第3四半期には、過度に好調な四半期実績を達成して巻き返し、内部組織改革とより積極的な経営スタンスが報われていることが示された。Ciscoは世界でのイーサネットスイッチ売上を18%増加させ、グローバル市場の68%のシェアを獲得した。より重要なこととして、Ciscoはほぼ3%ポイント市場シェアを増加させたが、これは同社のライバルであり、数多くのよく知られた課題に直面しているHPのシェア低下によってもたらされたことである。今後の展開を読むのは不可能ではあるが、少なくとも現時点では、Ciscoは転機を迎えたといえる。」と、Infonetics Research の企業向けネットワークおよび映像部門の上席アナリストであるMatthias Machowinskiはコメントしている。
イーサネットスイッチ市場のハイライト
イーサネットスイッチの売上は、2011年上半期(1H11)には比較的低迷していたが、2011年第3四半期には連続して13%増加して50億ドルとなった。
ポートは、ネットワーク製品の需要増加が続く中で成長を続けてきたが、競争が激しくなっているために2011年上半期の売上の成長は鈍化した。
10G ポートは四半期ベースで21%と最も高い成長を記録し、1年前の水準のほぼ2倍となった。これは、データセンターのアップグレード、10Gサーバの採用、サーバのバーチュアライゼーション、コアネットワークの増築が影響している。
満を持して40G 市場が2011年第3四半期に誕生し、グローバルなレベルで6.5百万ドルの売上となった。
イーサネットスイッチの平均販売価格 (ASPs) は前年より20%超下落しているが、現在では供給事業者はディスカウントについて現状を維持している。
業界3番手の Juniper は堅調な四半期実績となり、連続して売上6%増、ポート売上12%増、前年比で2ケタの成長を記録している。
レポート概要
Infoneticsが四半期毎に発行している イーサネットスイッチレポート、Adtran、Alcatel-Lucent、Alaxala、Arista、 Avaya、Brocade、Cisco、D-Link、Dell、Enterasys、Extreme、Hitachi-Cable、HP、Huawei、IBM、Juniper、Linksys、NETGEAR、LG-Ericsson およびその他の事業者を対象としている。このレポートは、市場サイズ、市場シェア、予測、固定構造とポートのタイプ((10/100, 1G, 10G, 40G, and 100G)ごとのイーサネットスイッチシャーシについての分析を行っている。
企業向けルータ市場のハイライト
2011年第3四半期の企業向けルータの売上は四半期ベースで5%増、年間ベースで3%増となり、世界全体で888百万ドルとなった。
ブランチと低価格ルータは2011年第3四半期に最良の業績を示し、ブランチの売上は連続して9%増、低価格は23%増となった。
高価格ルータは最も高い年間ベースの増加を示した。これは買い手がリセッション時における低水準の投資から回復したのと、ネットワークトラフィック増加に対応するための投資をしたことによる。
2011年第3四半期の売上増はアジア太平洋(主に中国)によってもたらされたが、同様に中南米もブラジルの好調により連続して44%増加した。
Cisco は現在でも企業向けルータ市場をリードしており、2011年第3四半期売上の74.2%のシェアを占めている。これにHP とJuniperが続いており、年間ベースでCisco はほぼ5%ポイントのシェアを喪失し、HP は3 %ポイントの上昇、Juniper は1%未満の上昇となった。
RELATED RESEARCH
Wireless LAN equipment sales hit new high in 3Q11
PBX market continues its slow, steady recovery in 3Q11, up 5.5%V
Enterprise videoconferencing and telepresence equipment a $5.4 billion market by 2015
Unified communications survey shows Microsoft and Cisco lead, mobility key, video growing
Expansion, virtualization, cloud services drive data center markets
Network attached storage (NAS) appliance market to double by 2015
High speed network port market to hit $52 billion in 2015 (1G, 10G, 40G, 100G)
(原文)

Cisco sees revival in Ethernet switches; enterprise router market up 5% in 3Q11

Boston, MASSACHUSETTS, December 8, 2011-Market research firm Infonetics Research today released excerpts from its third quarter 2011 (3Q11) Ethernet Switches and Enterprise Routers market share reports.
ANALYST NOTE
"Rejuvenated competition in the Ethernet switching market has taken its toll on Cisco over the past year, but in 3Q11, Cisco turned things around with a blowout quarter, showing that their internal reorganization and more aggressive stance are starting to pay off. Cisco grew their overall Ethernet switch revenue 18%, and captured 68% of the global market. More importantly, Cisco gained almost 3 points of market share, mostly at the expense of their closest rival, HP, who is facing their own myriad of well-publicized challenges. It's impossible to tell where things go from here, but at least for now, Cisco has changed the momentum," notes Matthias Machowinski, directing analyst for enterprise networks and video at Infonetics Research.
ETHERNET SWITCH MARKET HIGHLIGHTS
Ethernet switch sales jumped 13% sequentially, to $5.0 billion globally in 3Q11, following a relatively weak performance in the first half of 2011 (1H11)
Ports have been growing all along as demand for networking products continues, but fierce competition cut into revenue growth in 1H11
10G ports had the highest growth, up 21% quarter over quarter, and almost double the year-ago level, benefitting from data center upgrades, 10G server adoption, server virtualization, and core network buildouts
The long-awaited 40G market finally emerged in 3Q11, with $6.5 million in global revenue
Ethernet switch average selling prices (ASPs) have declined over 20% the past year, but now vendors are holding the line on discounting
Number-three player Juniper had a solid quarter, sequentially up 6% in revenue and 12% in ports, and still logging double-digit year-over-year growth
REPORT SYNOPSIS
Infonetics' quarterly Ethernet switch report tracks Adtran, Alcatel-Lucent, Alaxala, Arista, Avaya, Brocade, Cisco, D-Link, Dell, Enterasys, Extreme, Hitachi-Cable, HP, Huawei, IBM, Juniper, Linksys, NETGEAR, LG-Ericsson, and others. The report provides market size, market share, forecasts, and analysis for fixed configuration and chassis Ethernet switches by port type (10/100, 1G, 10G, 40G, and 100G).
ENTERPRISE ROUTER MARKET HIGHLIGHTS
3Q11 enterprise router sales are up 5% quarter over quarter and up 3% year over year, at $888 million worldwide
Branch and low-end routers had the best performance in 3Q11, with branch revenue up 9% sequentially and low-end up 23%
High-end routers have the highest year-over-year increases as buyers recover from under-investment during the recession and invest to deal with rising network traffic
3Q11 revenue growth was driven by Asia Pacific (primarily China), but also Central and Latin America, which jumped 44% sequentially due to strength in Brazil
Cisco still leads the enterprise router market by far, with 74.2% of 3Q11 revenue share, followed by HP and Juniper; year over year, Cisco has lost almost 5 points of market share, HP is up 3 points, and Juniper is up less than 1 point
REPORT SYNOPSIS
Infonetics' quarterly enterprise router report tracks Adtran, Alcatel-Lucent, Avaya, Cisco, HP, Huawei, Juniper, OneAccess, and others. The report provides worldwide and regional market share, market size, forecasts, and analysis for high-end, mid-range, branch, and low-end/SOHO routers, including port detail.