Campbell, CALIFORNIA, 2012年4月23日-市場調査会社Infonetics Research は本日、Service Provider Deep Packet Inspection Products レポートの概要を発表した。ここでは単独DPI事業者およびワイヤレス・有線ネットワーク向けのソリューションを取り扱っている。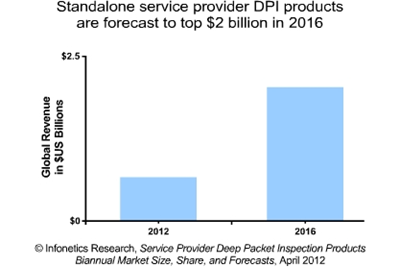 「有線系事業者は、トラフィック管理およびネットワーク上にあるOTTコンテンツの影響を管理するためにDPIソリューションへの投資を継続している。一方でワイヤレス事業者は、優先順位付けや戦略的オフロードといったよりきめ細かいトラフィックの管理手段としてDPIに期待しており、LTEネットワークの更新と併せてDPIを採用しつつある。」と、Infonetics Researchで次世代OSSとポリシーを担当している上席アナリストShira Levineはコメントしている。
DPI市場のハイライト
通信事業者DPI 商品の世界での売上は2011年に29%増加して470百万ドル超となった。
Infonetics Researchでは、通信事業者DPI市場は2016年に20億ドルまで成長すると予想しており、成長の大半はモバイル空間からとみている。
Huawei の2011年の売上はわずかにSandvine を上回り、世界市場での業界最大手である。
DPIは映像最適化やモバイルオフロードなどの大規模なソリューションに組み込まれつつあり、販売事業者にとって、DPI技術をOEMベースで供給する機会が拡大している。
通信事業者は、メディアキャッシングにDPIを活用するなど、高帯域幅の映像コンテンツを調整・遮断し、サービス品質を維持するために映像コンテンツを優先化するほか、コンテンツ送信ネットワーク戦略の一環として代替手段を検討している。
Infoneticsでは、アジア太平洋、中近東、アフリカの新興市場で通信事業者DPI商品の売上が急増すると予想している。事業者は、加入者急増によって引き起こされるネットワーク混雑への対応、規制の遵守、サイバーセキュリティ問題への補助手段としてDPIに対して期待を寄せている。
DPI REPORT SYNOPSIS
Infonetics' biannual DPI report provides market size, vendor market share, forecasts, and in-depth analysis and trends for standalone deep packet inspection products used in wireless and fixed-line service provider networks. Vendors tracked: Allot, Arbor, Cisco, CloudShield, Huawei, ipoque, Procera, Qosmos, Sandvine, and others. Regions tracked: North America, EMEA (Europe, the Middle East, Africa), Asia Pacific, and CALA (Caribbean and Latin America).
(原文)

Deep packet inspection (DPI) market a $2 billion opportunity by 2016

Campbell, CALIFORNIA, April 23, 2012-Market research firm Infonetics Research today released excerpts from its Service Provider Deep Packet Inspection Products report, which tracks standalone DPI vendors and solutions for wireless and fixed line networks.
"Though fixed-line operators continue to invest in deep packet inspection solutions for traffic management and to manage the impact of over-the-top (OTT) content on their networks, wireless operators are looking to DPI for more granular traffic management, including prioritization and strategic offload, and are starting to deploy DPI hand-in-hand with their LTE network upgrades," notes Shira Levine, directing analyst for next gen OSS and policy at Infonetics Research.
DPI MARKET HIGHLIGHTS
Service provider deep packet inspection (DPI) product revenue grew 29% to over $470 million worldwide in 2011
Infonetics Research forecasts the service provider DPI market to grow to $2.0 billion in 2016, with the bulk of the growth coming from the mobile space
Huawei narrowly pulled ahead of Sandvine to take the lead in global service provider DPI revenue share in 2011
DPI is increasingly being incorporated into larger solutions, such as video optimization and mobile offload, creating opportunities for suppliers that offer DPI technology on an OEM basis
Operators are evaluating alternatives to throttling or blocking high-bandwidth video content, including using DPI for media caching, to prioritize select video content to support guaranteed QoS and as part of a content delivery network strategy
Infonetics expects strong growth for service provider DPI products in emerging markets in Asia Pacific, the Middle East, and Africa as operators look to address network congestion caused by rapid subscriber growth, comply with regulatory requirements, and support cybersecurity initiatives