Campbell, CALIFORNIA, 2012年4月26日-市場調査会社Infonetics Researchは、最近のSecurity Client Software 事業者市場シェアおよび予測に関するレポートからその概要を発表した。ここでは、モバイル機器およびデスクトップ・ラップトップPC用に購入される、事業者および消費者向けセキュリティクライアントソフトについて取り扱っている。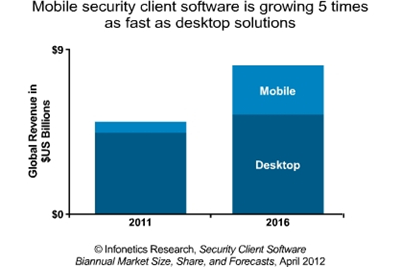 アナリストノート
「BYOD(自分のデバイス機器を職場に持ち込む)現象のおかげで、企業は、従業員が使用可能あるいは将来使用するコンピュータ機器の形態のほか、これらの機器と会社のネットワークとの安全な接続方法を再評価する必要に迫られている。」「この現象は、伝統的なクライアントセキュリティ、モバイル機器セキュリティ両市場の成長、および両市場の関係に重大な影響をもたらすだろう。」と、Infonetics Researchにおいてセキュリティを担当している主席アナリストJeff Wilsonはコメントしている。
セキュリティクライアントソフト市場のハイライト
デスクトップとモバイルを合わせたセキュリティクライアントソフトの売上は2011年に20%成長して49.7億ドルになった。
Infoneticsでは、全体的なクライアントセキュリティ市場は2013年にかけて、年間2桁の売上増が続くと予想している。
セキュリティクライアント市場のうちモバイルセグメントは2011年に76%増加した。2016年にかけて年平均35%で成長するとみているが、この水準は、より市場規模の大きいデスクトップセグメントの売上増加率の5倍である。
Infoneticsのセキュリティクライアント市場に関する長期予測では、クラウドベースのセキュリティソリューションやSaaS移行へのトレンドを考慮に入れており、市場成長に対する期待が減少している。
デスクトップセキュリティクライアントソフト市場における大手4社Symantec, McAfee, Kaspersky および Trend Microは、少なくとも5四半期連続で売上を増加させてきたほか、2011年にはいずれも2桁成長を記録した。
REPORT SYNOPSIS
Infonetics' biannual Security Client Software report provides regional and worldwide market size, vendor market share, forecasts, and analysis for consumer and enterprise mobile security clients and security client software for desktops and laptops. The report tracks and forecasts security client revenue, licenses, and revenue per license. Companies tracked: AhnLab, Avast!, AVG, Avira, BitDefender, Bluefire, Bullguard, Check Point, Credant, Dr. Web, F-Secure, Juniper/SMobile, Kaspersky, McAfee, Mobile Armor, Panda, Sophos, Symantec, Trend Micro, and others.
(原文)

BYOD trend shaping both the traditional and mobile security client software markets

Campbell, CALIFORNIA, April 26, 2012-Market research firm Infonetics Research released excerpts from its recent Security Client Software vendor market share and forecast report, which tracks enterprise and consumer security client software purchased for mobile devices and desktops/laptops.
ANALYST NOTE
"The emergence of the BYOD (bring your own device) phenomenon has forced companies to re-evaluate the types of computing devices their employees can and will use, and how they will be securely connected to corporate networks," notes Jeff Wilson, principal analyst for security at Infonetics Research. "This will have a major impact on the growth of the traditional client security market, the mobile device security market, and the relationship between the two."
SECURITY CLIENT SOFTWARE MARKET HIGHLIGHTS
Combined desktop and mobile security client software sales grew 20% in 2011 to $4.97 billion
Infonetics expects double-digit percent annual revenue increases to continue through 2013 for the overall client security market
The mobile segment of the security client market jumped 76% in 2011 and is forecast to grow at a compound annual growth rate of 35% through 2016, growing 5 times as fast as the larger desktop segment
Infonetics' long-term forecast for the security client market factors in the trend toward cloud-based security solutions and SaaS, which tempers growth expectations
The top 4 leaders in the desktop security client software space - Symantec, McAfee, Kaspersky and Trend Micro - have all increased their revenue for at least 5 consecutive quarters, and all posted double-digit percent revenue increases in 2011