2012年4月26日カリフォルニア州キャンベル-市場調査会社、Infonetics Research社は、中小及び大企業向けにサービスプロバイダーが提供しているクラウドベース及びCPEベースのセキュリティサービスの市場を分析、予測したCloud and CPE Managed Security Servicesレポートの一部を発表しました。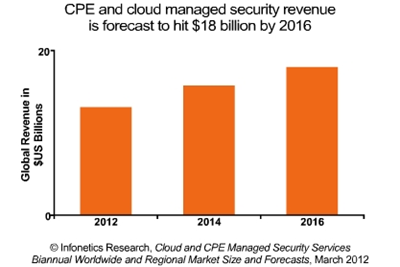 アナリストノート
Infonetics Research社の主席セキュリティアナリストであるJeff Wilsonは、「新しい攻撃の多くがWebアプリケーションを狙ったものであるということは、Webブラウザやインターネットにアクセス出来るいかなる端末も攻撃の対象となり得るということだ。」と述べています。「企業はデスクトップ、ラップトップ、サーバ、スマートフォン、タブレット、キオスク、iPod、セットトップボックスと、インターネットに接続出来るあらゆる端末の心配をしなければならない。インターネット接続端末の普及とそれら端末の多様化によって、多くの企業は端末の種類や場所、オペレーティングシステム、ブラウザに関係なく一貫した防御が出来るよう、マネージド・サービス(特にクラウド型サービス)に目を向けている。」
クラウド&CPE管理セキュリティ市場のハイライト
グローバルでのクラウド及びCPE管理セキュリティサービスの売上は2011年には12%伸び、117億ドルに到達。
Infonetics Researchは、クラウド及びCPE管理セキュリティサービス市場は2016年までに180億ドル市場に到達すると予想。 
当分の間、北米はマネージド・セキュリティ・ソリューションの最も大きな市場であると予想される。
以下3つの主な要因からマネージド・セキュリティ市場は大きな割合を占める:

現在インストールされているソリューションが不十分である。
多くの企業で新しい技術を展開するだけの人手や専門知識が足りない。
多くの企業がユーザやアプリケーション、データをクラウドへとITインフラを移行している最中であり、それに伴うセキュリティソリューションを探している。 
CLOUD AND CPE MANAGED SECURITY REPORT SYNOPSIS
Infonetics' biannual Cloud and CPE Managed Security Services report provides market size, forecasts through 2016, and analysis for both cloud-based and CPE-based managed security services by technology (managed firewalls, content security, intrusion detection and prevention solutions or IDS/IPS, and other managed security services) and organization size.
(原文)

Cloud and CPE managed security services forecast to hit $18 billion by 2016

Campbell, CALIFORNIA, April 26, 2012-Market research firm Infonetics Research released excerpts from its recent Cloud and CPE Managed Security Services report, which analyzes and forecasts the market for cloud-based and CPE-based security services delivered by service providers for small, medium, and large businesses.
ANALYST NOTE
"The fact that many new attacks are developed for the web applications means that any device that has a web browser and some form of Internet access is a target," notes Jeff Wilson, principal analyst for security at Infonetics Research. "Companies have to worry about desktops, laptops, servers, smartphones, tablets, kiosks, iPods, set-top boxes, and any other device that can connect to the Internet. The highly distributed nature of Internet-connected devices and the diversity of those devices drives many companies to look at managed services (cloud-based services in particular) to provide consistent protection regardless of device type, location, operating system, or browser."
CLOUD AND CPE MANAGED SECURITY MARKET HIGHLIGHTS
Global cloud and CPE managed security service revenue grew 12% in 2011, to $11.7 billion
Infonetics Research forecasts the cloud and CPE managed security services market to grow to just under $18 billion by 2016
North America is expected to remain the largest market for managed security solutions for the foreseeable future
The managed security market is driven in large part by 3 major factors:

Currently installed solutions are not enough
Many companies lack the manpower or expertise to roll out new technology
Many enterprises are in the midst of an IT infrastructure transformation, moving users, applications, and data into the cloud, and seeking security solutions that will follow them