Campbell, CALIFORNIA, 2012年6月22日-調査会社Infonetics Research は最新の Home Networking Devices 市場シェアと予測レポートの概要をリリースした。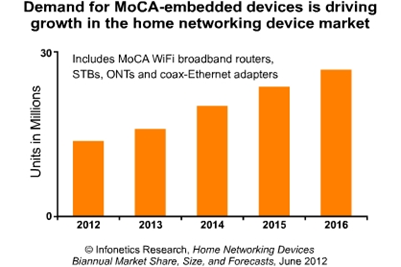 アナリストノート
「タブレットや接続テレビ、デジタル音楽プレーヤ、成長著しい他の機器のおかげでホームネットワーク機器の売上が増加しており、その傾向は2011年にネットワーク機器売上の37%を占めている北米で最も顕著にみられる」としたうえで、「あらゆる地域において事業者は、良質のネットワーク機器を必要とする新しいホームオートメーション、エネルギー管理、エンターテインメント、通信サービスを開始しているため、ブロードバンド周辺機器とりわけ統合された MoCA チップ(Multimedia over COAX)を使用する機器に対する需要は世界的に増加を続けている」と、 Infonetics Researchでブロードバンドアクセスとビデオを担当している上級アナリストJeff Heynenは述べている。
ホームネットワーク機器市場のハイライト
グローバルなホームネットワーク機器の売上は2010年から2011年にかけて20%増加して 7,980億ドルとなった。
Infoneticsでは、タブレットやホームネットワークの機器の増加により追加的な接続オプションが必要とされているため、2012年から 2016年までの5年間でホームネットワーク機器に対する支出は累積で430億ドルになると予測している。
MoCA (同軸ケーブル) 内臓のセットトップボックス (STB)やFTTB 光ネットワークターミナル(ONT), coax-Ethernet アダプター、WiFi ブロードバンドルーターはホームネットワーク機器市場の成長を促進している。

北米のケーブル事業者や電話会社、とりわけVerizonはwhole-home DVRのようなサービスを提供するためにMoCA機器の利用を増加させている。

最大手D-Link は、極めて競争的なブロードバンドルーター市場で売上シェアを拡大させた。これにNETGEAR とCiscoが続いている。
REPORT SYNOPSIS
Infonetics' biannual Home Networking Devices report provides worldwide and regional market size, vendor market share, analysis, and forecasts for residential gateways, wired broadband routers, HomePlug powerline adapters, MoCA STBs, MoCA ONTs, MoCA coax-Ethernet adapters, HPNA/G.hn adapters, home NAS appliances, and WiFi broadband routers (HomePlug powerline, MoCA, and HPNA/G.hn routers). Companies tracked include 2Wire, Actiontec, Alcatel-Lucent, Ambit, ARRIS, AVM, Belkin, Cisco Systems, Compal Broadband, Comtrend, Dasan Networks, D-Link, ECI Telecom, Ericsson, Fiberhome, Genexis, Gigaset, Huawei, Motorola, NEC, NETGEAR, OF Networks Co., Pace, PacketFront, Sagemcom, Siemens, SMC Networks, Sumitomo, Technicolor (Thomson), Telsey, Tilgin, TP-LINK, Ubee Interactive, UTStarcom, Westell, Zhone, ZTE, ZyXEL, and others.
(原文)

North America is home networking leader, thanks to MoCA

Campbell, CALIFORNIA, June 22, 2012-Market research firm Infonetics Research released excerpts vendor from its latest Home Networking Devices market share and forecast report.
ANALYST NOTE
"Tablets, connected TVs, digital media players, and a growing list of other devices are driving sales of home networking devices, and this is nowhere more apparent than in North America, which captured 37% of networking device revenue in 2011," notes Jeff Heynen, directing analyst for broadband access and video at Infonetics Research. "We expect the demand for broadband peripherals, especially those with integrated MoCA chips, to continue to increase globally as operators in all regions roll out new home automation, energy management, entertainment, and communications services that require high-end networking devices."
SAN EQUIPMENT MARKET HIGHLIGHTS
Global sales of home networking devices grew 20% in 2011 from 2010, to $7.98 billion
Infonetics expects a cumulative $43 billion to be spent on home networking devices over the 5 years from 2012 to 2016, as the growth of tablets and other devices in home networks necessitate additional connectivity options
MoCA (multimedia over coax) embedded set-top boxes (STBs), FTTB optical network terminals (ONTs), coax-Ethernet adapters, and WiFi broadband routers are driving growth in home networking device market

Cable operators and telcos in North America, especially Verizon, are increasingly using MoCA devices to deliver services like whole-home DVR

D-Link extended its revenue share lead in the highly competitive broadband router market, followed by NETGEAR and Cisco