Boston, MASSACHUSETTS, 2012年6月27日-調査会社Infonetics Researchは本日、最新のOTN and Packet Optical Hardware レポートの概要を発表した。ここでは、optical transport network (OTN) 伝送機器、OTNスィッチ機器、パケット光伝送システム(P-OTS)を対象とする市場の規模と予測のほか、事業者シェアを取り扱っている。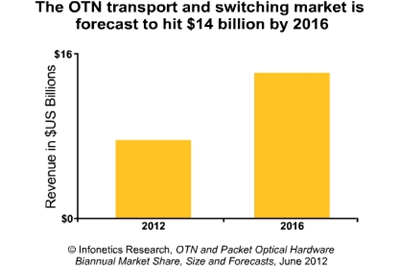 Infoneticsは同日、最新のOTN に関するWhite Paper Integrated OTN Switching Virtualizes Optical Networksも公表した。ここでは、OTN スィッチとWDM伝送機能を1つのアーキテクチャーに統合することの経済的、運用上の利点をまとめている。白書のダウンロード先: http://www.takanalytics.com/whitepaper.html
アナリストノート
「OTNは今後5年以内に全体的な光市場を上回るペースで順調に成長を続けるだろう」、「2011年、世界における光機器への全支出の約半分はOTN 伝送およびスィッチのハードウェアに対するものであった。急成長しているOTNスィッチセグメントの成長が最も速いこともあり、2016年までにこの割合はほぼ80%になるとみている。効率的な伝送ネットワークの構築に関心のある大小の通信事業者は、OTN スィッチへの移行を推進している。この点で中国の事業者は進んでおり、今年は重点的にOTNスィッチ向けに相当量のRFPs を発行している」と、Infonetics Researchで光ネットワークを担当しているAndrew Schmittはコメントしている。
OTN およびP-OTS 市場のハイライト
Infoneticsでは、2011年から2016年にかけてOTN 伝送およびスィッチ市場が17%のCAGR(年平均成長率)で成長すると予測している。これは、全体的な光機器 (WDM, SONET/SDH)の5.5% CAGR を上回るペースである。
全WDM 機器の約80%はOTNをサポートしている。
Infoneticsでは、2014年までに100G ポートの出荷が40Gを上回ると予想している。
Huaweiは最大のOTN 伝送機器ベンダーであり、Alcatel-LucentとCienaがこれに続いている。
2012年から2016年までの5年間でEthernet とOTN/SDH スィッチを統合する第2世代P-OTSプラットフォームに対して、累積で66億ドルの支出がなされるとみている。
大手事業者間での競争がP-OTS 市場で始まろうとしている。Cisco, Tellabs, Alcatel-Lucent が3大事業者であるが、Fujitsuや Ciena, Huawei にも勢いがある。
OTN REPORT SYNOPSIS
Infonetics' OTN and Packet Optical Hardware report provides regional and global market size, forecasts, vendor market share, and analysis for OTN transport and switching hardware, including OTN port revenue forecasts by port type and speed, and 1st- and 2nd-generation P-OTS (packet-optical transport systems). Vendors tracked in the report include ADVA, Alcatel-Lucent, Ciena, Cisco, ECI Telecom, Ericsson, Fujitsu, Huawei, Infinera, Nokia Siemens, Tellabs, ZTE, and others
(原文)

OTN to grow to 80% of all optical equipment spending by 2016; big P-OTS vendor battle brewing

Boston, MASSACHUSETTS, June 27, 2012-Market research firm Infonetics Research today released excerpts from its latest OTN and Packet Optical Hardware report, which sizes and forecasts the market for optical transport network (OTN) transport equipment, OTN switching equipment, and packet-optical transport systems (P-OTS), including vendor market share.
Infonetics also released a new OTN white paper today, Integrated OTN Switching Virtualizes Optical Networks, which outlines the economic and operational benefits of converging OTN switching and WDM transport functionality into a single architecture. Download the white paper here: http://bit.ly/LboNIO.
ANALYST NOTE
"OTN is on the fast track to outpacing the overall optical market within the next 5 years," notes Andrew Schmitt, principal analyst for optical at Infonetics Research. "Nearly half of all 2011 optical equipment spending worldwide was on OTN transport and switching hardware, and by 2016 we expect this to rise to almost 80%, with the burgeoning OTN switching segment growing the fastest. Carriers large and small looking to build efficient transport networks are increasingly turning to OTN switching. China's telecom carriers are leading the way and are issuing substantial RFPs for OTN switching in the core this year."
OTN AND P-OTS MARKET HIGHLIGHTS
The OTN transport and switching market is forecast by Infonetics to grow at a 17% CAGR from 2011 to 2016, outpacing the 5.5% CAGR of the overall optical equipment market (WDM, SONET/SDH)
Around 80% of all WDM equipment now supports OTN
Infonetics expects 100G port shipments to overtake 40G shipments by 2014
Huawei is the #1 OTN transport equipment vendor, followed by Alcatel-Lucent and Ciena
A cumulative $6.6 billion is expected to be spent on 2nd-generation P-OTS platforms that combine Ethernet and OTN/SDH switching during the 5 years from 2012 to 2016
A big vendor battle is brewing in the P-OTS space: Cisco, Tellabs, and Alcatel-Lucent are the top 3 vendors, but Fujitsu, Ciena, and Huawei are gaining