CAMPBELL, California, 2012年6月28日-調査会社Infonetics Researchは本日、最新のMobile VoIP Services and Subscribers レポートの概要を発表した。このレポートはモバイルボイスオーバーIP(別名:ボイスオーバーLong Term EvolutionあるいはVoLTE) とover-the-top (OTT)Mobile VoIPサービスの売上、加入者数、各世界地域における採用状況を取り扱っている。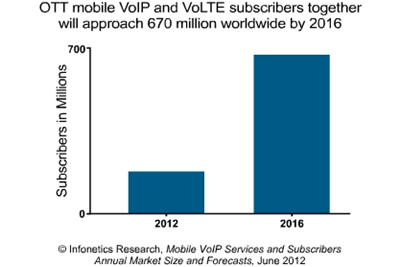 アナリストノート
「米国とアジアとりわけ韓国は、ボイスオーバーLTEへの対応で先行しており、Verizon Wirelessや Metro PCS, SK Telecom、LG U+ は今年中のボイスオーバーLTEのローンチを計画している」としたうえで、「実際のところ、韓国と香港はすでにLTEデータローミングのローンチで成功しており、SK Telecom は8月までに、ネットワーク上で初めてボイスオーバーLTEをサポートする機種であるSamsung Galaxy S3を導入する予定である。もちろん、これはVoLTEにとってよいニュースであることには違いないが、そのような見方がある一方で、VoLTE市場は急成長しているとはいえ2016年までにVoLTE はグローバルなモバイルVoIP売上のおよそ14%を占めるにすぎず、OTTモバイルVoIPが引き続き市場の大部分を占めるとみられている」と、Infonetics Researchでモバイルインフラと通信経済を担当している主席アナリストStephane Teralは述べている。

レポートの共同執筆者で、Infonetics ResearchにおいてVoIP とIMSを担当している主席アナリストDiane Myersの追加コメント。「混み合っているOTT モバイルVoIP 市場において、Microsoft/Skype は依然として市場を支配している。しかしながら、SkypeとWindows Mobile 8の緊密な統合は重要である一方で、Windows Mobile OSはスマートフォン競争では出遅れている。また、Google Voiceや Fring, Line2, Nimbuzz, Talkonaut, ThruTu, Truphoneといった独立系OTT mVoIP プロバイダーは、サービスの使い勝手向上、低価格化、ソーシャルネットワークとの統合、ビデオ機能の追加によりSkype や、T-Mobileの Bobsled、Telef?nicaのTU Meなど事業者主導のOTTサービスとの差別化を図ろうとしている。それでも、OTT mVoIP 加入者は年平均でわずか14ドルしか支払っていないこともあり、OTT モバイルVoIPサービスの維持は極めて難しくなっている。プロバイダーの多くは恐ろしい可能性に直面している。すなわち、事業からの撤退あるいは大手事業者への事業売却、さらには格安通話以外に売上を確保する道を探すことである。」
モバイルVOIP市場のハイライト
グローバルなOTT モバイルVoIP加入者数は2010年から2011年にかけて倍増して980万件となり、このうち40%をEMEA (欧州、中近東、アフリカ)が占める。
最初のVoLTE サービスが2012年後半にローンチされたのち、Infoneticsでは今年中にグローバルな VoLTE 加入者数は30万件に達すると予測している。
AT&T は2013年までのVoLTE導入を計画しており、Clearwireは2013年央までにTD-LTE ネットワークをローンチする際にはVoLTEを提供する予定であると発表した。
MVOIP REPORT SYNOPSIS
Infonetics' Mobile VoIP report features a Mobile VoIP Deployment Tracker highlighting over-the-top mVoIP deployments by platform availability and VoLTE deployments by start date. The report provides worldwide and regional market size, forecasts, and analysis of OTT and native mobile VoIP (VoLTE) services and subscribers. OTT mVoIP providers currently tracked include Altphone, Barablu, Bobsled, Fring, Google Voice, JahJah, Jaxtr, Line2, Maaii, Mo Call, Nimbuzz, Nymgo, OctroTalk, Rebtel, Skype, Talkonaut, Telfree, ThruTu, Tivi, Toolani, Truphone, TU Me, Viber, Vopium, WingBee, and others.
(原文)

Voice over LTE gaining momentum; 300k VoLTE subscribers by year's end

CAMPBELL, California, June 28, 2012-Market research firm Infonetics Research today released excerpts from its latest Mobile VoIP Services and Subscribers report, which tracks native mobile voice over IP (a.k.a. voice over Long Term Evolution, or VoLTE) and over-the-top (OTT) mVoIP service revenue, subscribers, and deployments by world region.
ANALYST NOTE
"The US and Asia, especially South Korea, are leading the voice over LTE charge, with Verizon Wireless, Metro PCS, SK Telecom and LG U+ all planning to launch VoLTE services this year," reports Stephane Teral, principal analyst for mobile infrastructure and carrier economics at Infonetics Research. "In fact, South Korea and Hong Kong have already successfully launched LTE data roaming and by August, SK Telecom expects to have the Samsung Galaxy S3, the first handset to support VoLTE on their network. This is all good news for VoLTE, of course, but to put it in perspective, even with the VoLTE market ramping quickly here on out, by 2016 VoLTE will make up only about 14% of global mobile VoIP revenue, while over-the-top mobile VoIP continues to make up the lion's share by far."

Co-author of the report Diane Myers, Infonetics Research's principal analyst for VoIP and IMS, adds: "In the crowded OTT mobile VoIP market, Microsoft/Skype still dominates; however, while the tight integration of Skype with Windows Mobile 8 is important, the Windows Mobile operating system remains a distant player in the smartphone race. Meanwhile, independent OTT mVoIP providers like Google Voice, Fring, Line2, Nimbuzz, Talkonaut, ThruTu, and Truphone are working to differentiate from Skype and operator-driven OTT services such as T-Mobile's Bobsled and Telef?nica's TU Me by making their service easier to use, lowering prices, integrating social networking, and adding video features. Still, with OTT mVoIP subscribers paying an average of only $14 per year, sustaining an OTT mobile VoIP service is extremely challenging, and most providers face daunting possibilities: go out of business or sell to a larger organization; or find a way to drive revenue beyond cheap calling."
MOBILE VOIP MARKET HIGHLIGHTS
The number of global OTT mobile VoIP subscribers more than doubled from 2010 to 2011, to 98 million, with about 40% of the subscribers based in EMEA (Europe, the Middle East and Africa)
With the first VoLTE services launching in late 2012, Infonetics expects the number of global VoLTE subscribers to reach about 300,000 this year
AT&T plans to have VoLTE in place by 2013, and Clearwire announced that it will offer VoLTE when it launches its TD-LTE network by mid-2013