2012年7月18日 Campbell, CALIFORNIA - 市場調査会社Infonetics Researchは2012年第1四半期 (1Q12) のブロードバンドCPEと加入者数: PON、FTTH、Cable、 DSL(Broadband CPE and Subscribers: PON, FTTH, Cable, and DSL)レポートから、ベンダーの市場占有率の順位、市場のハイライトを公開した。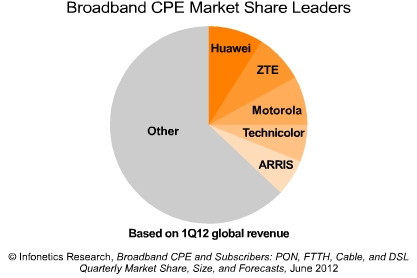 アナリストノート
Infonetics Researchのブロードバンドアクセスおよびビデオの主任アナリストJeff Heynen氏は次のように述べている。「ワイドバンド (DOCSIS 3.0) CPEの収益の増加が示しているのは、事業者による過去数年にわたるDOCSIS 3.0装置へのインフラ投資の成果が、新規加入者や既存の加入者サービスのアップグレードに現れているということだ。現在、北米ではワイドバンドの動きが盛んであり、ワイドバンドCPEの出荷数は前年同期比で50%以上伸びている。これはケーブル事業者が加入者をDOCSIS 3.0サービスに移行させるため、絶え間なく努力していることを示している。今まで、このような現象を目にしたことはなかった。」
ブロードバンドCPE市場のハイライト
2012年第1四半期におけるDSL、ケーブル、FTTH CPEなどの世界のブロードバンドCPE市場は、2011年第4四半期比で4%成長し、17億6000万ドルになった。
ブロードバンドCPE全般における収益において、HuaweiとZTEによる抜きつ抜かれつの市場占有率争いは続いている。2012年第1四半期Huaweiは、わずかの差でZTEを退け、再び首位に立った。両社ともChina TelecomおよびChina UnicomへのFTTH CPEの主要なサプライヤーである。
ケーブルCPEのセグメントは最も大きな伸びを見せており、主に北米でのDOCSIS 3.0へのアップグレードに牽引され、収益が前年同期比で10%増加している。
2012年第1四半期の1.25G EPONの光加入者線終端装置 (ONT) および2.5G GPONのONT住宅用ゲートウェイの収益は2桁の成長を見せており、FTTH CPE市場の成長は続いている。
BROADBAND CPE REPORT SYNOPSIS
Infonetics' quarterly broadband CPE report provides worldwide and regional market size, vendor market share, analysis, and forecasts for ADSL and VDSL modems, gateways and IADs; standard and wideband cable modems, gateways, and EMTAs; FTTH ONTs and gateways; residential gateways; PON and Ethernet FTTH ports; and broadband subscribers (cable, DSL, PON, PON FTTH, Ethernet FTTH, and FTTB LAN subscribers). Broadband CPE vendors tracked include Alcatel-Lucent, ARRIS, AVM, Cisco (Linksys, Scientific Atlanta), Comtrend, D-Link, Dasan Networks, Fiberhome, Huawei, Mitsubishi, Motorola, NETGEAR, Pace, Sagemcom, SMC, Sumitomo, Telsey, Technicolor, TP-LINK, Ubee Interactive, Zhone, ZTE, ZyXEL, and others.
(原文)

DOCSIS 3.0 boosts broadband CPE market; Huawei, ZTE in scrum for 1st

Campbell, CALIFORNIA, July 18, 2012-Market research firm Infonetics Research released vendor market share standings and market highlights from its first quarter (1Q12) Broadband CPE and Subscribers: PON, FTTH, Cable, and DSL report.
ANALYST NOTE
"The growth we're seeing in wideband (DOCSIS 3.0) CPE revenue shows that the infrastructure investments made by operators in DOCSIS 3.0 equipment over the past few years are now paying off in new subscribers and upgrades to existing subscribers' services," notes Jeff Heynen, directing analyst for broadband access and video at Infonetics Research. "North America is a hotbed for wideband activity right now, with wideband CPE shipments up more than 50% from the same time last year, illustrating that the cable companies are making a consistent effort to move subscribers to DOCSIS 3.0 service tiers. This is something we haven't seen until now."
BROADBAND CPE MARKET HIGHLIGHTS
The global broadband customer premises equipment market, including DSL, cable, and FTTH CPE, grew 4% in 1Q12 over 4Q11 to $1.76 billion
The seesaw battle between Huawei and ZTE for overall broadband CPE revenue share continues: Huawei took back the top spot in 1Q12, slightly edging out ZTE; both vendors are leading suppliers of FTTH CPE to China Telecom and China Unicom
The cable CPE segment showed the strongest growth, with revenue up 10% quarter over quarter, driven primarily by DOCSIS 3.0 upgrades in North America
FTTH CPE continues to grow, with 1.25G EPON optical network terminal (ONT) and 2.5G GPON ONT residential gateway revenue up by double digits in 1Q12